Red River Polar Matte: Color Or B&W, For A Fair Price
There's no question that glossy and satin or pearl-type surfaces give an image more "pop," but on the other hand you might want to use a matte surface to enhance the look and feel of certain images that rely less on pop than a quieter mood. It could be boiled down to a simple rule of thumb: for rich, high-saturation images you might use a glossy or semigloss; for more subtle colors it might be better to use a matte or satin. In the black-and-white realm it's more of a toss-up but I think the same general rule applies. For example, for architectural images of adobe or stucco wall buildings I use matte; for glass and steel skyscrapers I choose glossy. Notice that I always modify the recommendations with "might": if you really get into papers for printing you'll make your own judgments. But there's no denying that surface decisions play a role in overall effectiveness of the image.
Available in a wide range of sizes in various configurations, including scored card, cut sheet in various sizes and rolls, Red River's Polar Matte offers a single-sided, flat surface coated on "100 percent pure alpha cellulose" bright white stock with a matte coating dubbed as being "acid free." This is a microporous paper that does contain optical brighteners. Regarding handling and drydown, Red River says to make sure prints are not exposed to high humidity levels and recommends a "cure" time of 24 hours when using pigment inks; for dye inks their advice is to store fresh prints in a plastic bag for a 24-hour cure! Having used pigment inks for the test I followed my general practice of giving the prints a 24-hour airing before boxing.
The pricing on this paper is very good, given that you understand that this is not a rag cotton matte and has a base akin to "RC"-style papers. In cut sheet, for example, a 50-sheet 13x19" box runs $34 on the Red River site and the 100-sheet 8.5x11" box runs $29.99. This makes it a great paper for show, for students, and for those who want a good matte surface paper at an affordable price. There is no published "archival" data that I could find but using pigment inks it is probably in line with other similar base and surface stocks, though it could be more or less, and with dye inks it is probably considerably shorter. I am not trying to be vague here—it's just that there are simply no agreed-upon standards for testing (still) and the company does not display any such tests even by independent labs. The best advice I can give is to use pigment inks for longer life and more color stability, though Red River says both ink types are "compatible."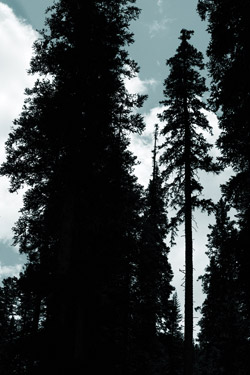 The Polar Matte is a 60 lb (10 mil) paper, which makes it sturdy but pliable and, more importantly for workflow, allows you to use the sheet feeder on many (but not all) printers, though, if you can, you should raise the feed for a thicker stock. I test printed using an Epson Stylus Pro 3800 (UltraChrome K3 pigment inks) and it was a pleasure using a matte surface with some heft without having to single feed the printer, as I have to do with heavier matte papers. I tested with both the Epson and Red River profiles, with the suggested Epson profile for this ink being Enhanced Matte. The ICC profile for Polar Matte from Red River is available on their site at: www.redriverpaper.com. I also printed using Epson's Advanced Black and White mode (Printer Controls Color) for comparison.
The Epson and Red River profile results were remarkably similar, with the Red River offering a slightly more "open" and true red. This could make a difference for portraits, so take note. In black and white I was hard pressed to see much of a difference between the three profiles, though Epson's Advanced Black and White mode seemed to be a bit "harder" and contrasty, but in some images getting a bit more edge on this fairly "soft" paper could be seen as an advantage. The rap on matte surfaces as not capable of producing a deep black was not reinforced here, although my tendency for images on a surface like this is for more open shadows and less large pools of deep tone. Nevertheless I tested one image that has more negative space than just about any image in my files and it looked quite good. In general, edge and tonal borders were good, and when the image had open tonal values for exploration the surface seemed to take full advantage.
Color was very good on all types of images and there is an "openness" to the color repro on this paper that is refreshing and that does have a character that you will not find in shinier coated stock. That does not mean I would make this my general color printing paper, but for some images it works to advantage. One thing I did enjoy with this paper was the ability of the coating to take on additional media. I hand worked the surface with soft color pencils (do not sharpen as a sharp point will score the paper) and rubbed in powdered colorant. As a handcoloring practitioner in the past it was fun to revive the craft.
The appeal of papers such as Red River's Polar Matte is that it allows photographers to make very good-looking prints on a sturdy matte surface paper without breaking the bank. This encourages experimentation, print gifting, and a chance to see how matte can add to the visual appeal of images that reveal themselves more fully in the reproduction of quieter tones and colors.
For more information, contact Red River Paper at: www.redriverpaper.com.
FEATURED VIDEO