A Professional Nature Photographer Tries Out the Tamron 100-400 F/4.5-6.3 Di VC USD Lens
For more than 45 years, I've been immersed in photography. I started out with a class in high school, jumped into further studies in college, and have been making a living in the business ever since.
My first big break was getting a job at the Ansel Adams Gallery in Yosemite, back when Ansel was still alive. It was as if a "history of photography" class had come to life: I rubbed elbows with many famous photographers, including Ansel Adams (of course), Paul Caponigro, Philip Hyde, Cole Weston, Ruth Bernhard, Jerry Uelsmann, and Ernst Haas.
From there I began teaching workshops and writing about photography, then became a contributing editor to Outdoor Photographer and wrote a column for PC Photo for a decade. My images have since been used internationally in advertising, editorial, education, retail, and interior design capacities.
Over the years I've seen many changes as photography has evolved from film to digital. I was one of the first nature photographers to make the transition: I started using Photoshop more than 25 years ago, when it was a Mac-only program with no layers. That was back when nature photographers weren't supposed to mess with Mother Nature. In fact, I remember being shunned at a major photography association's conference in San Diego years ago, and now I'll be a presenter at the upcoming conference. Times do change!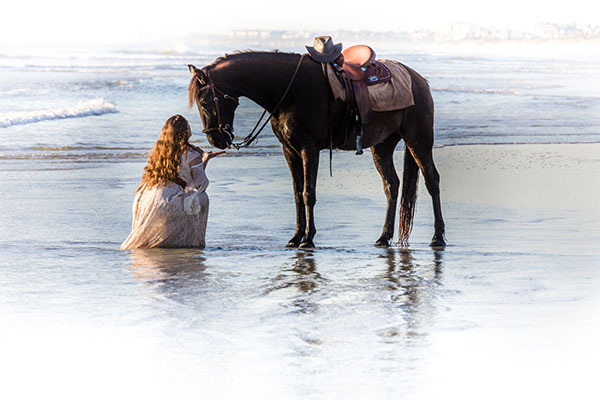 I'm a bit of an eclectic when it comes to picture-taking. I photograph landscapes, wildlife, travel destinations, outdoor life, cityscapes, and people outside—in other words, I specialize in not specializing. Nature is my passion, so I find myself most drawn to photographing anything and everything in the natural world. I'll hike miles to find the most photogenic landscape or wait hours for the right light for a wildlife photo. I want my images to inspire others to seek out the solace and healing powers of nature, in the hopes that people will take care of the planet they live on and not exploit and destroy it.
To me, light is the most important element in a photo, and when people ask me what my favorite thing to photograph is, I reply: "good light." Optics are also a crucial ingredient in photography, often more important than the camera itself. After all, all cameras operate similarly: A shutter opens, light passes through an aperture, and an image is recorded. But the quality of the lens can make or break a photo.
I've been using Tamron lenses for six years now and have never been disappointed. These lenses have always offered me professional results, whether I'm photographing wildlife, travel, or the night sky. They deliver excellent sharpness, contrast, and durability, and you can't beat the price. Thanks to my Tamron lenses, I'm able to create images I never could in the past.
One of my new favorites is the Tamron 100-400 F/4.5-6.3 Di VC USD. I was amazed at how sharp the lens was the first time I used it. I had to check and make sure the sharpening settings in my RAW processor hadn't been changed (they had not). To my delight, it was the lens itself that was making my images look so tack-sharp.
Another one of my favorite features of that lens is its small size, considering its ample focal-length range. The lens is much lighter and smaller than a similar lens I'd used in the past. It serves as an excellent travel lens when visiting far-off lands, allowing me a range that's terrific for portraits, landscapes, and most wildlife situations.
I recently taught at the Florida's Birding and Photo Fest in St. Augustine. One of my favorite events at this festival are the "Horses on the Beach" sessions, which are held at sunrise and sunset. I've been known to shoot more than 3,000 images in about two hours at one of these sessions. This year I was really looking forward to using the Tamron 100-400 for portraits and action shots, and it worked out wonderfully.
The 100-400 was the perfect lens for achieving tight portraits of the riders and their horses, and also to pull in the action that was further away. Its light weight made it easy to hold for extended periods of time, and the focus was super-fast, guaranteeing I didn't miss any of the action. The VC (Vibration Compensation) feature really helped prevent camera shake and keep my images sharp when I was handholding the lens and shooting on the long telephoto end of the lens.
Since the 100-400 has a moisture-resistant construction and fluorine coating, I also didn't have to worry about sea spray or blowing sand—I knew the lens would hold up to the elements. It proved to be a fantastic workhorse (no pun intended) that enhanced this photo opportunity, and I'm sure it will enhance many more for me in shoots to come.
See more of his Lewis Kemper's work on his website. Learn more about Tamron's lenses on tamron-usa.com.
FEATURED VIDEO