Printers: Desktop, Inkjet, And Dye Sub
This has been a quiet year in the printer world with few new product announcements and only a handful of upgrades to existing models. Whether this is due to the economy or a sign that inkjet printing is reaching a quality point that is difficult to improve upon remains to be seen. We do have printers with amazing capabilities available to us now, and at prices that were unheard of a few short years ago. That doesn't mean there are no new or interesting printers for photographers though.
Canon PIXMA Pro9000 Mark II
Taking a cue from their camera line, Canon has introduced updated versions of their 13" printers, the PIXMA Pro9000 and PIXMA Pro9500, with a Mark II badge. The new printers use the same inks and print heads as the previous versions but have greatly sped up the printing process and added a new color management feature, Ambient Light Correction, said to optimize the color output for specific lighting conditions. With this enabled, you can tell the printer to adjust the color balance for tungsten or other light sources if desired. The feature only works with Windows Vista at this time.

The PIXMA Pro9000 Mark II is an eight-color, dye-based printer using Canon's ChromaLife100 inks to give prints near pigment ink stability with the color saturation that some prefer. It's an excellent choice if you prefer to print on gloss or luster surfaces, but the printer can also output to fine art papers. Canon includes Auto Photo Fix in the driver to optimize images based on what type of photograph you're printing, such as portrait, scenery, night scenery, etc., and borderless prints up to 13x19".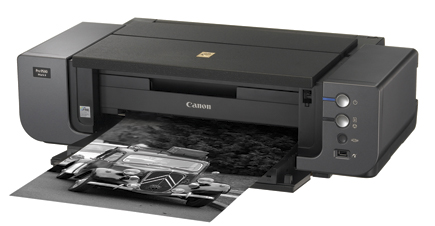 Canon PIXMA Pro9500 Mark II
Canon has enhanced the internal mechanics of the printer to produce print speeds up to three times faster than the original model with a 13x19" black-and-white print taking less than 1 minute, 30 seconds. The Pro9000 Mark II has a list price of $499.99.

The PIXMA Pro9500 Mark II is Canon's 10-color pigment ink printer. Like the Pro9000 Mark II, the new model includes Ambient Light Correction on Windows Vista, and an improved print speed that is approximately 1.5 times faster than the previous version. The pigment Lucia inks are optimized for a wide color gamut on a variety of photo and fine art media along with archival properties of 200 or more years on some papers. The Pro9500 Mark II has a list price of $849.99. Both printers include the Easy-PhotoPrint Pro plug-in for Photoshop and Photoshop Elements 6.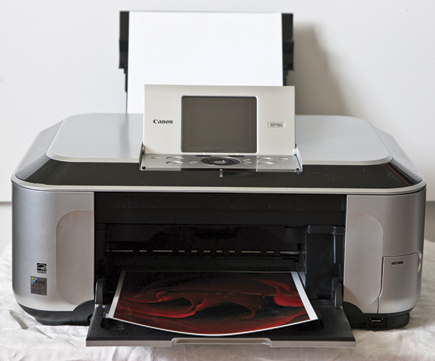 If your office or workspace is cramped, a smaller printer may be all you can handle or need. The PIXMA MP980 is an All-in-One printer combining a scanner with negative and slide scanning capabilities and a six-color ChromaLife 100 PIXMA photo printer. The printer can handle a variety of media, including fine art papers with full photo printer quality. Along with the cyan, magenta, yellow, and black cartridges, a new gray ink and a pigment black are included. Black-and-white prints from the MP980 have excellent tonal range and neutrality. It also includes wireless and Ethernet connectivity. The MP980 sells for $299.99.
On the compact side, Canon has a new SELPHY, the CP780. These portable printers use dye sublimation rather than ink to produce continuous tone images with lab-quality results. The CP780 can be powered by batteries with the optional battery pack and produces 4x6" prints in less than a minute. The built-in 2.5" LCD lets you make redeye correction, select which images to print, and optimize your images prior to printing. There is also an optional Bluetooth unit to let you print directly from camera phones and other devices. The CP780 has a list price of $99.
Not exactly new, the Stylus Pro 7900 and 9900 from Epson are at the top of their class in the large format world. These latest printers have a completely new print head and ink system with added green and orange inks to enhance output. The end result is one of the largest color gamuts of any printer on the market, able to produce exceptional skin tones and detail. The printers use a new 10-channel print head that eliminates the need to swap out matte and photo black inks when going from one paper type to another. The K3 ink set has been updated to the new HDR (High Dynamic Range) pigments with improved archival properties and greater black density. Epson has also virtually eliminated gloss differential with the new inks without having to add a gloss optimizer or coating to the prints.
FEATURED VIDEO