Printers: Desktop, Inkjet, And Dye Sub Page 2
Both printers have an optional SpectroProofer developed with X-Rite that adds the ability to profile and automate color management processes when used with third-party RIPs. The 24" Stylus Pro 7900 lists for $3995, and the 44" Stylus Pro 9900 is $5995.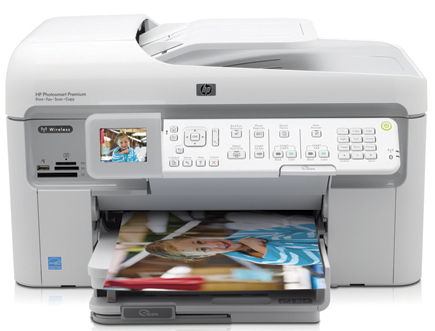 HP Photosmart Premium All-in-One Fax
On the desktop side, HP has the new Photosmart Premium Fax All-in-One. I'm not a fan of All-in-One printers—the saying "Jack of all trades, master of none" comes to mind. And, I wouldn't consider this to be a high-end scanner as there is no support for negative or transparency scanning. But, the Photosmart Premium Fax is going to find a home in the small office or studio where space is a concern but quality photo prints are needed. With the same Vivera inks used in the Photosmart B8550, the Photosmart Premium Fax is capable of lab-quality prints. Throw in the wireless, built-in Bluetooth and duplex printing, and you have a printer that can meet the needs of a photographer and the rest of the family. List price is $299.99.
HP DesignJet Z3200 Photo Printer
For serious photographic printing though, the DesignJet Z3200 Photo Printer is the one to consider. In 24" and 44" sizes, these 12 ink printers (11 colors and a gloss enhancer) have a new chromatic red ink that greatly increases the gamut over the previous Z3100 model. HP has also improved print speed with the Z3200, and made changes to the paper handling for easier cut-sheet loading. Standard on the Z3200 series is a built-in X-Rite spectrophotometer for calibrating and profiling papers with no additional hardware needed. Both printers are available in standard and PostScript models with the 24" starting at $3395, and the 44" at $5595.
Small dye sublimation printers are popular with event photographers thanks to the ease of setup and fixed consumables rates. The HiTi Photo Printer S420 is a good example of this type of printer. With continuous tone output the print quality exceeds that of many inkjet printers, and 4x6" prints can be made with or without a computer using the built-in card reader or the LinkPrint connection to connect cameras and USB drives. The printer features 403dpi resolution (about the equivalent of 2800dpi on an inkjet printer). A hand controller with a 2.5" color LCD supplies the interface to select and edit images directly in the printer. MSRP is $249.
Also available from HiTi is the WFT510, a wireless transmitter that gives any PictBridge compatible camera wireless capabilities to a printer or storage device. MSRP is $399.

FEATURED VIDEO