photokina Follow-Up; Paper, Processing And Companies Present And Past
In our recent photokina reports (January, 2011, issue) we covered products and trends at the show. Here's a brief follow-up on some film and paper processing items and information on friends old and new, present and gone.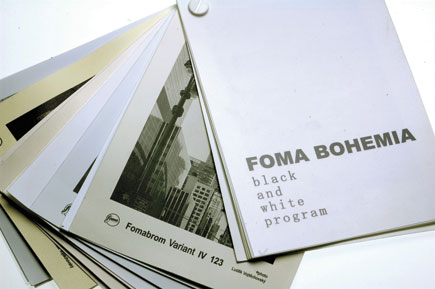 Foma still makes a wide variety of papers, and even makes sample books for its representatives.
In our photokina reports we mentioned Kodak's new film, of course, and Harman's Direct Positive paper, and Adox's paper and film, and more. We also mentioned that it is extremely likely that Foma's Fomapan 200 will re-enter production, having been temporarily dropped when one of the ingredients was discontinued by one of their suppliers. We should have noted, too, that Foma's papers in particular are winning more and more devotees. Adox and Foma are both imported by Freestyle, the US distributor who had a stand at the show and who can supply just about anything film-related, especially in black and white.

There was still one high-end enlarger manufacturer at the show: Kienzle. Kienzle also sells parts and accessories for old Leitz enlargers (especially the Focomat IIc) and for some Agfa enlargers. They even had a new four-blade enlarging easel at the show, in a range of sizes. Kienzle gear isn't cheap, but it's among the best ever. And Kienzle is associated with Moersch photo chemicals and Heiland, who make densitometers and split-grade heads and more.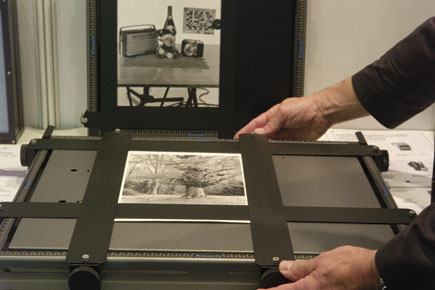 Kienzle's new four-blade masking frame, available in several sizes.
In the same vein, Klaus-Dieter Seynsche can still supply a wide range of parts for many JOBO processing machines, including (in some cases) even complete machines. Yes, it will cost you more than when it was discontinued and people were "outing" old stock, but if you need to use your machine, it can be kept in service. Contact www.fotolaborservice.de: Herr Seynsche speaks excellent English.

Tetenal still makes an immense range of photo chemicals, including some of the old Agfa range, and (once again) even had a new product at the show: sepia toner. Other manufacturers of photo chemicals at the show were Fotospeed, also noted for their line of antique process kits, and Paterson, who still make a very extensive range of darkroom equipment as well as chemicals, Benbo tripods, and now lighting as well. Fotospeed is another company distributed in the US by Freestyle.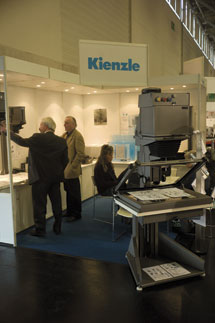 The Kienzle stand at photokina, with a new enlarger in the foreground.
All Photos © 2010, Roger Hicks Ltd., All Rights Reserved
Or sticking with darkroom equipment, Nova is still alive and well and indeed we were able to arrange for a repair to the timer/controller on our very old, very well-used 12x16" slot processor. Apparently we've had it for so long that the back-up battery for the memory had died of old age! Then there's AP Photo from Spain, still making processing tanks, reels, trays, and other darkroom accoutrements.

Maco/Hans O. Mahn didn't have their own stand, but were represented in effect by Rollei, which is now mostly used as a marketing label on a variety of products from different sources. This is doubly true of the films, which are coated by several different factories. Rollei/Maco is noted for marching to a different drum from other manufacturers/distributors and offer a constantly changing variety of unusual films. Unfortunately, some of the most interesting are sometimes available only for surprisingly short periods, as little as a couple of years. Check with Freestyle for details of the current range and availability.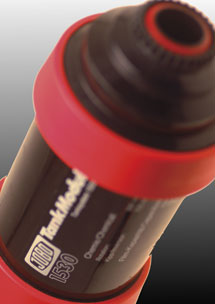 JOBO tanks are still available new, but so (surprisingly) are parts for their "discontinued" processing machines and even complete new machines.
Quite a few companies who used to have their own stands are now represented on others' stands, such as Kinetronics on the Kaiser and R.J. Farley stands: their cleaning materials and antistatic brushes may not be in as much demand as they were in the heyday of film, but they are still widely regarded as the best and they have also moved into the digital arena with the SpeckGRABBER for removing dust motes from sensors.
FEATURED VIDEO