PMA 08; Inkjet Papers & Inks
There may not have been many new printer announcements at PMA this year, but that certainly didn't affect the paper vendors from going all out with new products. It's clear that old is new again, as many of the surfaces shown mimic those of traditional darkroom days. If you're a lover of fiber-based papers, this is a great year for you with plenty of new options to explore.

The two main trends are to a fiber pearl surface, and baryta papers. If you're not familiar with the term baryta, it's a paper that contains barium sulphate in the coating to enhance gloss and give a higher D-max with crisp image definition. It seems to be all the rage these days, and one of the major advantages is the ability to use photo black pigment inks. Stay tuned to future issues of Shutterbug for tests of many of these papers.
Hahnemühle
Hahnemühle is possibly the oldest company in the market, but they're the first ones taking a "green" step with their new Bamboo, a 290gsm natural (no brighteners) paper that feels similar to a photo rag. It has a warm tone and very smooth surface. Being made from bamboo, it's considered a renewable resource and therefore has less impact on the environment. Also new at PMA was the release of the FineArt Baryta 325gsm paper. It's a 100 percent alpha cellulose, very smooth textured paper that Hahnemühle calls glossy. Personally, it's more of a low-gloss finish, but however you view it, the results are excellent. I'm looking forward to working with this paper in the coming months.
Along with the new Bamboo and Baryta papers, Photo Rag Pearl 320gsm, a pearl finish cotton rag paper with no brightners, is now widely available. This paper works nicely with both black and white as well as warm-toned color prints, thanks to the natural white color and pearl finish.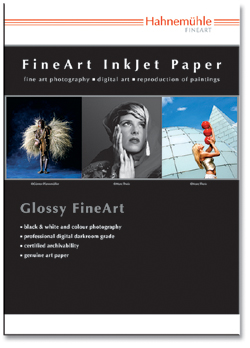 Ilford
Ilford is also on the baryta bandwagon. Ilford's Galerie Gold Fibre Silk is the only paper I've found that passes the smell test--sniffing this media immediately puts you back into the darkroom. Of course, we don't buy or use paper because of the way it smells (unless you're into scratch-n-sniff photography), but there is something reassuring about such a familiar odor. The real test is in how it prints. Ilford claims the highest D-max of any paper of this type, which will make for some interesting comparisons. I've done a few test prints with the media and so far I'd say they aren't exaggerating--it's a slightly warm-toned paper with a beautifully smooth surface that just seems to draw the eye into the print. At 310gsm, it's a bit lighter than some of the other papers, which helps with feeding on printers that might otherwise leave roller marks. Ilford is going the extra distance as well by including information in the package on settings to use if you're interested in producing toned prints--and at the cost of most of these fine art papers, anything that helps get the desired result in the first print is a good thing!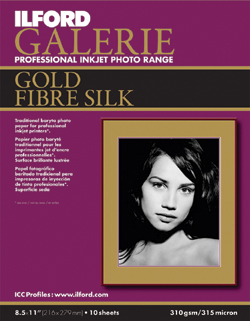 Inkpress Paper
Inkpress Paper has a wide variety of papers and specialty media--everything from adhesive vinyls and backlit films to canvas, photo rag, and traditional photo papers. To that mix, you can now add their new Inkpress Baryta Warmtone. Similar in weight and texture to the other baryta papers available, the Inkpress Baryta Warmtone has a glossier surface than the Ilford or Hahnemühle offerings and works well with both color and black and white images. Inkpress Paper has been very aggressive in their pricing.

Along with the new baryta surface, Inkpress is now distributing Sihl papers. Available in both 300gsm Pro Silky and 330gsm Pro Glossy finishes, these are premium papers that print beautifully in a variety of printers. Currently, the Pro Silky is my favorite satin finish paper for final prints.
Innova
Innova is a premium brand that is very popular with the fine art printing crowd. Their FibaPrint Gloss and FibaPrint Ultra Smooth Gloss fiber-based papers have an excellent reputation for quality printing with outstanding D-max and weight. I like that it's available in both white and warm-tone gloss as well as a white ultra gloss--I tend to prefer cooler toned papers.

Their new papers are a FibaPrint Semi-Glazed and FibaPrint Super-Glazed.
FEATURED VIDEO