Peak Design Travel & Camera Backpack 45L Review
In a world that can be frustrating when the undeserving are unduly rewarded, it's refreshing to see a good company with good intentions and great products succeed. Peak Design makes truly outstanding photo bags, messengers and backpacks; they're also one of the good guys.
Suddenly, I'm drowning in a sea of photo backpacks. Today I shipped back two samples I didn't request or authorize, from two separate manufacturers I won't identify, and I have a few more staged to go back wherever in hell they came from. I'm backpacked out.
Nonetheless it's a pleasant relief to get my hands on another standout product from a stand-up company.
The Peak Design Travel Backpack resembles their Everyday Backpack but there are notable differences. Travel has grab handles on five sides (Everyday does not have one on the bottom or back) and both have banana-shaped zipper openings on either side which provide fast and easy access to the entire contents. (Read my review of the Everyday Backpack here.)
Looking at the front of the Travel Backpack, there is a shallow, soft-lined zippered pocket at the top (ideal for sunglasses, car keys or other items you need to fetch quickly) and a hidden flap pouch at the bottom that conceals the optional rain cover and is secured by a strong magnet. Also there are four fabric d-loops for hanging odds and ends. The entire front unzips to form a drop-down organizer flap that has four pockets.
Moving to the sides we encounter deep, top-opening pockets in addition to the aforementioned access zippers and grab handles. Each side has a hidden zippered compartment at the bottom (nice, but I'd probably forget I put something there and never find it again). On both sides a thin steel rod, hidden at the junction of the side and the back, runs the full length to add stability and keep the bag rigid even when completely empty.
Separate zippers on each side allow you to expand the depth and carrying capacity of the Peak Design Travel Backpack from a 9-inch depth (normal, zippered shut state) to an 11-inch expanded position which enlarges the internal volume from 35 liters to 45 liters. Additionally, the top area can be scrunched in to compress the backpack to a smaller form factor and a reduced capacity (30L). Note that the normal, 35L unexpanded version is carry-on compatible by most U.S. airlines' standards, but the expanded version might get you jammed.
The back features a full length waffled pad that provides comfort and also conceals the hideaway waist belt. The back is secured at the top and bottom by robust flathead rivets and along the sides by magnetic catches. The shoulder straps are fully adjustable and include a sternum strap and attachment loops. You can hang a Peak Design Capture Clip (reviewed here) from the reinforced tabs on both straps. The straps can be hidden behind the back pad along with the waist belt. And there's a cleverly placed grab handle in the center of the back that runs top to bottom and can be slipped over the handle of wheelies for easy portage.
A weatherproof zipper travels around three of the sides and top of the bag to expose the innards. The back of the front cover has a full length, nicely padded computer pouch that accommodates up to a typical 15-inch laptop. See specs below.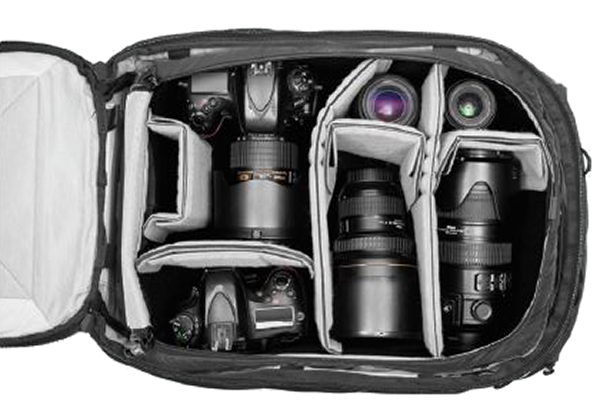 Inside is—empty. And that's the beauty of this beast. You can customize the Peak Design Travel Backpack by adding any of nine different Packing Tools (not all at the same time, of course) or any camera cube you might already own. The term "Packing Tools" is appropriate, and in Peak Design's vocabulary it means smaller, specialized packs optimized to safely carry a variety of different items. The Packing Tools are secured in place via a system of locking attachment clips and heavy fabric loops. Works like a charm—you can shake the bag upside down and backwards but the camera cubes will not fall out.
Here's the roster of Packing Tools: Tech Pouch, Wash Pouch (toiletry items), two sizes of Packing Cube (for clothes), Shoe Pouch, Rain Fly (rain cover), and three sizes of Camera Cube.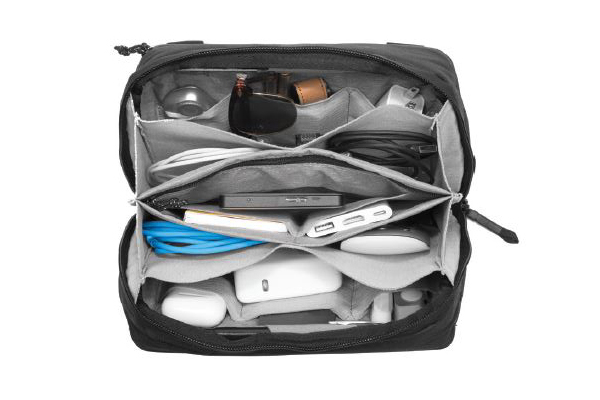 The Tech Pouch is the organizer's dream. Too many pouches and pockets to count (really—more than 15, depending on how you count them). It's comfortably padded and some of the pouches stretch to hold items securely in place. I give the Tech Pouch an A+ for use with or without the Travel Backpack.
The Wash Pouch is a nice improvement over an old fashioned shaving kit. Some of the pouches are plastic mesh to allow air to circulate. There's a sneaky magnetically closed pouch running right down the middle that's ideal for a toothbrush or similar. And there's a full length zippered pouch on the outside, too. Gives me the itch to travel soon.
The three Camera Cubes (small, med and large of course) are what we expect from Peak Design—they're outstanding. Inside you'll find their famous FlexFold dividers for endless hours of customizing and organizing. The outside is weatherproof recycled 400 denier nylon fabric and there are handles in various appropriate places on the exterior.
One feature that makes this backpack-plus-camera-cube system unique is what we might call unimpeded, straight-through access. Even though the camera cube isn't built in, you can easily access the contents via zippered doorways on either side after unzipping the external flaps on the backpack. Many other convertible backpacks must be removed and opened in order to retrieve the contents of the camera cradle. In Peak Design's case the large Camera Cube still opens fully to allow easy packing and fast retrieval but also has zippered access flaps on the sides.
The Travel Backpack is available in black or sage (gray-green) and sells for $299. Camera cubes come in three sizes at $49, $69 and $89 each. Tech pouches are $59. Everything can be pre-ordered on Backerkit. Delivery is expected by the end of the year (consult their website for more precise delivery information). Peak Design products carry a lifetime, hassle-free warranty.
Physical specifications are as follows:
Dimensions: 22 x 13 x 9 (normal configuration; expands to 22 x 13 x 11 when fully expanded).
Weight empty: 4.5 pounds.
Maximum dimensions for laptop: 16 x 11 x 1 inch (typical 15-inch computer).
Maximum dimensions for tablet: 9.5 x 7.5 x 0.6 (typical 10.5-inch tablet).
I wasn't going to mention Peak Design's fiscal prowess because it only indirectly has anything to do with their product design and quality. But since we're at the end of the column and I still have paper in the typewriter, here's some info you may find interesting. The Travel Backpack raised $5,206,612 on Kickstarter and found 13,752 backers. Add another $561,811 and 11,312 backers from Backerkit (of far) and it makes your eyes roll. Amazingly, incredible crowdfunding is not something new to Peak Design.
Back in October of 2016 I wrote these words about their amazing crowdfunding success: "The bags we're examining today landed 26,359 backers on Kickstarter who pledged $6,565,782 to help bring the Everyday Photo Backpack project to life. If you toss in Indiegogo, the tally shoots up to $7,055,048 in total funds raised as of September 9, 2016. This shouldn't come as a surprise, I guess, since the Everyday Messenger bags roused 17,029 backers and $4,869,472."
So let's see; in round numbers that's nearly $18-million. I think that says a lot. And one more thing: every year, Peak Design donates 1% of their top-line revenue to environmental non-profits. Like they say, beauty is as beauty does.
—Jon Sienkiewicz
FEATURED VIDEO