Panasonic's Lumix DMC-GF1; A 12MP Micro Four Thirds Camera Page 2
Still, this option does add to the user-friendliness of the GF1, and is a practical starting point.
14-45mm/Night Shooting: Mega O.I.S.
I decided to test the camera's Optical Image Stabilization (O.I.S.) with the lens at 23mm (=46mm) and a slow shutter speed down to 1⁄6 sec, handheld (ISO 400). This effectively gave me a window of three stops blur-free, judging from the result. While this image is reasonably sharp, I found it was difficult to achieve consistent results, since the way to truly optimize sharpness, aside from the obvious, is to use an optical viewfinder for an improved tripod-like stance. Heavier optics also help to counter camera shake.
The GF1 works very nicely when shooting movie clips, with a choice of quality, including HD, and recording formats—proprietary AVCHD Lite and Motion JPEG. What AVCHD Lite brings to the table is very tight compression, stretching available memory card capacity considerably beyond what you could record with Motion JPEG. At a price. The problem is that the supplied software doesn't let you do more than edit length. And there appears to be limited software support for this new AVCHD Lite codec.
Pet Peeves
First, on several occasions, the camera flashed a warning that the lens was not properly attached. And I soon realized the probable cause. In my zest to grab the camera/lens to zoom and shoot, I apparently—and inadvertently—landed on the lens release button with my left hand. Second, I also found it was possible to inadvertently deactivate the Mega O.I.S. switch on the lens during the same process of hurriedly grabbing the camera and shooting. My recommendation to Panasonic is to move the lens release further down on the camera and to change the orientation of the O.I.S. switch on the lens so that it moves fore and aft, instead of up and down, and to make it smaller.
14-45mm/Landscape: Capturing Reflections
As the sun was setting over this neighborhood church, I wanted to see how the camera's Scene/Sunset mode would handle this view. I was hoping to produce this dramatic effect, emphasizing the crisscrossing clouds—and I got exactly that, with the church in silhouette.
In The Field
I really had fun with this camera. I would have liked digital noise, especially color noise, to be better controlled at the highest ISO levels. (I even detected a smidgen of luminosity noise at ISO 100). While Mega O.I.S. did the trick often enough, I didn't feel I could rely on it to produce consistently sharp results when shooting handheld in low light. On the flip side, AF was reasonably fast for a Live View camera, although shutter lag was noticeable, but not to the point of distraction.

The lenses performed well, delivering crisp results. Distortion was well controlled on the zoom, and remarkably absent on the prototype 20mm lens. Vignetting on both lenses was also under control.
14-45mm/Night Shooting: Fill Flash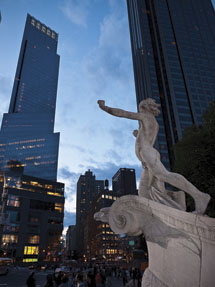 As daylight was waning, I decided to see how well the built-in flash would do with slow sync. In this instance, the flash provided subtle fill for the foreground sculpture while maintaining the background ambiance. (ISO 100, f/3.5, 1⁄13 sec, Program mode.)
To sum up, the Panasonic GF1 is a lot of camera in a tidy little package. Not without its faults, this Lumix does succeed in making picture taking a fun endeavor. But more than that, the camera, with either the 20mm or 14-45mm zoom, does a commendable job. Even though my extensive testing involved the zoom, based on working with the prototype camera/20mm lens, I would choose the fixed focal-length optic for my kit lens (model DMC-GF1C-K). Even without Image Stabilization, this 20mm lens proved itself in both indoor and outdoor settings. Either way, if I wanted a camera to take on vacation or just to carry around town, this would be an ideal candidate. It's certainly a handy alternative to my standard D-SLR. The GF1 has the potential to become an awesome picture-taking machine once all the system components become available.
14-45mm/Still Life: Long Exposure NR
I used a Dot Line 60-LED light as my key light (hand holding it), counted to five, then switched it off. For the remainder of this 20-second exposure I used a blue LED pen light to paint in the surrounding area (which was originally black seamless paper). The GF1 was on a tripod, in Shutter-Priority mode. The camera's Long Exposure NR apparently did the trick, since I did not detect noise normally associated with such exposures. (ISO 100, f/22, 20 seconds.)
Technical Specifications
Panasonic Lumix DMC-GF1
Effective Pixels: 12.1 megapixels
Image Sensor: Four Thirds Live MOS sensor, with primary color filter
Digital Zoom: Max. 4x
ISO Sensitivity: Auto/100/200/400/800/1600/3200
Focal-Plane Shutter/Speed: 60 seconds to 1⁄4000 sec, B (Bulb) (max. four minutes)
Metering Range: EV 0 to EV 18
Still Image Recording: Raw/Raw+Fine/Raw+Standard/Fine/Standard
Dimensions: 2.8x4.69x1.43"
Weight: Approx. 10.1 oz (camera body)
Price (Street): $899, Panasonic Lumix DMC-GF1K-K Kit with 14-45mm lens
Lumix G Vario 14–45mm f/3.5–5.6 ASPH/MEGA O.I.S.
Focal Length: 14-45mm (28-90mm equivalent)
Aperture Type: Seven-bladed circular diaphragm
Max. Aperture: f/3.5 (wide) to f/5.6 (tele)
Min. Aperture: f/22
Close Focus: Just under 1 ft
Filter Diameter: 52mm
Overall Length: Approx. 2.36"
Weight: Under 7 oz
For more information, contact Panasonic Consumer Electronics Company at: www.panasonic.com.
FEATURED VIDEO