Our Top 10 Vintage Lenses to Use on Digital Cameras
Why would anyone in their right mind want to use old lenses on their shiny new high-performance DSLR or mirrorless camera? The simple answer is that some older lenses can capture images that have that elusive quality known as character. And for photographers who want to create unique images that express their personal style, character can be even more important than MTF and resolution numbers, corner-to-corner sharpness, freedom from aberrations, evenness of illumination, high contrast, low distortion, and color fidelity—in short, all the criteria lens testers consider crucial in evaluating lens performance.
Indeed, the use of vintage lenses on digital cameras has become so popular over the past few years it has spawned a cottage industry of small and medium sized companies offering relatively inexpensive adapters that will let you mount the majority of vintage lenses on your current digital marvel with varying degrees of convenience and functionality. Regrettably it has also resulted in skyrocketing prices for some vintage lenses that have become cult classics.
The following are my personal 10 favorite vintage lenses to use on digital cameras. Get 'em quickly before someone else snaps them up! (Scroll down to the bottom of this story to read my tips on choosing and using vintage lenses on digital cameras.)
1. 50mm f/2 Leitz Summar (uncoated)

The first "super-speed" f/2 normal lens for screw-mount Leicas, Leitz turned out 127,950 of these collapsible 6-element, 4-group beauties from 1933-40. It's quite sharp in the center but soft at the edges at f/2; surprisingly sharp overall at f/5.6 on down, renders moderate contrast images with that classic "roundness," and produces gorgeous bokeh.
Price range: $125-250
2. 85mm f/1.5 Helios-40-2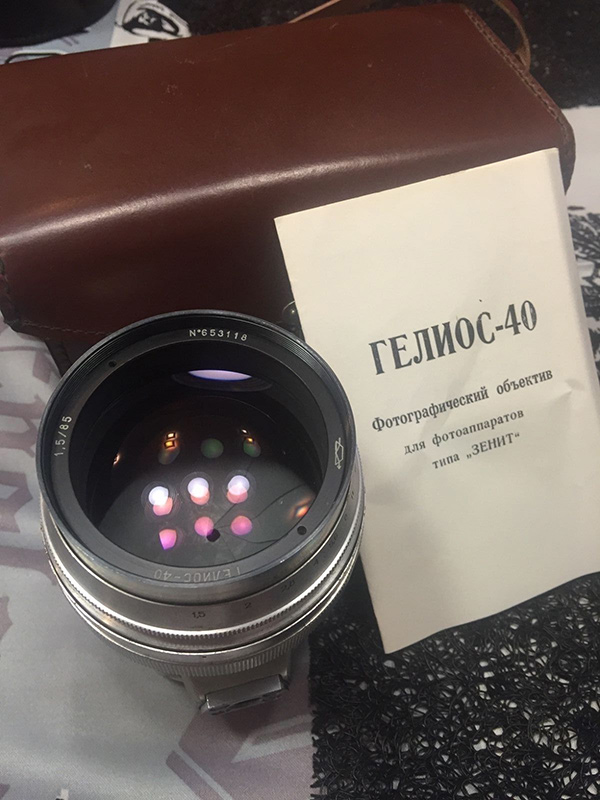 Made in Russia from the mid '50s to the '90s this ponderous 6-element Double Gauss lens is said to be based on Zeiss Biotar design and it's usually found in M42 (Pentax/Practica) mount in black finish and manual (pre-set) aperture configuration. It's not that sharp wide open but it delivers the much sought after "swirly bokeh" with backgrounds like trees and flowers, and it's quite sharp stopped down. A new version of this lens re-introduced in 2013 is available new and thankfully they haven't "improved" it.
Price range: $300-500 (used or new)
3. 100mm f/2 Olympus OM Zuiko Auto-T


Introduced along with the multi-spot-metering Olympus OM-4 in 1983, this 7-element, 6-group classic is one of the few Olympus lenses of its era to incorporate ED glass. It delivers outstanding sharpness even wide open, impressive color accuracy, and buttery smooth bokeh. It has a floating rear element to suppress distortion, is a superlative choice for portraiture, still life, or nature, and can focus down to 1:5 for stunning close-ups.
Price range: $500-800
4. 58mm f/2 Carl Zeiss Jena Biotar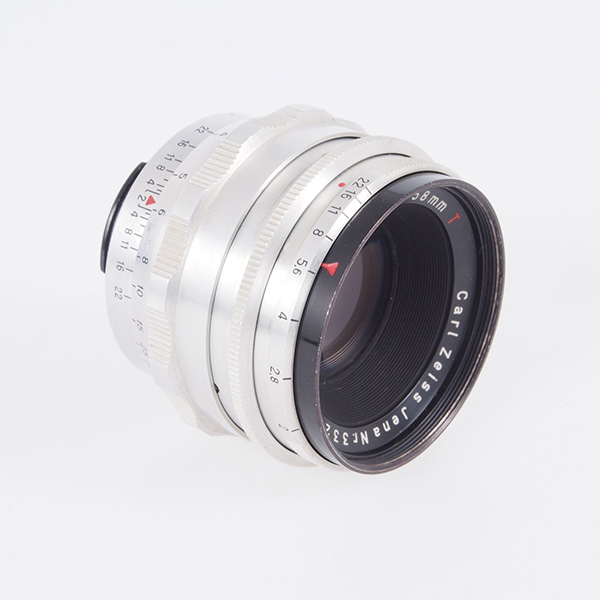 Dating back to the '30s in uncoated form, this long-running 6-element, 4-group Gauss formula lens made by the former East German branch of Zeiss is typically found in Exakta or M42 screw mount. It's sharp wide open, especially near the center of the frame; produces superb creamy bokeh, and is a great lens for portraiture in crop-sensor or Micro Four Third System cameras where it provides a medium telephoto effective focal length.
Price range: $100-250
5. 100mm f/3.5 Canon or Serenar

This exceptional 5-element, 4-group medium telephoto Leica/Canon screw mount lens was first offered under the Serenar name in silver finish in 1953 and later under the official company name Canon in black and silver in 1958. Pictures taken with it have that classic look— sharp with excellent contrast, creamy bokeh, what they called luminance back in the day. Color rendition is likewise gorgeous, and its compact size makes it great for travel.
Price range: $100-160 (Note: If you prefer a faster 100mm Canon screw mount lens, check out the 100mm f/2 Canon of the same era. It has similar imaging characteristics, but it's hefty, not quite as sweet as the f/3.5—and it goes for $450-600.)
6. 35mm f/2.4 Carl Zeiss Jena Flektogon

The 6-element, 5-group retrofocus design of this East German (DDR) classic dates back to 1950, but the f/2.4 version in easily adaptable M42 screw mount is the best of the bunch. It delivers outstanding sharpness and color fidelity even wide open, and close focusing down to 7.5 inches (!) in a compact, well-balanced package. Build quality is excellent, and its creamy bokeh is gorgeous.
Price range: $200-350 (Note: The more common 35mm f/2.8 Carl Zeiss Jena Flektogon is an excellent economical alternative at $100-150.)
7. 35mm f/2 Leitz Summicron-M

In production from 1979-1996, the series IV, 7-element, 5-group version of this exquisite lens (serial numbers 2974251-3880946) is widely hailed as the "Bokeh King" and commands fancy prices. Lately there's been considerable pushback from Leicaphiles asserting that the original 8-element version or the current ASPH. version are better choices and have even better bokeh. My verdict: The version IV I used on a Leica M9 captured images with that luminous rounded look and had awesome bokeh, especially when stopped down to f/4-5.6:
Price range: $2,000-3,500 (all types). (Note: A cool alternative is the pre-ASPH. version of the 50mm f/1.4 Summilux-M. which ranges from $1,500-2,500.)
8. 50mm f/1.4 Super-Takumar

Asahi Optical Company of Pentax fame is known for its outstanding lenses and this 7-element, 6-group Zeiss Planar-inspired classic is certainly no exception. It has been produced in various iterations, e.g. the Super-Multi-Coated and SMC Super Takumars, in both M42 and K mount. All are excellent performers and opinion varies as to which is best. When it comes to beautiful image quality and gorgeous bokeh along with impressive sharpness at wide apertures, I cast my vote for the original non-multi-coated version in screw mount.
Price range: $60-100 (Other versions: $80-200)
9. 35mm f/1.8 W-Nikkor C

The first high-speed wide-angle for the Nikon S2 rangefinder camera of the '50's, this high performance 7-element, 5-group classic is surprisingly compact and uses rare earth lanthanum glass to enhance it's performance. It's amazingly sharp for a lens of its specs and era, has beautiful bokeh at wide apertures, and captures images with that indefinable vintage feel.
Price range: $500-800
10. 35mm f/2.8 Leitz Summaron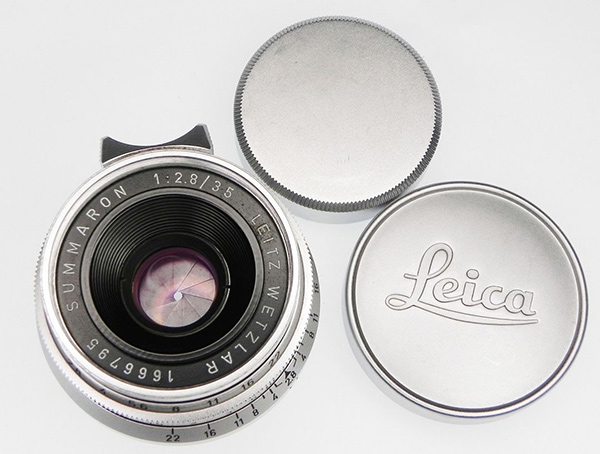 This nearly symmetrical 6-element, 4-group lens was announced in 1958 as a slightly faster variation of the classic 35mm f/3.5 Summaron, and is available in 39mm Leica screw mount or M bayonet. Though compact and fairly light, it features solid, all metal construction and has a nearly circular 10-bladed diaphragm to enhance its already creamy smooth bokeh. It captures images with a luminous vintage look, but it's at least as sharp as the 35mm f/2 Summicron ASPH or 35mm f/1.4 Summilux at moderate apertures and has excellent color contrast. $700-1,200. More economical alternatives: 35mm f/3.5 Leitz Summaron.
Price range: $250-$550; 35mm f/2.8 Canon or Serenar in screw mount: $200-350.
Tips on Buying & Using Vintage Lenses
An important word on adapters: opt for well-made, high quality lens adapters even if they cost more; steer clear of adapters that include optical elements to allow your vintage lens focus to infinity, and do an online search of the dozens chat rooms on this subject to find the adapters and combinations that work best.
Other things to consider:
Vintage lenses, especially those made prior to WWII, exhibit greater sample- to-sample variation than modern lenses, so if possible try it before you buy it.
Many older lenses have fungus in the glass and balsam (optical cement) separation, both deal breakers. Tiny scratches or minor blemishes in the coating seldom affect image quality, but should lower the price. Check it out!
Uncoated lenses are quite prone to flare when shooting against the light, and single-coated lenses are not as resistant to flare as multi-coated ones.
Check eBay for the price range of the lenses you want to buy before you pull he trigger. The prices lenses have actually sold for are the best guide to value.
Look for lower cost alternatives to lenses prized by collectors—a screw-mount 100mm f/3.5 Canon is as good as a105mm f/6.3 Mountain Elmar.
FEATURED VIDEO