Our 10 Favorite Vintage Lenses You Can Buy Right Now
It's now widely appreciated that many great old lenses of the analog era can capture images that have that elusive quality known as character. Writers of the early 20th century tried to express these qualities by describing them as "rounded" "luminous" or "plastic" rendition, but later writers and scientists dismissed such terms as imprecise and speculative, turning to resolution and later MTF testing to quantify lens performance parameters.
Over the past two decades, we've swung back to using more subjective terms such as bokeh to describe the visual appearance of the out-of-focus areas of the image. And while we still rely on objective testing to determine the sharpness, detail, and contrast performance of a lens, many art and creative photographers are now focusing creating images that capture a traditional look that sets their work apart.
Indeed, using vintage lenses on digital cameras has now become so popular it has spawned a veritable cottage industry of companies offering relatively inexpensive adapters that let you mount the majority of vintage lenses on current digital cameras especially mirrorless models and DSLRs. You can read our advice on how to choose and use vintage lenses on digital cameras – including our tips about selecting the right adapter – here.
But if you want to get to the good stuff first, read our picks below of the 10 best vintages lenses you can buy right now. When paired with your digital (or analog) camera, you'll be sure to capture a unique, retro look.
1. 58mm f/1.4 R.E Auto-Topcor (aka Auto-Topcor)

This classic 7-element 5-group double-Gauss-formula lens, said to be based on the Zeiss Planar, was produced in several versions from about 1963 to 1980. All deliver outstanding sharpness wide open but bokeh improves noticeably by stopping down to f/2 and smaller apertures. Because of its beautiful rendition and smooth, natural transitions to out of focus areas this lens is acclaimed as a "bokeh king" and prized for its beautiful images, especially of portrait and scenic subjects. It also provides a bright 1:1 viewing image and focuses to a tad below 18 inches for compelling close-ups.
Price range: This Topcon/Exakata mount lens is most commonly seen in chrome, but was also available in black finish for $300-400. Note: the rare M42 screw mount version often sells for $1000 or more.
2. 35mm f/2 Asahi Super-Takumar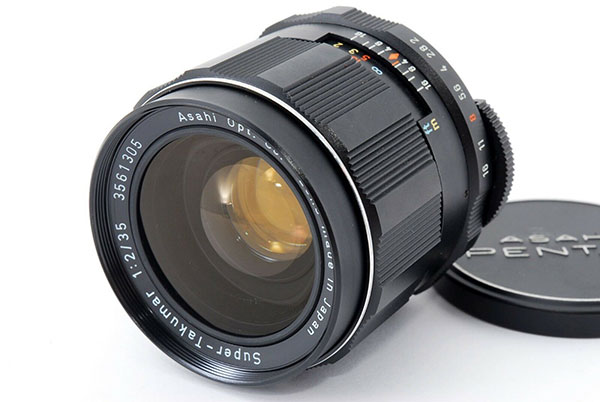 This 8-element, 7-group optical classic was produced in several versions over the years, single coated and Super-Multi-Coated (S.M.C.), and in M42 screw and Pentax K-mount. All are very sharp even wide open and are capable of capturing beautiful looking images. In terms of retro rendition, beautiful bokeh, and that indescribable "glow" in pictures shot at maximum aperture the very first edition of 1963-1966, known as the "fat" version because of its large front element and 67mm filter ring, is the most desirable, but they're fairly scarce and pricey ($250-500 in pristine condition). The second model, also single coated and in screw mount, with a smaller front element and a 49mm filter ring, is the next best choice for capturing vintage look images. Later Super-Multi-Coated and Pentax S.M.C. of the 35mm f/2 are less prone to flare and have somewhat more contrast—superb for general picture taking but not offering quite the retro rendition of their predecessors.
Price range: $150-250
3. 80mm f/1.8 Zeiss Jena (DDR) Pancolar

This classic 6-element, 5-group portrait lens that was manufactured in East Germany beginning in 1983 and is was available in M42 screw mount with or without electric contacts enabling aperture transfer on late model Praktica SLRs. As a wide aperture moderate telephoto it's great for low light shooting and provides enhanced depth of field control but it's also renowned for its outstanding bokeh and impressive sharpness. Since it was produced in much smaller quantities than its popular stable-mate, the 50mm f/1.8 Pancolar, the 80mm f/1.8 Pancolar is not easy to find and likely to be quite pricey but it's very sharp even wide open, focuses with precision, handles very well, features solid metal mechanics, and definitely captures the vintage look. The 80mm Pancolar's predecessor, the 80mm f/2.8 Carl Zeiss Biometar, is also a good retro choice if you happen to run across one, but it's not a sharp or versatile.
Price range: $600-$650
4. 55mm f/1.9 Steinheil Auto-Quinon

This top-of-the-line fast normal prime was made by the venerable optical house of Steinheil of Munich, Germany, a relatively small company that has sadly been out of business for decades. It's a classic 6-element, 4-group, single coated, Double Gauss design that debuted in 1956, and was produced until the '70s in Exakta and M42 screw mount. It's very well made mechanically, and was offered in a number of minor cosmetic versions (including a rare macro version), all based on the same optical formula. This fine lens is renowned for its attractive natural bokeh, and its beautifully "rounded" rendition even when stopped down. It's a great choice for capturing authentic vintage look images, especially portraits, but its desirability and relative scarcity have made it fairly expensive.
Price range: $200-450 in Exakta or M42 mount
5. 85mm f/3.5 Steinheil Quinar

This nicely crafted compact, moderate aperture portrait telephoto in Leica screw (LTM) mount was made by the acclaimed Steinheil optical company of Munich, Germany and it dates from the mid '50s to the '60s. It was produced in Leica thread (LTM) mount with rangefinder coupling cam, but was also offered in a similar looking but incompatible screw mount for the Braun Paxette leaf shutter rangefinder 35 of the same era, so make sure you've got the right one before pulling the trigger! I haven't been able to nail down its optical formula, but it's most likely a good 4-element, 3-group Tessar type. Whatever its design, this lens delivers excellent bokeh (it has a 12-bladed diaphragm) and beautifully modeled vintage look rendition, along with commendable sharpness, especially at moderate apertures. Another good choice with similar imaging characteristics: the 100mm f/3.5 Steinheil Auto-Quinar in Exakta or M42 mount.
Price range: $250-350
6. 100mm f/2.8 Zenzanon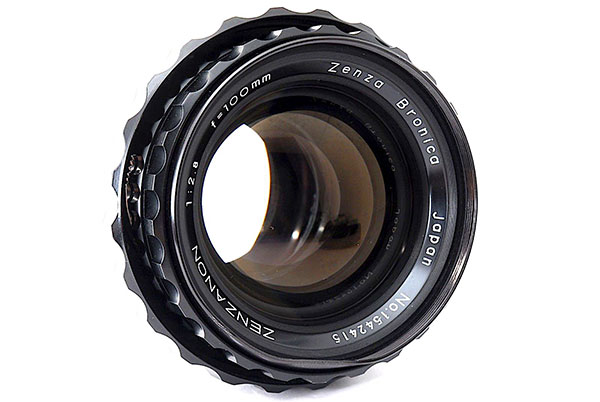 The first Bronicas of the late '50s and '60s were focal-plane shutter 2-1/4 x 2-1/4-inch-format SLRS that used top-tier Nikkor lenses made by Nikon. Around 1970 Nikon ceased making lenses for Bronica and the company unveiled its own brand of Zenzanon lenses that were actually designed and constructed by such leading optical companies as East German Zeiss and Tokyo Optical Co. (Topcon). One of these was the 100mm f/2.8 Zenzanon (also called Auto-Zenzanon), an outstanding 6-element 4-group Gauss design reportedly made by Zeiss DDR. It's an exquisite lens that's quite sharp across the field at all apertures, but it's especially prized for its gorgeous creamy bokeh at its widest apertures and its very attractive and natural rendition. It will fit any S-series or EC-series Bronica directly and can be easily custom adapted to work as a superb portrait telephoto on virtually any mirrorless camera and some DSLRs.
Price range: $275-375
7. 100mm f/2.8 Meyer Trioplan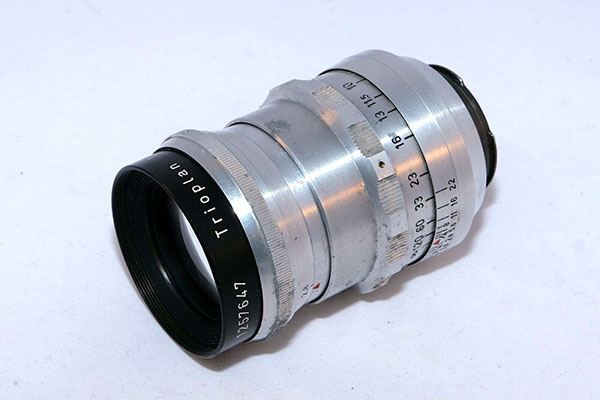 This cool lens, most often found in Exakta mount, and occasionally M42 screw mount was made for many years both before and after WWII by Hugo Meyer Optical Co. of Goerlitz, Germany, formerly part of the DDR. It's a classic 3-element, 3-group Taylor triplet design, and providing a maximum aperture of f/2.8 is really pushing it, so it's quite soft at the corners and edges of the field at wide apertures. What this lens has going for it: its made using Schott glass, it has a 15-bladed diaphragm, and it captures images with beautiful "bubble bokeh" in the out of focus areas, a look much admired by retro fans. If an authentic vintage look is what you're after, old uncoated examples will deliver it, but later coated "red V" versions capture more detail and have less flare—and fetch higher prices. Some say this lens is overhyped and too expensive, but I'll let you be the judge.
Price range: $350-650. Also available: 50mm f/2.9 Meyer Trioplan in Leica M mount at $800-$1,200
8. 35mm f/2.8 Rodenstock Heligon

Made by Rodenstock of Munich, Germany, famed for its superb line of large format lenses, this 6-element 4-group beauty dates from the '50s and '60s and was made in Leica screw (LTM) and bayonet mount for Kodak Retina (whch can be adapted for mirrorless cameras). It's single coated, has a 10-bladed diaphragm, and captures beautiful vintage look images with rounded rendition and gorgeously smooth natural bokeh, especially at its widest apertures. Many vintage look fans well aware of its imaging characteristics and that has resulted in high prices.
Price range: $750-$1,250
9. 150mm f/4 Carl Zeiss Sonnar C

Based on a classic 5-element, 3-group design (not a Heliar type!) created by the acclaimed Zeiss lens designer Dr. Ludwig Bertele in the early '30s this iconic lens with built-in Synchro-Compur 1-1/500 sec leaf shutter was made by Zeiss for Hasselblad from 1957-2013. Zeiss T* coating was added some time in the '70s. This was the lens that captured the famous exquisitely sharp NASA Apollo XI picture of the earth with moon surface in the foreground taken (wide open!) in 1969. Widely acclaimed as a superb portrait lens despite having only 5 aperture blades and focusing down to a longish 4.6 feet, it captures beautiful images with that smooth vintage rendition and gorgeous bokeh, especially at its widest apertures. Note: This and other Hasselblad V-series lenses can be easily mounted on most mirrorless cameras using readily available adapters made by Kipon and Fotodiox.
Price range: $150-$350.
10. 30mm f/2.8 Rodenstock Eurygon

This beautiful well-made wide-angle lens by acclaimed Munich-based lens maker Rodenstock is a single coated 7-element, 6-group design dating from 1956-1960. Produced in Exakta and M42 screw mount, it focuses down to 16 inches enabling impressive close-ups, and it provides smooth natural vintage look rendition at all settings, and really beautiful bokeh, especially at its widest apertures. These sterling qualities have resulted in fairly high prices.
Price range: $400-S600.
Editor's Note: Read our advice on how to choose and use vintage lenses on digital cameras here.
FEATURED VIDEO