Olympus Air A01 Camera Device that Wirelessly Connects Lenses with Smartphones Coming to US in July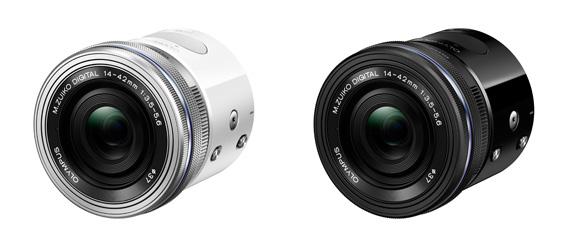 Olympus just announced that it is bringing its compact and wireless Olympus Air A01 camera device to the U.S. in July and Canada in August. The Olympus Air A01, which was introduced in Japan earlier this year, is a small, cylindrical gadget with a 16-megapixel Live MOS image sensor that can wirelessly connect Micro Four Thirds lenses with mobile devices such as smartphones.
The Olympus Air A01 attaches to these lenses and acts as a conduit between them and your iOS or Android mobile device, letting you snap images while viewing a wireless live feed and image playback on your smartphone or tablet.
Here are the main specs of the Olympus Air A01:
• 16-Megapixel Micro Four Thirds Sensor
• TruePic VII image processor
• Raw shooting option
• Built-in Wi-Fi and Bluetooth
• Silent Electronic Shutter
• 10 fps consecutive shooting
• Full HD video
• USB charging
• Dedicated Smartphone app
• Amazon Cloud Drive integration
We got some hands-on time with the Olympus Air A01 at a press event in New York City earlier this month and saw it working with a variety of zoom lenses and telephotos, including an impressive M.Zuiko ED 40-150mm f2.8 PRO with the M.Zuiko Digital 1.4x Teleconverter MC-14 set-up, shown in the photo below.
The Olympus Air is similar to Sony's QX series of lens cameras, which were introduced in 2013. (Check out our review of the Sony QX1 here.) In the case of the Olympus Air A01, it uses a 16MP Micro Four Thirds sensor and connects wirelessly to smartphones and tablets via WiFi/Bluetooth. In essence, the Olympus Air A01, which weighs just over five ounces and is just a few inches in length, is using the connected mobile device as a big LCD screen.
The Olympus Air A01 has an 81-point autocus system, shoots bursts of up to 10 photos per second, and can capture images at shutter speeds as fast as 1/16000 sec. You snap photos with the Air using a shutter button on its side. There's a tripod mount on the bottom and a slot for a microSD card and a rechargeable lithium-ion battery. It can shoot up to 320 shots on a charge.
Olympus offers eight of its own photo apps to manipulate images shot by the Air via digital filters and simulate the controls of a traditional camera on a mobile device. But Olympus said it has also made the device's API open source so third party companies can add their own apps.
The Olympus Air A01 goes on sale in the United States in July 2015 in Black or White for $299.99 (body only), or $499.99 paired with a 14-42mm EZ kit lens, and in Canada in August 2015 in Black or White for $399.99 (body only) or $599.99 paired with a 14-42mm EZ kit lens.
FEATURED VIDEO