New Gear For 2007: PMA Report; Inkjet Media: Inks And Papers
With printer manufacturers introducing better and better printers, particularly affordable high-end dye-based inkjets and consumer-oriented pigment-ink printers, all media manufacturers have lined up to bring us products that will expand the horizons of these output devices. Of particular interest to me was one company's refillable ink system designed for a consumer inkjet printer. In the past, these systems largely addressed the more robust wide format printers.

What's New?
BF Inkjet Media announced Fire Resistant Inkjet Canvas (in rolls). The company pointed out that such media is needed for the cruise ship industry, museums, and other applications where insurance liability and code requirements dictate art displays cannot act as an accelerant in the event of a fire.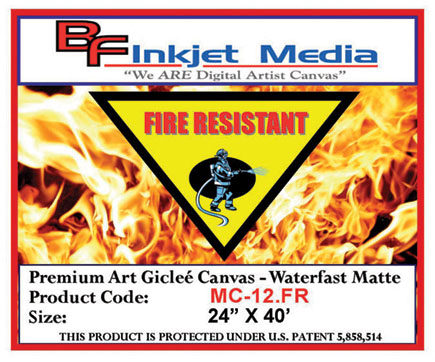 Crane & Co. focused on two new cotton-based media. Museo Maestro canvas (rolls only) is optimized for pigment inks. You can stretch and frame this material just like traditional artwork. Museo Maestro's gloss finish implies an oil or acrylic media look. Its matte surface provides a glare-free finish that you can use uncoated or top-coated. Museo Portfolio Rag (sheets and rolls) combines an extra smooth cotton base with Crane's advanced coating for exhibition and portfolio prints. Crane's 100 percent cotton base is pH-neutral, acid-free, and brightener-free, practically guaranteeing long-lasting prints.

Ferrania Technologies announced several new products. OptiJet Professional Papers are available in three finishes: glossy and luster (260 gsm, 10.4 mil), and matte heavyweight (180 gsm, 9 mil) in a full assortment of cut sheets from 4x6 to 13x19 in various-size packs. They are compatible with all inkjet printers and inks, including dye, pigment, DURABrite, UltraChrome K3, Claria, Vivera, Lucia, and ChromaLife. Also new are OptiJet dye-based inks for Canon, Epson, and HP compatible cartridges. There is also a new paper and ink compatible replacement print kit for Epson's PictureMate that delivers 4x6 prints for as little as 16 cents each.

Hahnemühle introduced Photo Rag Pearl 320 gsm as part of this company's Digital FineArt Collection. This is a natural white paper with a rag base and pearl coating (sheet and roll sizes). The new paper features a high D-max and a large color gamut that enables the reproduction of the finest color and black and white images. Due to the exclusive use of cotton rag, this paper is extremely age-resistant and is said to comply with conservational standards. Also new is the Hahnemühle Digital FineArt Photo Album, which comes with 20 sheets of Natural Art Duo 216 gsm and 22 interleaf sheets. The Hahnemühle FineArt albums are in A4 landscape format.
Hahnemuhle FineArt Collection
Harman Technology made its PMA debut, launching several new products. FB Mp Warmtone paper uses a real photo baryta layer, which on the Matt FB Mp product offers enhanced archival properties and tonal range, especially with black and white prints. Harman Technology's FB Mp Warmtone paper will bring the same advantages to color printing and is especially effective in enriching skin tones in portraits. This company also announced their media will be available in roll sizes.

HP showcased Professional Satin Photo Paper in rolls and convenient 13x19 cut sheets. This paper is designed to deliver archival-quality fade resistance and exceptional durability using HP's Vivera pigment inks and offers consistent gloss uniformity for reliable color and reflectivity without bronzing and a professional satin finish with impressive depth and clarity.
HP Professional Satin Photo Paper
Innova exhibited the new FibaPrint Ultra Smooth Gloss 285 gsm. This is a smooth acid-free ultra-white paper modeled on the traditional fiber-based material used in conventional photography. The special microporous gloss coating has been designed specifically for photographic reproduction and high-quality fine art print applications with inkjet (giclée) technology. FibaPrint Ultra Smooth Gloss has a very large color gamut and D-max rating of 2.7. Also new are FibaPrint Warm Tone Gloss and White Semi-Matte.
Innova FibaPrint Ultra Smooth Gloss
FEATURED VIDEO