New Gear For 2007: PMA Report; Hot New Digicams Page 2
Samsung is a leader in the 10MP category and is now marketing two additional models, both using the fairly large 1/1.8" sensor (7.176x5.319mm in size). The NV11 ($399, list) is the latest in the very highly rated NV series in a very slim (0.9"), luxurious black stainless steel body. This camera was intended for serious shooters with a remarkably wide range of modes, options, and overrides. Although there's no true Image Stabilizer, upgrades include a larger 2.7" LCD, a longer Schneider 38-190mm zoom, Face Recognition AF/AE, with selectable automatic redeye removal, and a TV-quality MPEG-4 VGA video clip mode.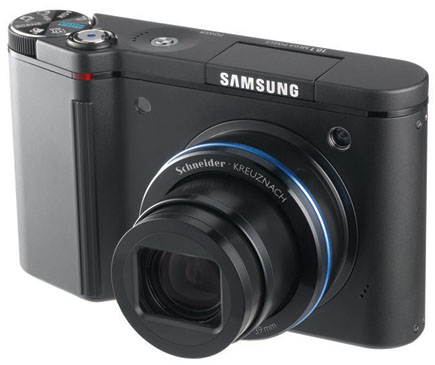 The latest 10MP camera from Pentax includes a true CCD-shift Image Stabilizer in addition to Digital Shake Reduction (ISO boost). The Optio A30 ($349, list) is a very slim (0.9") camera with a 38-114mm zoom that uses the fairly large 1/1.8"-type CCD sensor. It's a family-oriented, high-resolution model but is well equipped, with a wide range of modes and overrides, and extras such as Face Recognition AF/AE and a Burst mode that allows for shooting an "unlimited" number of large/fine JPEGs.
Casio's affordable ($299, list) EXILIM Zoom EX-Z1050 with a 38-114mm zoom deserves to be a popular camera. One of the smallest 10MP models (0.95" thick), it features a large 1/1.7"-type sensor, a very bright 2.6" LCD, "Auto Tracking AF" that follows moving subjects, an ISO boost "Anti-Shake" system, and the features/overrides that families usually want. Similarly priced, the 10MP GE models are also surprisingly affordable ($249 and $299, list). The GE E1030 with 2.7" LCD and 3x zoom and the GE E1040 with 3" LCD and 4x zoom employ a large 1/1.7" CCD and include many of the same features as the 12MP GE camera discussed earlier.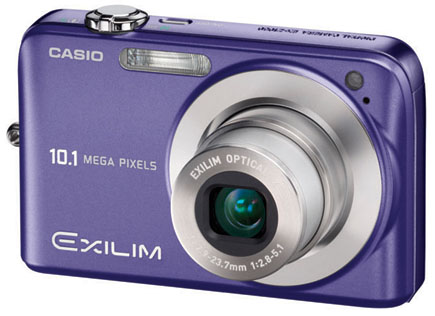 Ultra Slim/Compact Digicams
Several new models in this category were recently released, all under 1" in thickness. Worthy of consideration is the 7MP Nikon Coolpix S500, a well-specified, family-oriented camera in a 0.9" thick stainless steel body with a 35-105mm zoom. Other features include a 2.5" LCD, true Optical Vibration Reduction Stabilizer, and Nikon's in camera enhancing software.
The 7MP Panasonic Lumix DMC-FX30 ($350, list) and the nearly identical Leica C-LUX 2 ($499, list) were billed as "the slimmest 28mm lens cameras": a mere 0.87" thick. The Leica model differs from the Lumix camera in firmware and processing as well as styling and includes a 64MB SD card, a much longer two-year warranty, plus a free copy of Adobe's Photoshop Elements 5.0 software. Each is an ultra-compact camera with a metal body, wide angle to telephoto 28-100mm Leica lens, and Panasonic's Optical Stabilizer.
One of the slimmest (0.8") 7MP cameras with 7x zoom, the new Samsung L77 ($399, list) in an elegant metal body remains sleek at all times, thanks to a non-protruding 7738-266mm equivalent lens. This digicam includes 18 Program modes, the basic overrides, 2.5" LCD, MPEG-4 VGA video capture and editing software, plus Advanced Shake Reduction, not a Stabilizer but automatic ISO boost in low light.
Casio's new 7MP EXILIM EX-V7 ($399, list) is almost as slim and it's similar in terms of the lens and feature set, although Casio employs a true CCD-shift Stabilizer in addition to an ISO boost "Anti-Shake" option. Note, too, that this camera includes technology that's similar to Panasonic's Intelligent ISO (discussed earlier). Movement analysis automatically analyzes the "velocity and vector" of a moving subject and boosts ISO as required for a faster shutter speed for sharp action photos. This tiny Casio camera also provides Tracking AF that can follow the subject to continuously maintain accurate focus and a surprisingly fast 3 fps Burst mode.
Unusually thin (0.99") for a Digital ELPH camera, the ultra-compact 8MP Canon PowerShot SD850 IS with metal body was announced long after the PMA Show but should be available now ($399, list). It's an upgrade over the 6MP SD800 IS and retains the best features: a 28-105mm zoom, Image Stabilizer, DIGIC III processor, Face Detection AF/AE, 2.5" LCD, small optical viewfinder, Manual mode plus 15 Program modes and all essential overrides. The primary benefits include higher resolution, superior DIGIC III processor, and improved Face Detection flash exposure control.
Water-Resistant Cameras
Most digicams are easily damaged by water, making it risky to use them in the rain and snow or at the beach or swimming pool. But some of the new cameras are a lot more rugged, especially the 7MP Olympus Stylus 770 SW model. Displayed in a very deep tank of water at PMA 2007, it's encased in an ultra-slim (0.8") stainless steel body that's waterproof (down to 33 ft), freezeproof (to 14ÞF), crushproof (resisting up to 220 lbs), and shockproof (for drops from 5 ft). This is a well equipped Olympus digicam with non-protruding 38-114mm zoom, 2.5" LCD, 27 shooting modes, the essential overrides plus software with many image-enhancing options. And for those who really must know such data, the built-in manometer can calculate and record the altitude and depth for each of their snapshots.
The 7MP Pentax Optio W30 ($299, list) with a 38-114mm zoom and 2.5" LCD with Anti-Reflection coating is waterproof, too, for up to 10 ft. This is a slim (0.9") family-oriented camera with 25 Program modes and the basic overrides, but it includes extras such as Face Recognition AF/AE, Continuous AF for follow-focusing a moving subject, and in camera software for image enhancement. Useful extras include Image Recovery to retrieve accidentally erased pictures and Soft Flash for gentler lighting during close-up flash photography.
While the slim (0.95") 7MP Olympus Stylus 780 is not as well sealed, it will withstand light rain or a quick splash thanks to its weatherproof body ($349, list). An ultrahigh-tech camera with a 36-180mm zoom, this one includes both CCD-shift Stabilizer and automatic ISO boost, Face Detection AF/AE plus exposure correction software.
FEATURED VIDEO