The Making of a Fine Art Photo: Martin Stranka's "Until You Wake Up"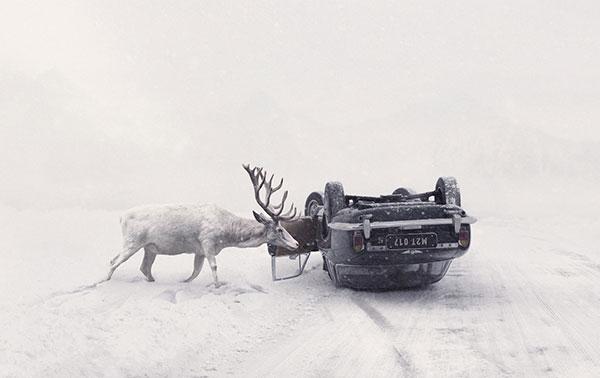 Martin Stranka's fantastical fine art image titled "Until You Wake Up" was inspired not so much by a dream but by a real-life nightmare.
"The crashed car, wintry landscape, and deer remind me of the accident that inspired me to start shooting," Stranka explains. "My closest friend died 10 years ago and it was a really strong emotional moment. It inspires me even nowadays."
He shot the photo outside of Prague, Czech Republic, in freezing cold weather. "I knew that shooting the scene indoors, in a big studio, wouldn't capture the freezing atmosphere, so we decided to go out. I was able to borrow a 1971 Jaguar XJ6 from a friend who restores old cars. Then we rented a crane to flip it over and create the scene."
Stranka captured the image with a Canon EOS 5D Mark III and an EF 24-70mm f/2.8L II USM lens at 50mm, f/22, 1/125 second, ISO 400.
"I use an open mind and closed eyes," he says. "You have to close your eyes in order to see."
You can see a larger version of the image and order prints here.
To view more of Stranka's work, visit his website (martinstranka.com), his Facebook page (facebook.com/MartinStrankaPhotography), or his Instagram feed (instagram.com/martinstranka).
FEATURED VIDEO