Leica M10-R Camera Review
Leica just introduced the M10-R, a manual focus rangefinder-style digital camera complete with a 40.89-megapixel sensor. We had the opportunity to use the camera prior to its release and evaluate its performance. Here are the results of our hands-on assessment.
The Leica M10-R is the fifth model in the Leica M10 digital rangefinder camera series, each unique and all sold concurrently. Anticipated price of the new M10-R is $8,295.
Leica M10-R Major Features
• Compact manual focus rangefinder-style digital camera
• 40.89-megapixel full-frame CMOS sensor
• Leica Maestro II image signal processor
• CMOS chip, approx. 24x36 mm
• No Low-Pass filter
• Touch Display 3-inch TFT LCD monitor on back
• Aperture Priority automatic or fully Manual
• Optical Viewfinder (0.73X magnification)
• ISO 100-50000 (Base ISO 100)
• Shutter to 1/4000 second
• Long Exposure times up to 16 minutes
• Silent Shutter (introduced on M10-P)
• High speed shooting up to about 4.5 fps
• DNG (7864x5200 pixels) and JPEG file formats
• Buffer Memory 2Gb
• Built-in Wi-Fi (802.11b/g/n)
• Seamless Leica FOTOS app connectivity
• Black chrome or silver-colored chrome finish
• Made in Germany
$8,295 in black chrome and silver chrome finishes.
Shutterbug reviewed all previous Leica M10 cameras and even published an exclusive photo essay on the unboxing of a Special Edition Zagato Leica M10. Here are the links to our library of Leica M10 model camera reviews:
Special Edition Zagato Leica M10
Here is how the Leica M10-R compares to the Leica M10 and M10-P.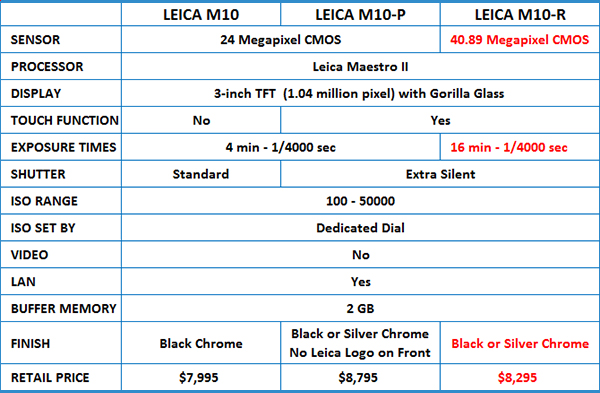 Not shown in the matrix are the Leica M10-D (which does not have an LCD display on the back and is perfect for reliving the experience of shooting with a classic M-series film-based Leica) and the Leica M10 Monochrom (monochrome only). The Leica M10-D currently retails for $8795 and the Leica M10 Monochrom for $8295.
In this review we examine only the most outstanding and model-defining feature, the 40.89-megapixel high resolution sensor.
Since the Leica M10-R is essentially identical to the other models in the lineup, we refrain from repeating the same information and analyses here. Instead, we invite you to refer to the earlier reviews to learn about Construction, Features, Operation and other traditional review topics.
Image File Resolution and Size
The Leica M10-R creates JPEG and DNG files that measure 7864x5200. That equates to resolution of 40.89 megapixels with a 3:2 aspect ratio. The DNG files are 14-bit, lossless compressed; the JPEGs are 8-bit. JPEG file sizes average around 16 to 18 megabytes. In comparison the Sony Alpha a7RII produces images 7952x5304.
Real-World Evaluation
We pursued four very different and distinct – but very typical – types of shooting situations to judge the performance and benefits of the 40+ megapixel resolution.
First, we photographed an unremarkable indoor scene. We chose the corner of a music room that includes a piano, guitar, sheet music and various other objects. Lighting is mixed natural and artificial lighting and quite flat, and colors are relatively muted. We also included the all-important X-Rite ColorChecker Passport Photo 2 which we have used extensively since reviewing it here back in spring of 2019.
Image was captured using a Leica M10-R, Leitz Summilux 50mm f/1.4 lens on an Induro CT214 studio tripod. Exposure setting was f/11 for 2 seconds at ISO 200. No exposure bias.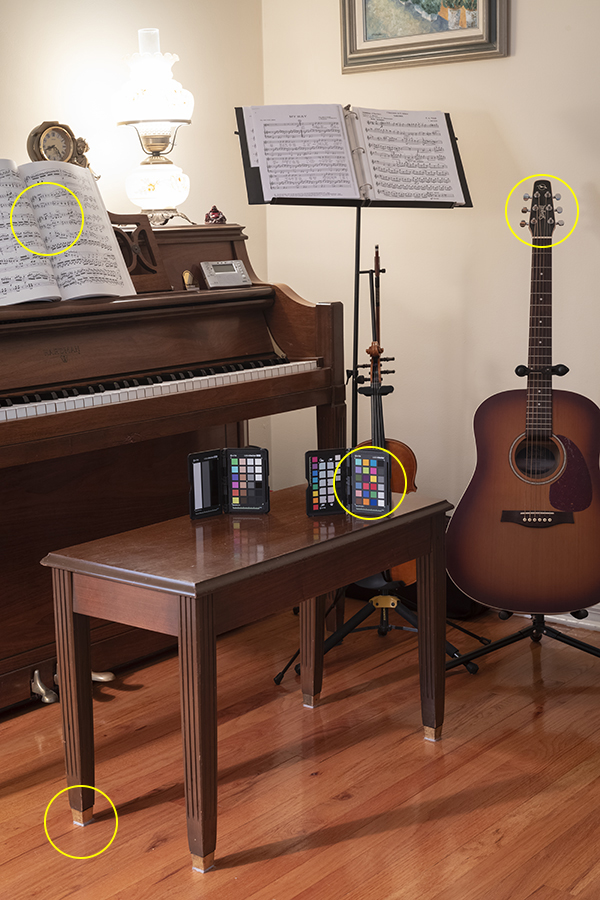 Shown above is the entire scene, and below are enlarged areas of the image that isolate a portion of the sheet music, one of the feet from the piano bench, the headstock of the guitar and of course, a close-up of the color chips.
As you can see, sharpness is excellent, especially considering the extreme degree of enlargement. Grain is not visible, colors are bright and accurate, and contrast matches the scene lighting. Careful examination of the sheet music even reveals the ink that has bled through from the backside of the page.
Next we shot two close-up subjects, flowers. The images below contain the entire image in the top panel and a 600-pixel-wide crop of the image at 100% magnification underneath.
We used a Leica Visoflex (Typ 020) for careful close-up composition, but we relied on the M10-R's excellent built-in Focus Peaking assist function to get it sharp. Rangefinder cameras are not known for their macro work, ordinarily. As you can see, results are exceptionally good, and sharpness is impeccable.
Third scenario shows large objects from a distance. Sharpness and resolution are excellent. The image of the light field artillery, in particular, illustrates the ability to crop a very small section from the image of a large object and still enjoy great detail and clarity.
Shots like these come to mind when I hear people claim that "megapixels don't matter." Megapixels do matter, but they do not define quality. I still get amazing images from my 15-year-old, 5-megapixel Leica Digilux 2. I get it.
The last example was shot in very dim light and shows a legal sparkler in a 7.5-ounce soda can. Exposure was f/5.6 for 1/90 second at ISO 6400 using the same Summilux lens on the same M10-R body, handheld.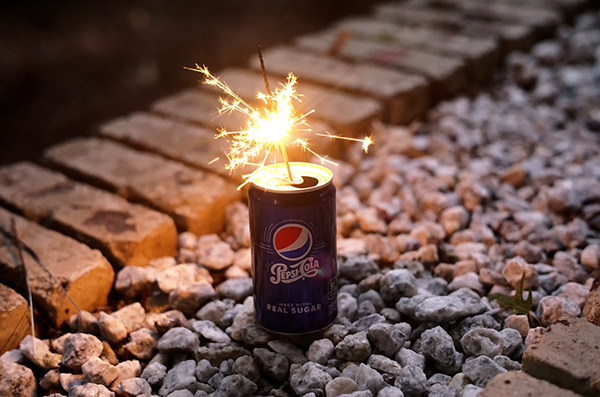 Ideally we would have shot this low-light example on the streets in Manhattan or at some romantically dimmed café or rendezvous spot. Alas, the global health crisis continues to force us to find a suitable venue much closer to home and away from people.
Conclusion
The Leica M10-R embodies all of the magic of the Leica brand and presents it in higher resolution. Like the other M10 Leica models in the lineup, ergonomics and handling qualities are superb, and are strongly reminiscent of the Leica M3 and Leica M4 cameras from the bygone film days.
Very agile and adept for covert street shooting, the Leica M10-R has the ultra-silent shutter we first met in the Leica M10-P. The chrome finish (in either black or silver-color) is very durable and the LCD display is protected by Corning Gorilla Glass. Combined with the excellent low-light capabilities and fast handling, the Leica M10-P is the kind of camera that astute, ardent photographers would love to use every day, all day long.
The 41-megapixel CMOS sensor ideally matches the high resolution and high acutance capabilities of Leica lenses. Some brands of lenses flounder when paired with a hi-res sensor, but Leitz lenses—even the old ones—are right at home. If you own old Leitz glass and want to enjoy the M-mount lenses again in all their glory, this Leica M10-R is clearly the way to go.
If I were more imaginative I'd probably write something like, "This is the camera body that my vintage 1969 Leica 35mm f/2 Summicron lens has been waiting for to show off its full potential."
—Jon Sienkiewicz
(As an Amazon Associate, Shutterbug earns from qualifying purchases linked in this story.)
FEATURED VIDEO