How Pro Sports Photographer Brad Mangin Makes Money Selling Baseball Photos Shot with His iPhone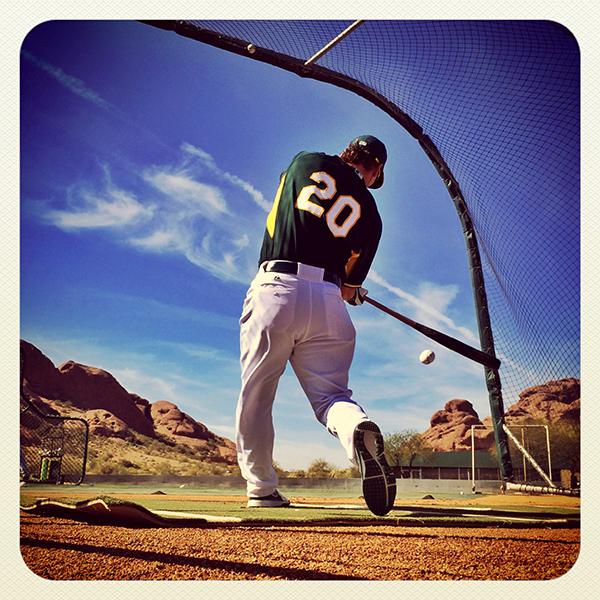 Not long ago, pro sports photographer Brad Mangin wrote a story for the PetaPixel website that was titled, I Earned More From Photo Gigs in 2016 With My iPhone Than My DSLRs!
Prior to that, at the TechCrunch website, it was suggested—no, that's not right, it was stated—that Brad Mangin is the future of sports photography.
Mangin is a skilled and savvy veteran of 30 years of sports photography, but what he's achieved with his iPhone over the past five years is due not only to his skills, but also to the fact that smartphone photography is serious business because the ultimate destinations of images these days—websites and social media—are driving the market.
Warming Up
Mangin started shooting baseball with his first iPhone, a 4S, in 2012 during spring training in Arizona. "I was there with my real cameras to do real pictures," he says. "Instagram was pretty new, and I thought it was a cool, fun way to share pictures. I was on the field, in the dugouts, there was a lot of still-life stuff happening, and I started shooting with the phone and posting the pictures while I was doing my other stuff. I really enjoyed it, had a great time, and people seemed to like the pictures."
One of those people was his Sports Illustrated editor. Mangin kept shooting with his phone as he covered the baseball season with his Canon DSLRs, and in July he got all six pages of SI's Leading Off section for his iPhone Instagram images.
Mangin's title for that story, at his website, was How I Made Instagram Images That Were Good Enough For Sports Illustrated. "It was a huge deal at a time when no one was doing anything like that," he says. "It got a lot of attention."
By September he had a book deal, and in the spring of 2013 Instant Baseball: The Baseball Instagrams of Brad Mangin was published.
On the Course
Then the PGA picked up on Mangin's work and he ended up shooting at four of their golf events, including The Players Championship, where he found that golf was ideal for smartphone photography.
"It's pretty—you're outdoors, you have blue skies, green grass, lots of details. At The Players I went around doing my thing with my iPhone and working with the PGA's social media people for a week. I was out there shooting cool pictures that immediately went out on Facebook, Twitter, and Instagram, while the real photographers were doing their stuff. The PGA liked it so much they filmed some how-to iPhone photography videos with me."
What he's doing with his phone is, in one sense, no different from what he does with his DSLRs: "I'm capturing moments and bringing them to people's attention—moments they don't ordinarily see or notice."
There are limits, of course, but they're not getting in the way. "There are no long tele lenses, so I have to choose angles and points of view that tell stories, and sometimes get close by zooming with my feet." And he often has to find shady spots in order to see the screen and edit his photos with his favorite app, Snapseed. "I'm as bare bones as it gets, and as basic about technique: fill the frame, and look around to see what will help your composition and help tell the story."
Mangin is now shooting with the iPhone 7 Plus—he's particularly enthusiastic about its 2x tele lens and portrait mode. "I love doing portraits," he says. "I practice using my cats to see what I can do with that mode." Mostly, though, he's keeping his eye on the prize: the end-result market of the Internet and social media.
He knows that some people see the possibilities, and maybe the future, while some are still not seeing the picture of what's going on. "You know, people see me at the golf tournaments with the phone, and I know they think I'm someone's father, just wandering around taking phone photographs. And I'm thinking, No, really—I know what I'm doing."
Yes, he does.
Featured at Brad Mangin's website, manginphotography.com, is an array of images and information about his book, Instant Baseball. His Instagram feed, at instagram.com/bmangin, offers a variety of iPhone photos of baseball, golf, and his cats. Google Brad Mangin PetaPixel to read the 2016 earnings story and "Brad Mangin is the future" (without the quotes) for the TechCrunch piece.