Here Are 5 Photos of the New 37.4MP Zeiss ZX1 Full-Frame Compact Camera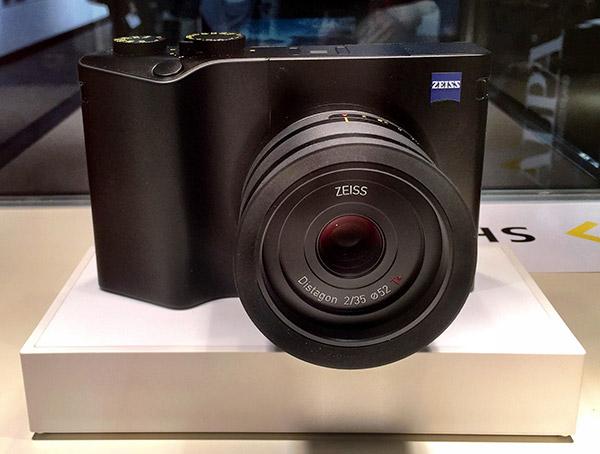 Zeiss made a big splash at the photokina show in Cologne, Germany last month when it announced the Zeiss ZX1, a compact camera with a Zeiss-designed, 37.4MP full-frame sensor. Today at the PhotoPlus Expo show in New York City, Zeiss officially took the wraps off the camera by displaying prototypes of the ZX1 for the first time.
While Zeiss shared press images of the ZX1 at photokina, today was the first time the public could actually see what the camera looked like in person. On the downside, the three ZX1 cameras that Zeiss was showing off at PhotoPlus Expo were displayed "under glass," so we weren't able to get any hands-on time with the camera. We did shoot images of the ZX1, which we've included in this story.
The Zeiss ZX1 features a newly designed, integrated Zeiss Distagon 35 mm f/2 T* lens with autofocus that the company says has been matched to the 37.4 megapixel full-frame sensor, which was developed in-house at Zeiss. It's worth noting that while Zeiss has a history of creating analog, film-based cameras, the ZX1 is their first digital camera.
Another unique feature of the Zeiss ZX1 is that it has Adobe Photoshop Lightroom CC Mobile built in, allowing photographers to process Raw images directly in the camera. There's also a sweet-looking 4.3-inch multi-touch display on back of the camera and the screen is slightly bent, which separates the live view from the control elements. If you don't want to compose images on the rear display, there's an OLED electronic viewfinder as well.
Uniquely, the ZX1 has a 512GB SSD drive integrated into the camera, allowing photographers to store approximately 6,800 Raw files (DNG) or over 50,000 JPEGs without needing a memory card. In fact, the camera has no memory card slots at all.
The Zeiss ZX1 has connectivity options including WiFi, Bluetooth and USB-C, letting users upload selected images from the camera directly to the Internet without having to transfer to memory cards or other external devices. Meanwhile, users can add over-the-air software updates to the camera without requiring a computer connection.
As you can tell from the images we shot of the ZX1 at PhotoPlus, it's a fine-looking camera though, size-wise, it pushes the meaning of the term "compact camera." Though we weren't able to hold it in our hands, the ZX1 is quite large (definitely not pocket sized) and substantially built, thanks to its aluminum body and rubberized grip.
The Zeiss ZX1 will go on sale in early 2019. Pricing has not been annouced yet. More info on the camera here.