Sweet Glass: My 10 Favorite Lenses For Portrait, Boudoir & Wedding Photography
"A portrait is not a likeness…All photographs are accurate. None of them is the truth." —Richard Avedon
Every company that makes lenses usually designs a few that are ideal for portraiture. The trend these days for studio and boudoir portraits is toward fast prime lenses, while zooms remain popular for location and wedding photography. Wide-angle lenses may get you closer to the subject but perspective distortion exaggerates a subject's nose and ears. Longer focal length lenses (200-400mm) produce dramatic results but require more space and make communicating with the subject problematic. The classic focal length range may be 85-105mm but you can make portraits using any lens.
To find products for my column, I attend trade shows, get suggestions from readers and colleagues, and peruse press releases. The following are not just my favorites but also includes preferences from other Shutterbug writers and staff.
No two lenses show the diversity available more than the Lensbaby Velvet 56mm f/1.6 and the Zeiss Otus 85mm f/1.4 APO Planar T* ZE. The manual-focusing Lensbaby Velvet 56mm f/1.6 ($499 in black) is a soft-focus lens available in Nikon F, Canon EF, Sony A and E, Fuji X, Pentax K, Samsung NX, and Micro Four Thirds mounts. Whew! By shooting the Velvet 56 with an APS-C camera you can stretch that classic focal length range to produce an angle of view (but not perspective) of an 89mm lens on a Canon with Nikon DX'ers getting 84mm. When mounted on Olympus or Panasonic mirrorless cameras, it produces 112mm. If you want to directly capture soft-focus portraits, Lensbaby's Velvet 56 is the only game in town; Canon discontinued its 135mm f/2.8 SF (Soft Focus) lens. Unlike the Canon, Velvet's soft-focus variations are produced by aperture choice. At f/16 the Velvet 56 is crisp while at f/1.6 it's mondo soft. Stopping down an aperture or two produces something in between and it's fun finding that sweet spot, which can vary by subject distance.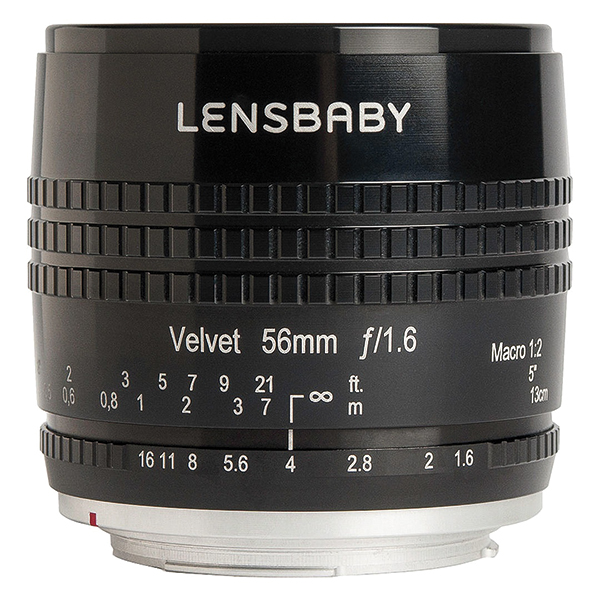 Who's It For: Photographers looking for a new look for their studio and boudoir photography.
Why I Like It: While not inexpensive, the Velvet 56mm f/1.6 provides lots of effects and fun per dollar.
The Zeiss Otus ($4,490) is available for Canon EF and Nikon F mounts and is compatible with APS-C models, too, where it produces a 136mm equivalent. It's a big (86mm filter) precisely engineered and constructed manual-focusing lens. Otus uses one aspherical element and six elements made from anomalous partial dispersion glass to suppress chromatic and spherical aberrations throughout focus and aperture ranges. A floating element design places variable air gaps between lens groups—it's internally focusing—and then the T* anti-reflective coating is applied to individual elements for sharpness and image clarity. Its rounded nine-blade diaphragm should make bokeh fans happy. Using either of these manual-focusing lenses slows your shooting, allowing you to concentrate on the image's composition, but the process gets faster after focusing, because you can quickly make shots catching fleeting expressions without waiting for the camera to refocus.
Who's It For: The Zeiss Otus is built for perfectionists—I know you're out there.
Why I Like It: Precision lenses from Zeiss have an indefinable character that, I think, inspires us to make portraits that live up to the potential of the lens.
Mirrorless Portraiture
Mirrorless cameras, especially Micro Four Thirds, offer an extensive array of lenses and along with optics from third parties offer shooters a cornucopia of different portraiture options. Panasonic's Lumix G Leica DG Nocticron 42.5mm f/1.2 ASPH Power OIS ($1,597) is a beautiful lens for high rollers who like to shoot low-light stills and video—there's that whole power zoom thing—but closer to Planet Joe, the Leica DG Macro-Elmarit 45mm f/2.8 ASPH Mega OIS lens ($897) doubles as an amazing macro lens. It's small, measuring just 2.48-inches long, without the included lens hood, and has a 46mm filter size. With its 14 elements in 10 groups, including one aspherical and one ED element, this lens embodies the promise of mirrorless cameras of high quality in a small package.
Who's It For: Photographers who shoot portraits and macros and want Leica optics.
Why I Like It: It's beautifully made, wonderful to shoot, produces excellent images but alas not in my budget.
Alternatively, the Olympus M.Zuiko 45mm f/1.8 ($349) fits my budget and makes incredible portraits and at 2.2-inches long is even more compact than the Panaleica. The 90mm (equivalent) lens includes Oly's Movie and Still Compatible (MSC) function that offers fast, near-silent autofocus for shooting stills and video. Lens construction uses extra-high refractive elements, maximizing image contrast and sharpness, with minimal chromatic aberration, ghosting, and flare. A LH-40B lens hood is optional ($34) but because I'm a devout cheapo, I picked up a knockoff on eBay for $10. It works well enough while waiting for my ship to come in. Meanwhile, this is a jewel of a lens for portraiture.
Who's It For: Micro Four Thirds photographers who shoot portraits in the studio or outdoors.
Why I Like It: It's a fair price for high-quality optics. I own one and love shooting studio and boudoir images with it.
Designed for full-frame SLRs, Sony's 85mm f/1.4 Carl Zeiss Planar T* ($1,698) for Sony Alpha and Minolta SLRs is also compatible with APS-C image sensors, providing an equivalent 127.5mm field of view. The lens uses eight elements in seven groups, has a minimum focusing distance of 2.8 feet, and a 72mm filter diameter. The legendary T* coatings reduce lens flare, internal reflections, and light scattering that can occur on the surface of the lens' glass elements. A focus hold switch and auto clutch features provide focusing control in either auto or manual focus modes. Bokeh fans will like the nine circular aperture blades that produce smooth, rounded background effects when capturing spotlight sources in their pictures.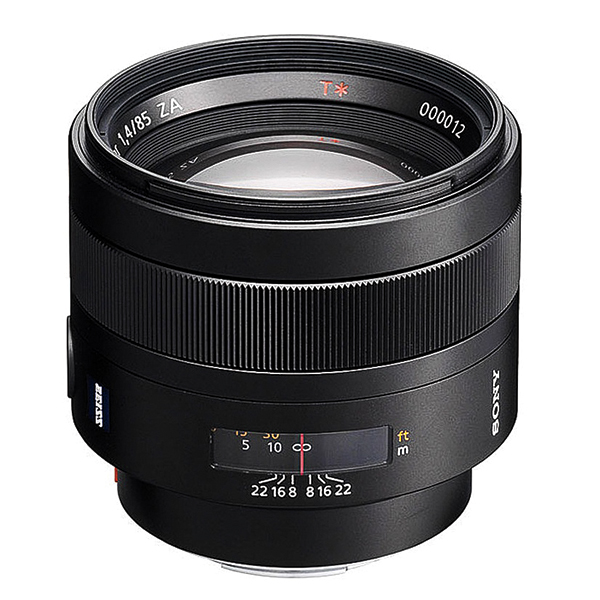 Who's It For: Shooters of the new Sony mirrorless cameras and Minolta diehards.
Why I Like It: Legendary optical brands like Zeiss are at the peak of the optical panopticon and that's good enough for me.
Portraits At Weddings And On Location
Wedding photography is all about making portraits of individuals and groups under all kinds of lighting conditions. With a trend in both weddings and even high school seniors going for a more editorial look, zooms are a perfect match. Nikon's AF-S Nikkor 24-120mm f/4G ED VR ($1,096) is designed for use with FX (full-frame) cameras but works on DX-format SLRs, producing a focal length equivalence of 36-180mm. Lens design includes two Extra-low Dispersion elements to control chromatic aberrations, three aspherical elements, and a Super Integrated Coating to enhance light transmission. Nikon's Nano Crystal Coat lens treatment limits ghosting and flare. It's a good idea to use the included lens hood that snaps onto the 77mm filter threads. The relatively fast and consistent maximum aperture is enhanced by the VR II image stabilization system. It has a relatively compact size—4.1-inches long—and its hefty 1.56-pound weight adds stability.
Who's It For: Nikon wedding and portrait shooters looking for a versatile, everyday lens.
Why I Like It: I like its beautiful craftsmanship and the Nikon 24-120mm delivers it at a fairly affordable price.
Sigma's APO 70-200mm f/2.8 EX DG OS HSM ($1,199) is a fast telephoto zoom lens which features a Hyper Sonic Motor and an Optical Stabilizer that compensates for up to four stops of camera shake when shooting handheld. Two FLD glass elements and three SLD (Special Low Dispersion) elements ensure image quality throughout the entire zoom range. A rounded nine-blade diaphragm creates beautiful bokeh. Designed for full-frame cameras, the 70-200mm f/2.8 works on APS-C sensors, too, translating to a 112-320mm (equivalent) field of view. It has a 55.1-inch close-focusing distance and uses 77mm filters. At 7.8-inches long and 3.15 pounds, the lens is not tiny, but I know some readers like that.
Who's It For: Wedding shooters who use Canon, Nikon, and Sony mount lenses.
Why I Like It: I've always liked Sigma lenses since I purchased a 16mm f/2.8 (with built-in filters) back in the film days and they seem like they're on a roll these days.
Tamron's SP 70-200mm f/2.8 Di VC USD lens ($1,499) for Canon and Nikon mounts uses one Extra-low Dispersion element with four Low Dispersion elements to minimize chromatic aberrations. A circular diaphragm retains its round shape even when stopped down two apertures from f/2.8 to produce attractive bokeh. It has Vibration Compensation (image stabilization) and an Ultrasonic Silent Drive Motor for quiet, smooth autofocus. For this focal length range it's somewhat compact—7.25-inches long—and weighs 51.85 ounces with a 77mm filter size. The lens has moisture-resistant construction and comes with a removable tripod collar and a lens hood.
Who's It For: Wedding and portrait photographers who use Canon and Nikon mount lenses.
Why I Like It: It's versatile, fast, well built, and appears to be the Swiss Army Knife of portrait and wedding lenses.
Intimate Portraiture
Boudoir photography imposes its own set of requirements for intimate portraits, covering the traditional focal lengths while allowing you to capture part of the surroundings, making this genre more closely related to environmental than traditional studio portraiture.
For boudoir photographers a fast 85mm is a great place to start. Canon's EF 85mm f/1.2L II USM lens ($1,899) has a floating optical system and aspherical elements to reduce aberrations, producing crisp images even at maximum aperture. Super Spectra lens coatings minimize reflections, reducing flare and ghosting. The hefty (36.16 ounce) lens has a ring-type ultrasonic autofocus motor (USM), high-speed CPU with fast, smooth, and quiet autofocus. A circular aperture creates a shallow depth of field that places the focus on the subject to create world-class bokeh. Since it's an L-series lens it's weather-sealed to protect against moisture and dust. Not in your budget? One of the first (maybe it was my first) Canon lenses was the EF 85mm f/1.8 USM ($369). Its design hasn't changed in many years because it's a classic. It has a 58mm filter size; the f/1.2 version is 72mm.
Who's It For: The 85mm focal length is just about the perfect portrait lens for full-frame cameras and at 127mm (equivalent) it is useful for APS-C shooters as well.
Why I Like It: It's fast, incredibly rugged, and just simply a great chunk of glass.
Samyang's 85mm f/1.4 aspherical manual focus lens ($289) is available for Canon, Nikon, and Pentax mounts. The lens is designed for use with full-frame cameras but may also be used with cameras with APS-C-sized sensors. The Nikon version (only) has a chip that lets the lens work with the camera's focus confirm, autoexposure, auto metering, and auto white balance functions. The 85mm lens includes a lens hood and focuses as close as 3.3 feet. By comparison, the slightly more expensive Canon EF 85mm f/1.8 focuses within 2.8 feet. With hybrid aspherical lenses and multilayer coating, the Samyang can produce sharply defined images with a minimum of flare and ghosting.
Who's It For: Not for lens snobs, but the 85mm focal length is great and the fast maximum aperture is a plus.
Why I Like It: It's a useful lens from an underrated manufacturer who makes great manual-focusing optics.
To make the portraits you see in Shutterbug and his websites and blog, Joe Farace shoots both digital SLRs and mirrorless cameras. If you're curious about the specific lenses he uses, please visit joefarace.com and mirrorlessphototips.com and click on the Gear button.
FEATURED VIDEO