5 All-Weather Cameras that Let You Make a Splash this Summer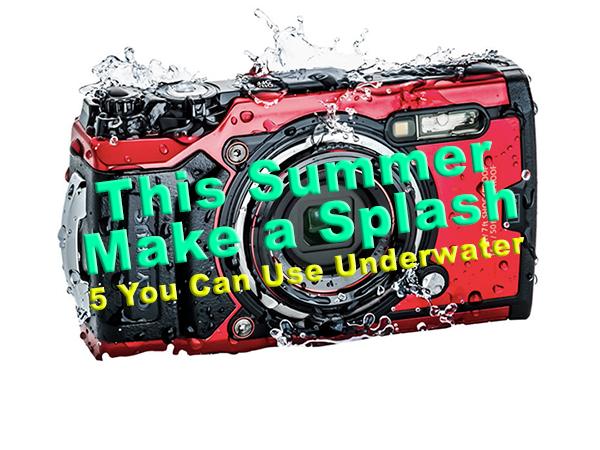 Whether your strategy to beat this summer's heat involves the beach, the municipal pool or the backyard sprinkler, you can capture the fun with a waterproof, all-weather camera. Bonus— they're not just for summer. They also stand up to spring showers, wintry blizzards and the grubby hands of children.
Cameras and lenses have two natural enemies: moisture and impact. If your photo gear never gets wet or banged against an unforgiving surface, odds are it will function properly for as long as you own it. However, a little water—sometimes very little water—can do more damage than a squad of starving squirrels in a peanut butter factory.
So how does one take pictures under water, let alone mere in inclement weather?
Here are five popular cameras that, to one degree or another, have all sorts of "proofs," i.e., waterproof, dustproof, crushproof, klutzproof. The terms "all-weather," "waterproof," et al, are defined differently by various manufacturers. Consult the documentation that's supplied with the camera and the manufacturer's website before pursuing extreme conditions. Please note that all focal lengths indicated below are expressed in their 35mm equivalent.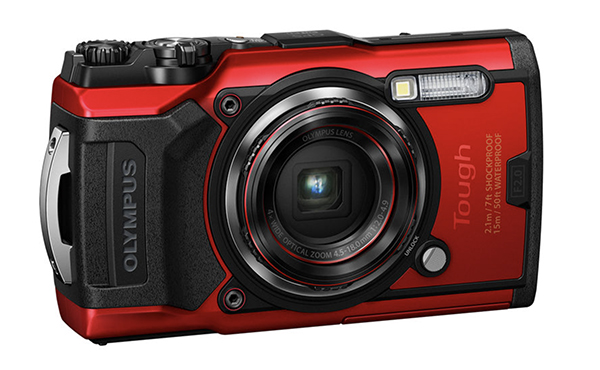 Olympus Tough TG-6
A leading manufacturer in the waterproof camera arena, Olympus has been at the forefront of the category for many years. Their current offering, the Olympus Tough TG-6, combines great styling with innovative features over and above most other candidates, including an electronic compass, GPS, thermometer and manometer. It also features a 12-megapixel BSI CMOS sensor, 25-100mm f/2.0-4.9 zoom, 3-inch LCD and 4K video at 120p, plus all of the proofs: Waterproof to 49.2 feet (15 m), Crush, Shock, Freeze and Dustproof. It weighs less than 9 ounces (253 g) for comfortable carry and is available from Amazon for $499.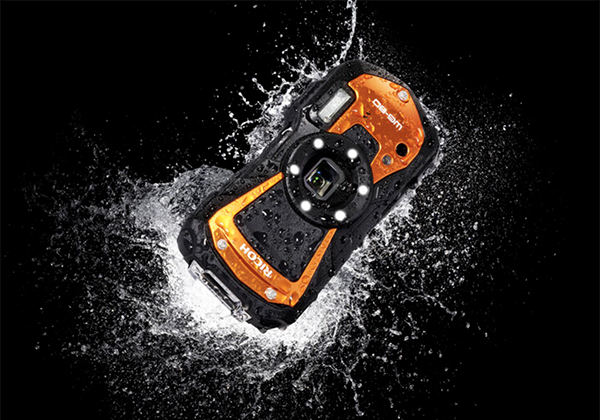 Ricoh WG-80
Featuring an ingenious built-in 6-LED ring light, the Ricoh WG-80 is a great choice for imaging in normal weather, too. It offers a 5X optical zoom (28-140mm f/3.5-5.5) plus a 7.2X digital zoom. It sports a 16-megapixel CMOS sensor, 2.7-inch LCD and weighs a scant 6.8 ounces (194 g). Presented in orange or black, the slightly farfalle-shaped Ricoh WG-80 is available from Amazon for $277.
Ricoh WG-6
A sizeable step up from the WG-80, the Ricoh WG-6 has a 20-megapixel BSI CMOS sensor, 28-140mm f/3.5-5.5 optical zoom (and 8.1X digital zoom), 3-inch LCD plus onboard compass and GPS modules. Capable of UHD 4K recording and Water, Crush, Shock, Freeze and Dustproof, it has a built-in ring light like its cousin the WG-80. It's also chemical resistant for industrial use. Weighing in at 8.6 ounces (246 g), this all-environment travel camera is available from Amazon for $377.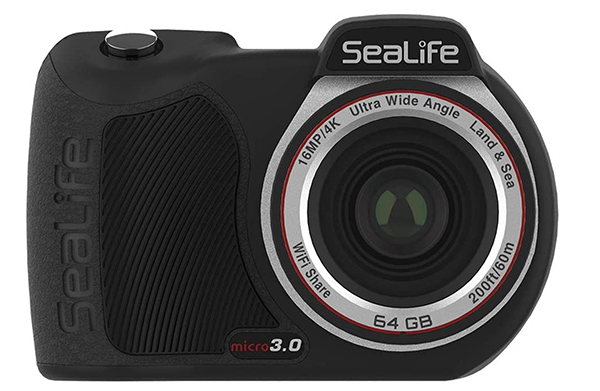 SeaLife Micro 3.0
The SeaLife Micro 3.0 features a 16-megapixel (1/2.3 inch) CMOS sensor and can capture JPEG or DNG files (to the delight of enthusiastic images editors). Captures UHD 4K video, and the SeaLife Micro 3.0 can also shoot bursts of up to 10 images of 16-megapixel resolution in about one second. The 19mm f/2.8 prime lens covers about 100° but does not zoom. It has the deepest dive rating—200 feet (60 m) as well as the highest price point. Tipping the scales at 11.6 ounces (329g), it's available from Amazon for $599.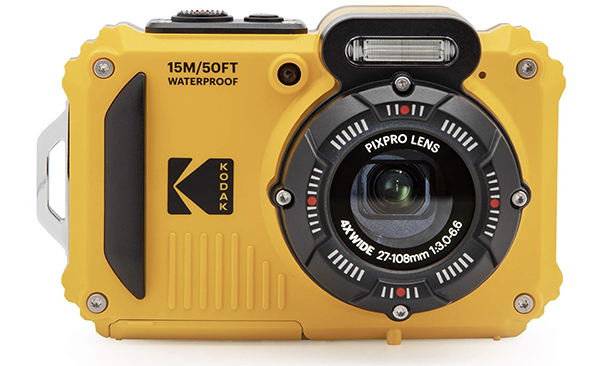 Kodak Pixpro WPZ2
At the budget end of the price spectrum, Kodak Pixpro WPZ2 is waterproof to 49 feet (15 m) and features a 16-megapixel BSI CMOS sensor. The lens is a 27-108mm f/3.0-6.6 zoom and it also offers a 6X digital zoom. It has a 2.7 inch LCD and captures 1080p Full HD video. Accepts Micro SD and Micro SDHC only. The Kodak-branded Pixpro WPZ2 is offered by JK Imaging through a global licensing agreement with Kodak and is available from Amazon for $149 in yellow, blue or red.
Become a Member of the Shutterbug Community
Register for a free account. Sign up for our newsletter. Spend five minutes (or less) uploading your best shots once every week or so. Potentially become a Shutterbug Photo of the Day winner. Enjoy viewing the fantastic work being done by thousands of photographers all over the world—and add your images to the enduring collection.
—Jon Sienkiewicz
(As an Amazon Associate, Shutterbug earns from qualifying purchases linked in this story.)