Game On!: Sports Shooter Andrew Hancock Shares Tips On How To Capture The Action
Here's the one thing you can count on in sports photography: the pictures won't be there waiting for you. Images of key moments, athletes' efforts, and fans' reactions—you're going to have to be at the top of your game to get them.
Which is just fine with pro sports shooter Andrew Hancock, whose competitive nature might just rival that of any athlete he's photographing. "If you're not competitive, you don't get sent out there to create winning images," he says.
When he goes out for Sports Illustrated and other publications, as well as for corporate clients, and most recently, Derek Jeter's media platform, The Players' Tribune, he's armed with knowledge of the sport and the players, ideas for images, and a three-item checklist of what's most important: light, background, intersection.
"I want to know what kind of light I have, where it's coming from, and, if I'm outdoors, where it's going to move," he says. If he wants his action photographs to really stand out, he needs nice clean backgrounds, so he needs to know where the best angles are for dynamic scene setters and storytelling photographs. Then he finds the intersection of best light and best background, and that's the spot he'll target for the best action photos.
Indoors can be tougher, but Hancock's early experience in high school gyms prepared him well. "Not only did I have those old, school lights, I had backlit backgrounds, so I had to look for areas of the floor that were going to work for me."
Make A Plan
These days Hancock is most likely to be shooting with a Nikon D810 or D750 and fast, long-ranging Nikkor zoom lenses, but back when he started, right out of college, working for a northeast Indiana 8,000-circulation newspaper, his gear consisted of manual focus lenses on an under 3-megapixel DSLR. But he has never been a photographer who looked for an excuse for not being able to make a good picture.
"You don't let your equipment limit your abilities and creativity," he says. "There's always a way to make a picture. You look at the challenges and figure out a plan. To take a great photo, you have to be a great problem solver. But if you're serious about photography, and you can possibly do it, get the most capable camera you can. You'll grow into it."
And when you get it, don't just rely on it—push it to its limits, and find out what it, and you, can do. "I'll pick up any camera and make a picture because I'm passionate about making a picture, but I really started growing when I started pushing a camera or a lens to its absolute limits to accomplish the ideas I had."
Capability is not all in the hardware. "If the light wasn't ideal or the color tone is off, I can make adjustments in the Raw file," Hancock says. Sometimes you have to take your best shot and go on a rescue mission later. "You can be in a situation where you know you're going to have to underexpose. Or maybe you're not going to be able to change a setting on a remote camera when a giant cloud comes over and there could be two or three stops difference in exposure. The Raw file can handle that; it can respond to that. You can still pull it out."
Get Low
Most of the time you're not going to find Hancock shooting standing up. "I'll almost always be kneeling on the ground," he says, "getting as low as I can get for a perspective that shows and emphasizes size, that makes athletes look more powerful, more heroic, more imposing. Whenever an athlete is off the ground, and I'm down low, he's going to look that much farther off the ground and that much more powerful."
A relatively small move makes a big difference. "If you're standing on the field, get down and take notice of how much has changed from that little movement," he suggests. "And notice how the low angle gets more and more dramatic the further away your background is from the camera. A two-inch movement can drastically alter the look of the picture."
Which means that not every moment he photographs has to be a peak moment of the game. It may not be peak until he makes it so.
See The Shot
Hancock sees photographically, and that ability gives him an edge. "When I walk into a building or out onto a field, I don't have to look through my camera," he says. "I know what the exposure will be, and I'll be within a half stop of right on. It's second nature for me. Same thing with lenses. Whenever I'm driving around or scouting a location, I know what the entire scene will look like through every lens in my bag."
That skill is an incredible advantage when he's placing remote cameras. "I can go through ideas in my head, and I know exactly what the view will look like if I put this lens in that spot."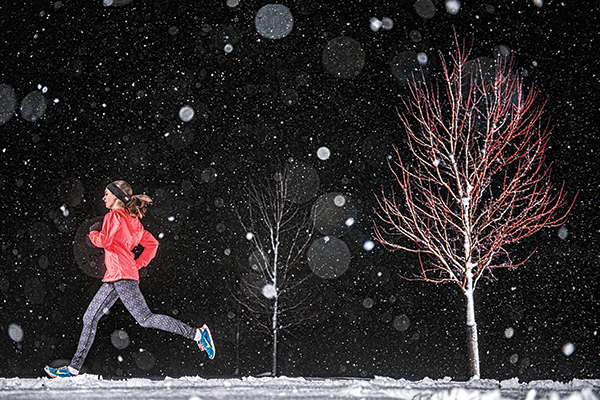 Think 10 Steps Ahead
Andrew Hancock isn't shy about revealing his objective: "My goal is the cover of Sports Illustrated, Time, and National Geographic." He thinks there's only one photographer who's ever had the cover of all three, and less than 10 who've gotten both SI and Time, and he's one of the those.
His competitive nature is, in fact, a driving force. He has said, "There are a lot of good photographers out there and it's a constant challenge. There's always the pressure of being surrounded by the best shooters in the business and trying to outthink them."
He notices what the others are doing, but he seems to concentrate mainly on what he's doing and thinking. He's the one raising the bar he wants to beat, and he doesn't mind playing catch-up with himself.
"It's a good thing," he says, "when your ideas spark competition with yourself, and I'm already thinking about what I'm going to do next year and the year following that. For me it's not wanting to stay one or two steps ahead, it's wanting to stay 10 steps ahead, wanting to push myself not only for a magazine or a client, but to fulfill my creative needs."
Game on, indeed.
Hancock's Favorite Lens
His go-to lens, regardless of sport or location, is his Nikkor 70-200mm f/2.8 VR II. "I can use it for any sport situation, and for portraits as well." He likes the speed of the 24-70mm f/2.8 Nikkor, but has a bit more enthusiasm for the range of his 24-120mm f/3.5-5.6, "if there's enough light." Wide-angle views are most likely to come from his 14-24mm f/2.8 or 16-35mm f/4. "If I had to choose only two lenses to go out with, it'd be the 70-200mm and the 24-70mm."
You can view a selection of Andrew Hancock's images, and access his blog for behind-the-scenes stories, at andrewhancock.com.