Canon EOS RP Mirrorless Camera Review: Full Frame for Everyone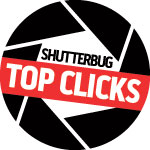 (Editor's Note: You can see 15 additional full resolution test images we shot with the Canon EOS RP here. You can read our review of the Canon EOS R here.)
If you've been lusting after a full-frame mirrorless camera, but thought you couldn't afford one, it's time to reconsider. That's because the new Canon EOS RP is significantly less expensive than other full-frame mirrorless cameras, yet boasts an impressive array of advanced features, robust weather-resistant construction, and impressive performance to boot.
In fact, at $1,299 for the body, and $2,399 in a kit with the Canon RF 24-105mm fl4 L IS USM lens, the new 26.2MP EOS RP is a thousand bucks less expensive than the recently introduced 30.3MP Canon EOS R mirrorless camera. The Canon EOS RP is also significantly lighter and smaller than its big brother, yet it compares favorably in a number of areas.
But don't be fooled by the entry-level price of the new Canon EOS RP. While it may be designed as an entry level mirrorless camera, the Canon RP not only delivers the benefits of an advanced full-frame CMOS sensor, but features a bright OLED electronic viewfinder with 100% coverage, fast and precise autofocus, and a myriad of live view functions.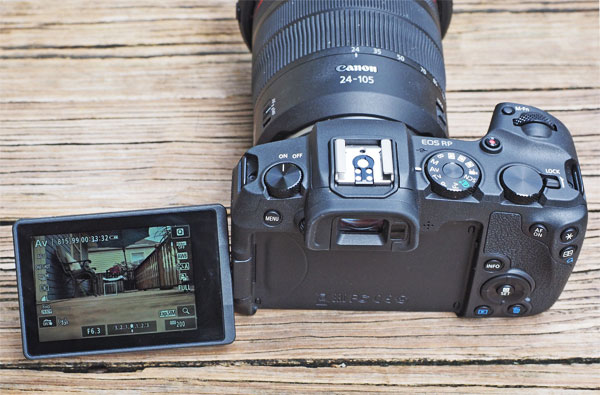 As someone who owns and regularly uses a number of different cameras, intuitive operation and a clean menu system is near the top of my list. Otherwise I find myself reaching for an instruction manual before I go out shooting with a camera I haven't used in a while. This is likely true for many photographers, and certainly makes my life easier when reviewing cameras for Shutterbug.
In fact, my view is than an experienced shooter should be able to quickly and easily navigate 85-90% of the camera's features without reaching for the manual. This is certainly the case with the Canon EOS RP, and if you run into a bind, the camera includes on-screen captions when in the Visual Guide mode, as well as a Creative Assist mode for applying unique effects to your images.
Camera Build, Layout & Handling
One method Canon used to keep the price down on the EOS RP, is they've constructed the body with a combination of high-quality plastics and tough, lightweight magnesium where it counts. The result is rugged, rigid camera with a high-quality feel that belies its weight of only 17.3 ounces.
Another cost-saving measure has to do with the manner in which Canon achieved the camera's dust and weather resistance, which I noticed immediately upon opening the battery/card compartment that has nary a gasket in sight. It turns out that Canon opted for tight tolerances and overlapping body channels to give the EOS RP the same weather-sealing rating as their Canon 6D Mark II DSLR.
Control layout and handling are definitely subjective considerations, and for me the Canon EOS RP is a mixed bag. I have relatively small hands, and the little EOS RP, with its large comfortable grip, is a perfect fit. Those with large hands may feel differently. Another positive for me is the camera's clean top deck with the ON/Off dial, Mode dial, and Quick Control dials recessed into the top of the camera—slightly overlapping at the back so you can make changes without inadvertently modifying a setting. There's also a recessed Lock lever that accomplishes the same thing.
On the downside, I'm a big fan of physical buttons for accessing regularly used features, and the Canon EOS RP lacks buttons for directly activating EV-Compensation, white balance, or ISO settings. It's a simple matter to accomplish these tasks using a Multi-Function button atop the camera, or the rear touchscreen panel, but both require an extra step.
Another gripe is the placement of the Canon RP's Menu button in the upper left corner of camera back, adjacent to the viewfinder, instead of on the right where you navigate the menu and modify settings with your thumb—without holding the camera in two hands. These misgivings notwithstanding, I found the camera very comfortable to hold and easy to operate.
While I generally prefer optical viewfinders, the bright and precise OLED electronic viewfinder on the Canon EOS RP features 2.36 million dots with a high-eyepoint design and touch-and-drag AF, and was a pleasure to use. Likewise, the rear vari-angle LCD touchscreen was impressive, with brightness adjustable in seven levels and a foldaway design to protect the screen when not in use. Another nice feature is that the brightness of the EVF and LCD monitor can be adjusted individually for optimum performance.
The new Canon EOS RP utilizes the same 54mm diameter lens mount with short back-focus as the high-end EOS R. That means both cameras not only work seamlessly with Canon RF lenses, but are compatible with Canon EF, EF-S, TS-E, and MP-E lenses with the use of one of three optional mount adapters—a big advantage for those who already own some nice Canon glass.
Features and Performance
When my Canon EOS RP test unit arrived, I decided to give the camera a whirl along the Mississippi River and in a couple bayous of Southern Louisiana. A nearby train track and a bike path atop the levee provided an opportunity to shoot moving subjects, as did some birds in the bayou. The camera kit came with a versatile Canon RF 24-105mm f/4 L IS USM lens, meaning I had to approach birds and other critters with stealth because I didn't have a telephoto lens available.
The camera/lens combination actually worked out quite well, and the intermittent rain (which forced cancellation of several Mardi Gras parades) wasn't a concern due to the weatherproof capabilities of the Canon EOS RP.
I found the Canon RP's articulating rear LCD particularly helpful when shooting wildlife in Live View mode from a very low angle. And even when the sun periodically broke through the clouds, the LCD was easy to view—especially when the brightness was ramped up. For those of you who've never spent a day slogging through a muddy shoreline with an ultralight mirrorless camera, instead of a heavy DSLR, let's just say I didn't need to jump in the Jacuzzi as soon as I returned home.
When shooting from a standing position I used the Canon RP's viewfinder, while selecting a small, single autofocus point for stationary subjects—recomposing after focus was confirmed. For moving subjects like birds in flight, I expanded the focus area and used the camera's 5 frames per second (fps) continuous shooting mode.
The affordable EOS RP utilizes a sophisticated phase-detection dual-pixel AF system, with 4,779 user-selectable autofocus points. The camera offers a choice of One-Shot AF, AF Servo, and Manual focus modes, and with f/1.2 lenses can autofocus in light as low as -5EV. AF points can be quickly selected using the rear touch screen or the Main Dial, Quick Control Dial, or four-way cross keys on the back.
In practice, using my simplified settings, the Canon RP achieved precise focus almost instantaneously, with nary a missed shot—other than those resulting from "operator failure." Canon claims the RP can focus as fast as 0.05 seconds with the RF 24-105mm fl4 L IS USM lens I was using. Impressively, the camera has a wide AF coverage area of 88% horizontal 100 vertical.
I was also impressed with the exposure control system of the Canon EOS RP. I mostly used the camera's AF-point Evaluative metering mode, occasionally choosing Spot metering which covers a 2.7% area at the center of the screen. Other options include Partial metering, covering a 5.5% area at the center of the screen, and Center-Weighted average metering.
The camera offers exposure compensation, which I tend to use frequently, in ±3 stops in 1/3 or 1/2-stop increments. For difficult lighting conditions, I'd prefer a wider range, and, again, I missed having a physical EV compensation button on the camera. All of my shooting was done during the day, under mostly dim conditions, so I never used an ISO setting above 1600.
The Canon RP boasts an ISO range of 100-40,000 for stills that's expandable up to ISO 102,400. When shooting video, the ISO range is 100-26,600 (100-12,800 for 4K video).
Image Quality
The new EOS RP uses the same Canon-developed DIGIC 8 image processor as Canon's premium EOS R full-frame mirrorless camera. The self-cleaning sensor unit removes dust adhering to the low-pass filter and can be configured to automatically perform its duties at power off, when Multi Shot Noise reduction or HDR Mode is set, or manually.
I was generally pleased with the images captured with the EOS RP and RF 24-105mm fl4 L IS USM lens. The combination consistently delivered a wide range of tones, accurate color rendition, good contrast and sharpness, and plenty of details in the highlights and shadows.
Shooting in the highest quality JPEG setting, images needed little or no added sharpening, saturation, or exposure adjustments in post processing. For me, the EOS RP's 26.2MP resolution hits a nice compromise between image quality, processing time, and storage requirements—especially when framing shots carefully so minimal cropping is required.
The camera's Auto white balance setting delivered pleasing results under dim cloudy conditions, and when the sun infrequently peaked out from above. I did notice a very slight amount of highlight clipping under contrasty conditions, but that was easily resolved with a bit of EV compensation.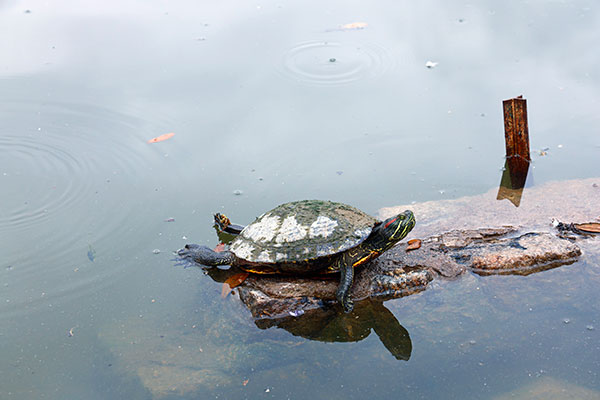 Conclusion
Despite its billing as a full-frame camera for the masses, the affordable Canon EOS RP can be a very able performer when used to its full potential. It's a good example of a conundrum photographers often face when shopping for a new camera: "Do I devote my budget to the best camera available, or should a buy something more affordable and use the extra cash on an extra lens or two?"
We didn't shoot much video with the EOS RP, but a glance at the specs tells us this isn't you best choice if video is your thing. However, if you're primarily a still photographer looking for a well-built, weather resistant full-frame mirrorless camera under $1,300, the EOS RP won't disappoint and it's the only game in town at its price point. And remember: If you carry less weight you'll likely enjoy photography more.
Scorecard
Pros
+ Significantly less expensive than any full-frame mirrorless camera.
+ Compact and lightweight
+ Fast autofocus and performance
Cons
- Lack of physical buttons and questionable control layout
- May be too small for photographers with large hands
- Not the best choice for shooting video
Pricing:
Buy the Canon EOS RP (body only) on Amazon for $1,299.
Buy the Canon EOS RP in a kit with the Canon RF 24-105mm fl4 L IS USM lens on Amazon for $2,399.
(Editor's Note: You can see 15 additional full resolution test images we shot with the Canon EOS RP here. You can read our review of the Canon EOS R here.)
FEATURED VIDEO