Canon EOS M6 Mark II Camera Review: Big Megapixels in a Small Package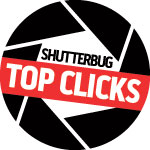 I've been intrigued by Canon's EOS M6 mirrorless camera ever since a trip to Florida last year when I saw a YouTuber vlogging with it. I was impressed by the Canon M6's compact size as well as the quality of the video footage he created when I viewed it later.
The new 32.5-megapixel EOS M6 Mark II marks a significant upgrade from its 24.2MP predecessor. Like the previous version, the Canon M6 II is available in both a retro-styled silver body and a contemporary-looking black version, which is the model I tested. Read what I think about in the new Canon EOS M6 Mark II ($849, body only) in this mirrorless camera review.
What's New
How different is the Canon M6 Mark II from its predecessor? As I've mentioned in previous reviews of Canon's DSLRs, all these cameras (like the rest of us, I guess) tend to get larger and a little more expensive as they age.
The Canon M6 II is 7.6mm wider and 2mm taller than the original model. The Mark II is 4.7mm thicker than the Mark I but weighs almost 4 ounces less.
Make no mistake about it, the Canon M6 II is still small camera. It's noticeably narrower (2.8mm) and shorter (22.6mm) and lighter (2 ounces) than the tiny Canon EOS Rebel SL3 that I previously reviewed.
The Canon M6 Mark II is also more expensive than the Mark I. At its 2017 launch, the EOS M6 body was $780 while the Mark II has an $849.99 price tag. Even allowing for a $35 increase due to inflation, the Mark II costs more.
The APS-C-sized (22.3 x 14.9mm) 32.5MP CMOS sensor in Canon M6 II has the 1.6X multiplication (aka crop) factor common to Canon's crop sensor cameras. Not that it matters much since the M6 Mark II uses Canon's EF-M mount with its correspondingly smaller lenses.
Does that 1.6x factor even matter for Canon's smaller mirrorless format? Some Internet pundits claim the sensor is the same one that's used in Canon's EOS 90D DSLR ($1199) but the specifications for that camera state its sensor measures 22.3 x 14.8mm. Sooooo, the sensors are either the same size or the specs are wrong.
Either way, the Canon M6 Mark II's DIGIC 8 image processor provides ISO sensitivity from 100-25600 that's expandable to 51,200 with, according to Canon, "low noise to suit working in a variety of situations." We'll check that out later.
The Dual Pixel CMOS AF provides 5481 selectable points for photo and video and supports the camera's Eye AF Servo, prioritizing a subject's eyes when shooting portraits. The Dual Pixel CMOS AF integrates two separate photodiodes within each pixel to provide a broad and dense network of phase-detection gathering elements across most of the image sensor to reduce focus hunting for fast, direct control of focus placement. When shooting still images, even under challenging lighting, the focusing system should acquire focus quickly (does that) and accurately (not always.)
This new sensor makes the Canon M6 Mark II capable of continuously shooting at up to 14 frames per second (fps) with AF and AE tracking with a Raw Burst Mode permitting a 30fps shooting rate. The M6 II's electronic shutter lets you work with speeds up to 1/16,000 sec. The built-in flash has a Guide Number of 15.09 at ISO 100 and while it might not light up a large area, it's useful for fill flash outdoors or indoors with an ISO bump to 400.
Video Features
For video shooters, the Canon M6 Mark II outputs UHD 4K 30p and Full HD 120p video. As Canon continues its war against cineastes, the beloved cinematic 24p was missing from the camera I received. But, as I was wrapping up this review the company announced they're bringing 24p back to the 90D, RP, M6 II, G7X III and G5X II via updated firmware with a staggered release schedule. The EOS 90D and RP will be updated this year, while the EOS M6 Mark II will get it "in 2020."
When shooting video, the Canon M6 II's Movie Servo AF mode offers smooth and natural focusing when changing from different subjects or different distances within a scene, as well as the having the ability to specify tracking sensitivity, AF speed, and Face Tracking priority. Because of the Touch AF system, rack focus is possible by touching different elements within the scene on the well-implemented touchscreen. Subject tracking in video is excellent due to the Dual Pixel CMOS AF system's ability to recognize subjects and maintain focus when working within changing or cluttered scenery as I discovered.
Other Features
There is no built-in eye-level viewfinder (more later) but it has a 3.0-inch touchscreen LCD. You can touch the screen to focus and make a shot, much like an iPhone. The screen tilts 180 degree for front facing shots aka selfies. This screen can tilt 45 degrees down for shooting Hail Marys or low angle shooting. It does not flip to the side, like the EOS 90D does in true flippy screen fashion. When anything is mounted in the hot shoe, such as a microphone or an external EVF, it doesn't fully flip up.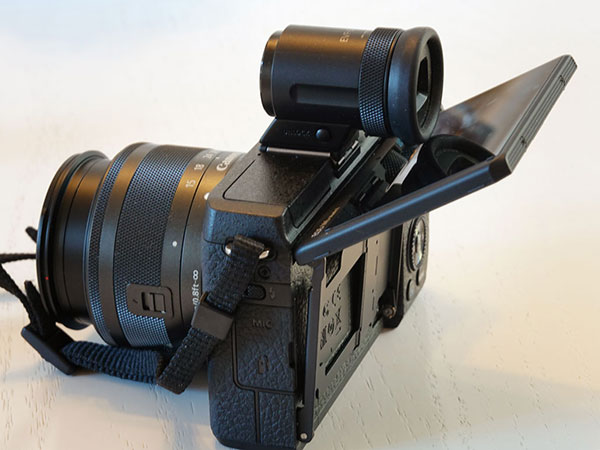 The Canon M6 II supports SD, SDHC and SDXC memory cards in a single slot. When used with Canon's Camera Connect app, there's built-in Wi-Fi and Bluetooth connectivity for linking a smartphone or tablet. The app also enables a mobile raw editing workflow.
The Canon M6 II is powered by a LP-E17 battery that should produce 305 shots per charge or up to approximately 410 shots in Eco mode. I never used that feature and when shooting stills the battery never failed me. Canon is to be congratulated for including a real battery charger, rather than having in-body charging. For those of you who prefer in-camera charging, Canon offers the PD-E1 USB Power Adapter for an eye-watering $190.
The Kit Lens
I tested the Canon M6 II in the kitted set-up, which comes with the EF-M 15-45mm f/3.5-6.3 IS STM lens and an electronic viewfinder (EVF) for $1099.
The kit lens has a 49mm filter size, which makes using even a normally expensive protection filter, like B+W's UV Haze filter, a no-brainer at $19.95. The 15-45mm kit lens focuses down to a respectable 9.84-inches and has three aspherical elements to control chromatic aberrations and distortion.
The 15-45mm kit lens has built-in optical image stabilization that should minimize camera shake by up to 3.5 stops and that's good because, like it's big brother EOS 90D, the M6 Mark II lacks in-body image stabilization (IBIS). There's no on-off switch for IS on the barrel, you'll have to dumpster dive into the menus to turn it on or off. What you will find on the barrel is the annoying, sliding lock lever found on other Canon kit lenses.
The 15-45mm f/3.5-6.3 has an STM stepping motor for fast, smooth autofocus. Like most variable aperture lenses I've tested, that f/3.5 aperture is short lived as you move away from the 15mm focal length. By the time you get past 18mm, the lens's maximum aperture becomes f/4 and that gradually stops down as you head toward a maximum of f/6.3 before you get to 45mm. No lens hood is included and the optional EW-53 hood costs $23.20. The kit lens while built to contemporary kit lens construction standards does not measure up to the camera body's build quality.
I tested the lens at my wall of well-laid bricks: At 15mm the lens is sharp corner-to corner but close to the image's center there's barrel distortion that gradually turns into pincushion distortion towards the edges. This kind of distortion is not common but it's not rare either. Wide open at f/3.5 there's slight vignetting in the corners that disappears at f/8. At 45mm wide open at f/6.3 it's still sharp corner-to-corner but there's still some minor mustache distortion that does not go away until well past f/8.
Canon includes Lens Aberration correction settings in the Mark II's shooting menu with off/on adjustments for Peripheral Illumination, Distortion Correction and Digital Lens Optimizer. They are not alone in offering software correction for its optical designs and you can either love this feature or hate it. For my brick wall tests, settings were in default mode. The DxOMark rating for this lens is 13, which is lower than the less-than-exciting 18-55mm kit lens I tested in my review of Canon's SL3 that had a 14 rating. It's a trending poor ranking but the lens would not be my main reason for purchasing this camera.
The 15-45mm focal length range seems underwhelming for serious photography but people graduating from smartphones will find that being able to use a real zoom lens to be a revelation. As I wrote this, this is one of eight EF-M lenses available but Canon offers an EF-M Lens Adapter Kit for EF/EF-S lenses ($164) letting you use the many dozens of their DSLR lenses on the M6 Mark II. Alas, I was not sent one of these, so I wasn't able to test my EF and EF-S lenses with the camera.
Non-Optional Options
If you want eye level viewing, Canon's optional EVF-DC2 Electronic Viewfinder ($198.99) is just the ticket. It has the look and feel of the superb Voigtlander 28 brightline finder and adds both function and a wonderful feel to the camera that already has a nice retro vibe going for it. The EVF-DC2 is available in a kit along with the 15-45mm f/3.5-6.3 kit lens for $1,099 as I write this and that's the configuration I received for testing.
The EVF's 2.36m-Dot OLED is the same as it was introduced in 2017 with the Mark I and attaches to the camera via its hot shoe. The EVF has a 22mm eyepoint and built-in but snug to the point of tight dioptric adjustment. Please use it; when wearing glasses it's difficult to see the edges of the frame.
When photographing under certain conditions, I did find one annoying quirk. More later. Touch & Drag AF is supported when working with the EVF-DC2.
Some people have quibbled about the EVF's resolution but Sony's similarly priced a610 uses a 1.44m-Dot OLED. While theoretically the specification for the EVF seems not that bad, a comparison when moving your eye from it to the beautifully rendered image on the semi-flippy screen may cause you to change your mind. The viewfinder also fits the EOS M3, PowerShot G1 X Mk II/G3 X.
Performance in the Field
I must confess that I was surprised by the build quality of the Canon M6 Mark II. The camera appears to be lovingly and beautifully crafted and at almost $1100 for the kit I tested, this should be expected. But in today's digital camera world that isn't always the case.
The solidly built Canon M6 Mark II has a magnesium alloy chassis with the look and feel of, dare I say it, a serious mirrorless camera. The touchscreen works the way a touchscreen should and the menu system is a model of what camera interfaces should look like and how they should work.
For my initial testing of the Canon M6 II around Halloween, I strolled down Pikes Peak Drive to the Herzog House. This historic home was built in 1911 and is rumored to be haunted by a man named Lewis who died there during the 1900's. Tenants of the home have reported feeling cold spots and hearing strange banging noises with no apparent origin.
On the sunny but windy day I visited the house and with its bright yellow color, it seemed pretty cheery to me. Although the EF-M 15-45mm f/3.5-6.3 IS STM lens didn't fare that well in my testing, out here in the real world I think shooters would be reasonably happy with the overall image quality.
Like a lot of photographers, I am drawn to certain themes so to break out of my comfort zone, Mary and headed to a local weekly farmer's market and I decided to try some street photography. To the credit of the good people of Parker, CO, nobody punched me in the nose while I shot 50-60 images working the Infinite Monkey Theorem to its maximum.
Most of my photos were not that good but although it's not tack sharp, I did like the one that's featured because of the juxtaposition of the wolf graphic on the man's T-shirt and the dogs in the foreground. With a 1/320 sec shutter speed and image stabilization of the lens, any blurring should be minimized, so it's either a failure of the AF, lens stabilization or he photographer.
The other photos, that I didn't like as much, were more than acceptably sharp, which is a perfect example of Murphy's Law in action. The non-intimidating style of the Canon M6 Mark II make it an ideal tool for street photography and I'm sure experienced shooters in that genre could use it to create more interesting and technically superior images than myself.
Our next stop during my testing was the pumpkin patch of Flat Acres Farm to see if, indeed, the patch was "sincere" enough for The Great Pumpkin to put in an appearance on Halloween. I was surprised to find white aka "ghost" pumpkins there and when I asked a farmer why they were white she told me, "we grow'em from the seeds of other white pumpkins."
I looked on line but never found out why they are white but did find there are also red and blue pumpkins. Color me traditional, so I also made some Av exposure of orange pumpkins that looked sincere enough for Linus, I think.
Next, I tried shooting some infrared images. My past experiences using Canon DSLRs with IR filters has been hit and miss and it's why I converted my old EOS 50D to infrared instead of using filters. The verdict on the EOS M6 Mark II is that it did pretty well.
I took the camera, a trusty Manfrotto tripod and my basic infrared filter kit to McCabe Meadows. As you can see by the "before" shot, trees near Daisy Hill are already starting to turn so I wanted to get these photos made before they were gone.
Because IR filters are dense, I set the camera in Auto ISO mode and bracketed in Aperture Priority mode starting at f/11 and working my way down to f/3.5. I used Auto ISO because it was windy I wanted to be able to use the fastest possible shutter speed which turned out to be 1/2 sec but because of the high filter factor there's still some blur caused by the windy conditions in the final image.
I tried the 58mm Hoya R72 filter first holding it, and the others, with my fingers in front of the lens and it performed perfectly. (I didn't have a 49mm to 58mm step-up ring.) When I tried the A-series Cokin 007 aka 89B filter it produced too much flare. Because of the wind, the normally excellent 58mm Singh Ray iRay filter produced shutter speeds of one second or slower capturing images with too much blur on the blowing leaves.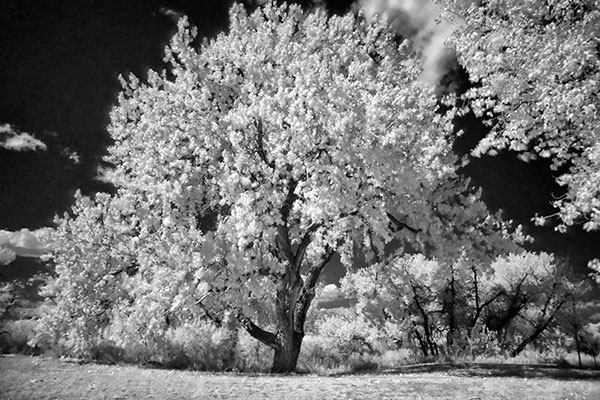 This is the part of my reviews where I usually decry the lack of models who don't want to pose for studio portraits, but the EOS M6 Mark II is by no stretch of the imagination a studio camera. That is not to say you couldn't; certainly the 32-megapixel sensor would produce some nice images. And it has a hot shoe that would let me slip one of my Pocket Wizards onto it to trip my Paul C Buff monolights. But no.
Video Tests
My initial testing of the Canon M6 Mark II as a vlogging tool surprised me in many ways. Out of the box with all the video settings set in default mode, the camera's AF locked onto my face. Focus was so sharp that you'd better look your best when vlogging with this camera or it will show.
When recording video, the Canon M6 Mark II produced more accurate focusing than other cameras that I've tested: mirrorless or DSLR. When shooting in my back yard that can be quite noisy because the county is doing a major road project behind my home, the audio quality from the built-in mic sounded excellent on the Harman Kardon Soundsticks connected to my 5K iMac.
The only downside I noticed is that shooting video chews up the battery faster than when capturing stills. That may be why the video length is limited to the old 29:59-minute EU limit. A spare battery costs $48.90 and if you plan on shooting lots of video, you might want to make the investment.
I took the Canon M6 II for a walk around Bingham Lake because although it was 80 degrees when I made the video and snow was predicted on the next day with temperatures expected in the single digits. I used the built-in mic and the sound quality was pretty good although I noticed my footsteps on the crunchy path seem loud when viewed on a mobile device.
At one point in the four-minute clip there is some wind noise but overall the built-in mic did pretty well. You can make up your own mind by watching the clip below.
Adding a low-profile wireless mic such as the compact Rode Wireless GO Compact Digital Wireless Microphone System ($199) would still let you see some of the screen and immeasurably improve the sound quality. I liked everything about the hand-held vlogging experience except the weight when held at arm's length.
The Canon M6 Mark II's body weighs 14.39 ounces while the kit lens comes in at 4.59 ounces. Or maybe it's the $9.95, 40-year old tabletop tripod I was using. Something like Sirui's 3T-35 Table Top/Handheld Video Tripod with Ball Head ($89.90) might be a better and more balanced choice for vlogging.
EVF Quirk
On a sunny but chilly day, I took the Canon M6 Mark II to the local Cars & Coffee event and it's where I discovered a quirk in the design of EVF-DC2 Electronic Viewfinder. The EVF is designed so when you put your eye up to it, it turns off the LCD on the back of the camera; to save battery power, I guess.
I was wearing my orange and black Shelby Mustang jacket and when shooting a low angle shot of a 1972 Citroen D Special with the LCD screen flipped out, it turned off. The EVF evidently read the black panel of my coat as my eye being next to it and turned off the screen! Solution? Because I like shooting low angle shots at car shows (to minimize clutter) I removed the EVF for the rest of the day.
High ISO Performance
For my final go-round with the Canon M6 Mark II before I had to return it, I wanted to see how well the High ISO setting worked. My subject would be the large Jacks and Balls sculpture near the Parker library, photographed at night.
Going into the project I wasn't encouraged because of the high amount of noise I saw at ISO 6400 in my infrared photographs. I was also concerned that cramming more megapixels on that same sized 22.3 x 14.9mm chip would result in more noise because smaller pixels wouldn't be able to capture enough light but I was wrong.
Even shooting at ISO 51,200, the noise was controlled and only slightly nosier than what I saw at ISO 25,600. I think that the way the DIGIC 8 image processor handles amplified noise is better than how it handles cumulative noise produced by slower shutter speeds. At 12,800 the noise level is surprisingly small and it's the true Goldilocks setting for high ISO/low light shooting.
Conclusion
If I were going to plunk down my own money for Canon M6 II, I would go for the silver body version of this camera. It just looks higher end, in my opinion. I would also opt for that retro looking EVF-DC2 Electronic Viewfinder, not only for its functionally but for a cool factor turned up to eleven. Existing Canon shooters would be remiss in not getting the EF-M Lens Adapter Kit too and while all of these options add to the camera's cost, they also add substantially to the M6 Mark II's overall usability.
The Canon M6 Mark II is a camera that would completely be at home for making memorable family shots and video clips for Facebook as well as being the perfect camera for your next vacation. All this is wrapped up in a well-made, compact and portable package that pound for pound delivers amazing image quality and high ISO performance that's hard to match in a camera at this price.
Comparisons of the Canon M6 Mark II mirrorless to its "big brother," the Canon 90D DSLR (our review) will be inventible. You have the DSLR vs. mirrorless comparison and when you equip the M6 Mark II with the EF-M Lens Adapter Kit, they cost about the same. Then there's the whole size/weight issue with the M6 Mark II, which tips the scales at 14.39 ounces compared to the 90D's 1.54 pounds. I probably wouldn't use the M6 Mark II in the studio but probably would use the 90D. But for everyday shooting, the M6 Mark II would be my first choice. If you got the impression in this review that I like the EOS M6 Mark II, I did. I really did.
Pricing:
Buy the Canon EOS M6 Mark II (body only) on Amazon for $849.
Buy the Canon EOS M6 Mark II as a kit with the EF-M 15-45mm f/3.5-6.3 IS STM lens and an electronic viewfinder (EVF) for $1099.
Back in the film days, a friend introduced Joe to shooting with Canon SLRs and along the way he wrote the Magic Lantern Guide to the Canon Elan 7 and 7E. At the same time, he continued shooting Contax film SLRs and cameras until Contax bowed out and Canon launched the D30 at which point he embraced Canon DSLRs exclusively, at least until the mirrorless Micro Four-thirds system caught his eye. If you would like to see the specific equipment inside Joe's gear closet that includes a several EOS cameras and lenses, please visit www.joefarace.com or www.joefaraceshootscars.com.