California's Lost Coast
One Photographer's Shangri-La
The Lost Coast. Looking north toward the Sinkyone Wilderness State Park. If you like isolation and have four wheel drive this is the place for you.
Photos © 1998, Joseph A. Dickerson, All Rights Reserved
Ansel Adams had Yosemite, for Edward Weston it was Point Lobos, while Galen Rowell prefers places with mostly vertical surfaces. It seems that every photographer has his/her special place, a place where all seems in balance, we feel most alive, and the land speaks to us on a level that can only be described as spiritual. For me that place is California's Lost Coast. This wondrous meeting of land and sea stretches from Marin County just north of San Francisco to the Sinkyone Wilderness above Fort Bragg and has everything from sleepy fishing villages, semi-tacky tourist traps, old growth Coastal Redwood forests, 19th century lighthouses, and wind swept rocky promontories. I have driven, hiked, bicycled, and kayaked this part of the world for nearly 25 years and never cease to wonder at its beauty and, once you leave the influence of San Francisco's urban sprawl, its solitude. That's not to say it doesn't sometimes get crowded, but if you avoid the heavier travel times, especially July and August, it can be unbelievably remote and serene. The area is naturally more crowded during the prime vacation times but the typical summer marine layer, read fog, means the weather is actually nicer in the spring and fall when there are fewer folks about. Winter can also be fantastic with storms blowing in from the Northwest and the surf crashing over rocky headlands but be warned, it rains a lot on the Lost Coast.

While the term Lost Coast is officially only applied to a relatively small area above Fort Bragg, the whole area can seem like it has been cut off from the rest of California and like Brigadoon, lives in a slower more halcyon time. If you like I'll take you on a short tour and introduce you to this magical kingdom, but don't tell anyone else, after all, we want to keep it to ourselves, don't we?
The coast just south of Fort Ross. Another serendipitous moment that lasted only long enough to shoot a few frames.
Most travelers will remain on US Highway 101 after crossing the Golden Gate Bridge but we want to follow California Highway 1 north toward Stimson Beach. If you haven't seen it and if it's not too crowded, stop at Muir Woods. This lovely grove of Coastal Redwoods was named for naturalist John Muir and there are many photo opportunities. This section of road can be quite crowded as Stimson Beach is a popular weekend getaway for folks who live in the "City," but after Stimson Beach the traffic will thin out considerably. Just beyond Stimson Beach is the little town of Bolinas which is sometimes hard to find as some local wags, known as "The Bolinas Border Patrol," often take down the highway signs that point the way. Here Highway 1 skirts the Bolinas Lagoon which is a birder's paradise, especially in the winter when as many as 60 species, totaling over 30,000 individuals, have been seen. It's also a great canoe and kayak spot but be sure you have an up-to-date tide table or you could spend several hours sitting in the mud waiting for the water to come back.

Our route leaves the ocean for a bit and follows the infamous San Andreas Fault. This is the earthquake fault that all but destroyed San Francisco in 1906 and, many believe, is due to try again. The Point Reyes National Seashore is a great place to explore and photograph and could easily be a destination of its own or, as it usually is for me, a day or two stop over on a trip farther up the coast. Be sure to get out to the Point Reyes lighthouse, but take a warm coat as the Point can be cold and windy any time of the year. Also, keep an eye out for the Roosevelt Elk that have been reintroduced to the area. They're beautiful animals and can often be easily photographed from your car.
This magic moment happened at Still Water Cove. The sunset looked unpromising and I almost gave up and missed the whole thing.
We again turn inland, this time through country dotted with diary farms, until we eventually rejoin the ocean at Bodega Bay. Here the main claim to fame is Alfred Hitchcock's use of Bodega and Bodega Bay as locations for the classic horror movie The Birds. Later on we pass Fort Ross, with its famous Russian Orthodox Chapel. The fort is a reconstruction of the Russian fur trade center that flourished here in the 19th century. The Russians were, for a long time, the dominate culture and left a strong heritage. There are numerous Russian Gulches and of course, the Russian River which serve as reminders of their influence. Campgrounds abound along this section of coast but one of my favorites is the Sonoma County campground at Stillwater Cove. Try to be there in the evening so you can take a sunset hike along the bluff trail that starts across the highway from the campground. It's a great hike any time of day but at sunset it can be especially enchanting.

Traveling on toward Point Arena, schedule a stop at Stewart's Point General Store. It's a fun place that seemingly hasn't changed since the McKinley administration. If you need the services found in a larger town you will soon come to Gualala. Gualala, pronounced wah-lah-lah, is a Spanish phonetic spelling of the German, Valhalla. A real treat is a visit to the Alinder Gallery on the north end of town. Be sure to say hi to Jim Alinder and wife Mary Street-Alinder, who was Ansel Adams' executive assistant, and check out the photography by Alinder and others that is on display.
Unlike some of the lighthouses on the coast, Point Cabrillo lighthouse itself is not open to the public but it is being restored and some day it may be. The longish walk from the Point Cabrillo Road is really worth the effort.
I admit to being a lighthouse nut. I love to explore and photograph them and in general, just like to be around them. One of the more recognizable on the West Coast, due to its featured role in the Mel Gibson movie Forever Young , is the Point Arena lighthouse (our cover photo). Be sure and climb the 145 steps to see the first-order Fresnel lens. This lens was shipped all the way from France and contains 666 individual prisms, each of which had to be polished everyday. The rotational mechanism, which used a falling weight for power, had to be reset every four hours so you can see lighthouse keepers didn't have very much spare time.

If you like rugged coastlines with miles of craggy sea stacks, truly impressive breakers, and blowing spindrift you'll love the town of Elk. I use the word town advisedly as downtown consists of only a dozen or so buildings, but it's a charmer nevertheless. The Elk Store and Deli will hand build you a picnic complete with local wines and gourmet sandwiches and take it from me, the sandwiches are fantastic. If you want to stay someplace quiet and romantic, Elk is the place. There are several Bed and Breakfast's but my favorite is the Harbor House. Once the overseer's home for the Greenwood Lumber Company, it features its own trail down to the Greenwood Cove where lumber was shipped to build many of San Francisco's Victorian mansions. Just a short distance north of Elk, California Highway 128 joins Highway 1 at the mouth of the Navarro River. Usually a placid stream, the Navarro can become a raging torrent as high water markers some 20' above the roadway can attest. If you want a break from all the coastal scenery, you can take Highway 128 inland to visit the region's wine country. The Alexander Valley boasts towns with names like Booneville and Philo and has become one of the premier wine producing areas in the state. Booneville at one time was so isolated that it boasts a dialect called "Boontling" that is spoken nowhere else. You can use Highway 128 as a return to Highway 101 via Cloverdale if you need to cut your trip short but, back on the coast, we've been saving the best for last.


The sea stacks at Jughandle State Park. The park has two nature trails, a boardwalk that goes to the bluffs, and a trail that follows the marine terraces inland. For geology buffs they're both a must see.
Mendocino, well-known as the stunt double for Cabot Cove in Angela Landsbury's Murder She Wrote, has been transformed from a backwater artist's colony to a world-class tourist trap. But it is not without its charm. You can still camp on a hill overlooking the ocean for under 20 bucks a night, or rent a canoe or bicycle at the whimsically named Catch-A-Canoe; prices aren't too steep and if your family is tired of watching you take pictures, there's lots to see. For paddlers, the Big River goes inland for several miles and makes a great side trip and you'll spot herons, egrets, kingfishers, and possibly river otters. Get a tide chart though as the Big River is tidal and you don't want to spend the whole day paddling uphill. Another great family spot is Van Dame State Park located just south of Mendocino.

In the Mendocino area you will find several other small communities worthy of your time. Albion, the name is the Latin for Britain, is above the Albion River and when I was there last winter they were building a new marina complete with canoe and kayak rentals. I haven't paddled it yet but the Albion is supposed to be even more interesting than the Big River although it's not as long. North of Mendocino you will find the little village of Caspar which is just starting to become "civilized." A bustling business center in the 1880s it pretty much went bust in the middle of this century when the local lumber company pulled out and took most of the buildings with them. It now consists of a few galleries, a restaurant or two, and a smattering of inns. Allow time to explore both Russian Gulch and Jughandle State Parks. Both are interesting and abound with great photo subjects. Ready for another lighthouse?


It's a long way down to the Point Reyes lighthouse. It's also usually cold and windy so dress warm.
AdThis one is the Point Cabrillo lighthouse. The access road is a little hard to find and there's a bit of a hike but it's really worth the effort. The lighthouse itself is about a mile from the Cabrillo Point Road, and you can't drive to it. But don't fret, the walk is an easy one, and I've never seen more than one or two other people all the times I've been there. Sunset is the obvious time to shoot the lighthouse, but it can be spectacular in the early morning as well.

Fort Bragg is the closest thing that the Lost Coast has to a real city and it's really a fun place to spend some time. It's a lumber town pure and simple with Georgia Pacific, the major employer, so the economy tends to fluctuate with the demand for lumber. But you'll find several nice inns plus motels, coffee shops, and all the other amenities. If you're camping or simply need to resupply, there is a Safeway market right on Highway 1 which is the only supermarket in the region. There are two must-dos in Fort Bragg; you must visit Noyo Harbor and you must ride the Skunk Railroad.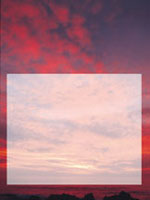 This is the sunset that I almost missed by staying in camp to fix dinner. There was no indication that the sky was going to light up like this as it was very overcast when I started to hike the bluff trail. Truly serendipity.
Noyo Harbor, which is a real working harbor, is just run down enough to be a photographer's dream. I like to be there at sunrise when things are just starting to happen and will shoot for a couple of hours before packing it in to get breakfast. The US Coast Guard has several surf boats stationed in the harbor and there are commercial fishing operations plus a small pleasure boat marina as well. The harbor, which is actually the Noyo River, can be reached from the south side or the north with either offering interesting possibilities. There is a sizable group of Stellar's sea lions that are spoiled beyond belief and make great models. From the south side of the river you can get quite close to them but they can be photographed from either side.

The Skunk Railroad was originally run by the Union Lumber Company and was Fort Bragg's main link with the town of Willits, located on Highway 101 and the outer world. You can take the excursion to Willits, which takes most of the day, or you can do a shorter half-day trip to North Spur. Either excursion takes you through some of the most rugged country on the coast. The train station is right smack in the middle of the town so you can't miss it. By the way, the locals started calling it the "Skunk" when steam engines were replaced with gasoline powered locomotives and the locals said, "they could smell 'em before they could hear 'em." At certain times of the year they still run the steam engine and when they do it's a great photo op.

There's still more to see north of Fort Bragg before Highway 1 links up with Highway 101 again and heads north to Eureka, Crescent City, and the Oregon border, but let's save that for another trip.
FEATURED VIDEO