The BEST Computer Monitor for Photographers: BenQ SW321C Review
The monitor you look at every day when you edit video and digital images should be as good as your camera, otherwise you may not truly be producing the output you envision. Calibration is a must, but a reliable, high performance display is indispensible.
The TIPA Award-winning BenQ SW321C is a 32-inch (diagonal) photo and video editing monitor with a 16:9 aspect ratio that features 4K HDR IPS. In-Plane Switching (IPS) technology provides greater color accuracy and a better picture. Priced at $1999, it will change your conception of what a perfect monitor should be.

Unpacking and Set-up
The BenQ SW321C arrived in a carton no less than 35 x 27 x 15 inches large, so I was prepared for the struggle of a lifetime—and I could not have been more wrong. The highly organized packaging and brilliantly engineered hardware components allowed me to unpack and complete the assembly in well under five minutes. (It usually takes me longer than that to get an English muffin from package to toaster.)
The monitor screen was covered by a large icon-based IKEA-style set-up guide, and every step felt natural and intuitive. The package includes generously long cables for Mini DisplayPort to DisplayPort , HDMI 2.0, USB Type-C and USB 3.1 Gen 1 Type-B to Type-A.
The box also includes a 70-inch (1.8m) power cable, shading hood, Hotkey Puck G2 and screen cleaning roller in addition to the monitor stand and heavy monitor base.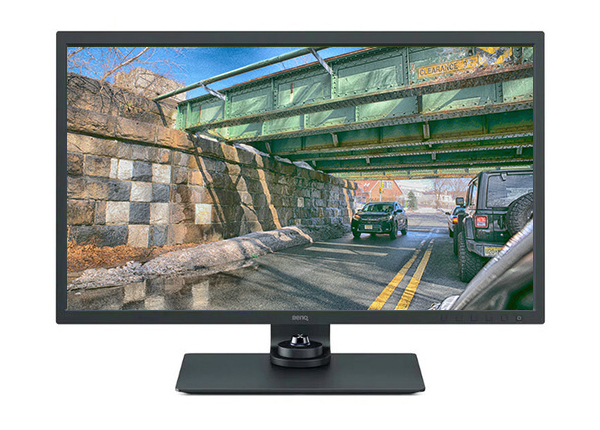 The stand is easy to adjust and is quite sturdy. It features vertical tilt of -5° to 20°, left/right swivel of plus or minus 45°, pivot of 90°and height adjustment of 5.9 inches. Alternatively it can be mounted using a 100 x 100mm VESA interface.
Connection
The BenQ SW321C has two (2) HDMI 2.0 ports, one DisplayPort 1.4 and one USB Type-C port. Because the cables for each are included, connecting couldn't possibly be easier. It also has two (2) USB Type-A (output), one USB Type-B and a 3.5mm (audio output) ports.
There's even an SD memory card reader built in.
Add to this the fact that the monitor arrives factory calibrated. The cable connections and software portions of set up are incredibly quick and easy, and out-of-the-box color accuracy is a cinch.
Operation
In addition to covering 99% of the Adobe RGB gamut, 100% of the sRGB/Rec. 709 gamuts and 95% of DCI-P3/Display P3 gamuts, the BenQ SW321C also supports Advanced Black & White Mode, which enables you to preview different black and white presets to preview photos, and a GamutDuo Mode that lets you preview twin versions of the same photo side-by-side using two different color gamuts. Additionally, the Paper Color Sync simulates printing results using your desired gamut, printer model, and paper type.
These are some very serious photography features that no professional should be without.
Featuring a 16-bit lookup table (LUT) for improved color blending, the SW321C monitor from BenQ has 10-bit color depth for more than one billion colors.
As stated above, the BenQ SW321C is factory calibrated and ready for use when you open the box. Users can download BenQ's Palette Master Element software and use a calibrator to customize color settings or maintain the display's color at its optimal state. The software is compatible with select calibrators from Datacolor and X-Rite.
Because BenQ understands that digital image and video editing professionals sometimes must quickly switch from sRGB to Adobe RGB or DCI-P3, or make adjustments for variations in room lighting as the day progresses, they provide a radically useful HotKey Puck. The BenQ HotKey Puck G2 has three customizable function keys and a rotating dial key. You can designate different color modes and features, and create shortcuts to frequently-used settings. The dial makes it extra easy to adjust brightness, contrast, and volume.
Conclusion
BenQ has thought of everything a photographer could need or want. The BenQ SW321C is superbly crafted using the highest quality components and looks clean and professional when sitting behind a keyboard. After using it and experiencing the extraordinary precision, viewing options and color accuracy it delivers, it's very hard to go back to using any other monitor.
It's easy to see why the BenQ SW321C is the 2020 TIPA Award winner for Best Professional Photo Monitor. Right now, the only question you should be asking yourself is "Do I have a workstation large enough for this incredible monitor?" That's a very pleasant dilemma.
Price and Availability
BenQ offers a full lineup of monitors suitable for photo editing. Check them out on BenQ's website. But the best BenQ monitor for photographers is the BenQ SW321C, as reviewed here, which can be ordered from Amazon for $1999 and is covered by a 3-year Limited Warranty.
—Jon Sienkiewicz
(As an Amazon Associate, Shutterbug earns from qualifying purchases linked in this story.)
FEATURED VIDEO