Bargain of the Day: An Entire Stanford University Digital Photography Course Online for Free!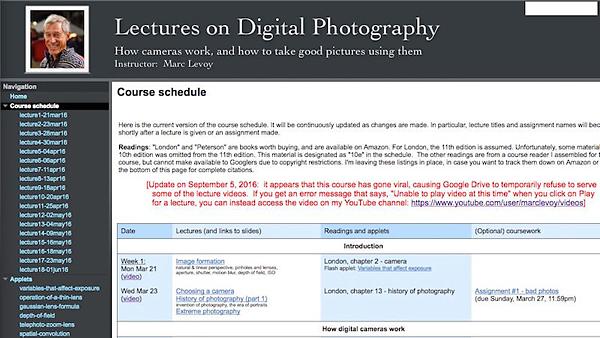 If the name Mark Levoy sounds familiar, it's because Levoy is the guy behind the Frankencamera, and he helped launch Google Street View. He's also a former Stanford University Professor and has just put his entire digital photography course online for free.
Levoy taught this comprehensive digital imaging course at Stanford from 2004-2009, so there is a veritable wealth of lectures, images and videos available. You have access to virtually all of the course materials Stanford students paid so dearly to acquire—even their midterm and final exams.
Here's how Levoy describes the course: "An introduction to the scientific, artistic, and computing aspects of digital photography—how digital cameras work, how to take great pictures using them, and how to manipulate these pictures afterward."
Topics include everything from lens and sensor technology to photographic techniques, a look at the work of famous photographers and image editing and processing. The course includes a good perspective on the history of photography as well.
In addition to visiting the course website, there's a YouTube page with all the video lectures. Enjoy!
FEATURED VIDEO