7 Ways to Keep Photo Gear Dry in Bad Weather
Winter Storm Jonas is bearing down on our nation's capitol and threatening to bury DC, Philly and maybe even New York City in snow this weekend. In fact, if you live anywhere east of Oklahoma, you're probably charging batteries, restocking the liquor cabinet and laying in a good supply of unhealthy snacks that you can justify eating only during a weather emergency.
But how do you plan to protect your camera when you venture out to capture the storm? Here are 7 ways to ensure your photo gear is covered.
1. The Shell from Peak Design (around $45) comes in three sizes and is my personal favorite when I want to protect a camera in rain or snow. The waterproof fabric conforms to the shape of your camera and lens without increasing the overall size or mass significantly. I usually use mine with a Peak Design strap and find it very comfortable and easy to use. It's the next best thing to staying inside where it's dry. Order from the manufacturer or you favorite camera store like Adorama or B&H.
2. From Miggo, the interesting company that brought you the Strap & Wrap we reported on last year at about this time, comes the Agua-X series of storm-resistant camera holsters. They come with straps and resemble a dedicated gadget bag that has a camera as its center. I find the Agua 45 ($69) a great choice for larger cameras like my Nikon D800 and I really like the way it allows quick access to the gear inside. Order from Miggo or your favorite retailer, including Amazon.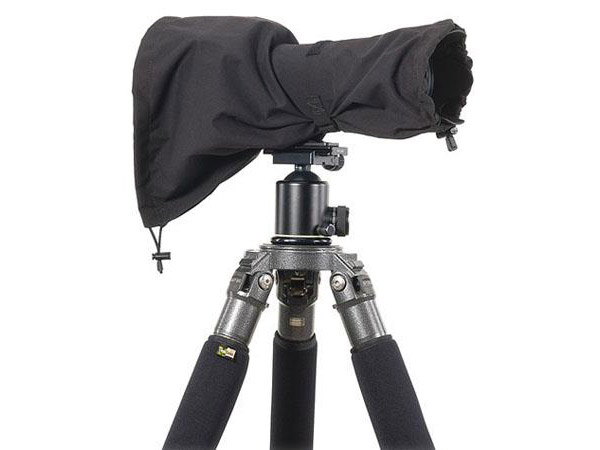 3. The LensCoat RainCoat Rain Sleeve ($59) is part of a full series of foul weather gear that's popular with many pros who have no choice but to face the elements. Available in black, blue, digital camo, snow camo and green, the Rain Sleeve is compatible with other LensCoat accessories including the Hoodie lens caps and BodyGuards. Suitable for a wide variety of conditions, this baby wraps snug around your gear and tightens down with sticky hook & loop closures.
4. Sometimes low-tech is the best option. I carry at least two large garbage bags in my backpack and have used them for everything from a groundcover to a poncho-style raincoat. When not in use they provide a little extra camera protection (store them in the outer most pouch or pocket of your gadget bag). No caveats here, but do buy the thickest you can find and never try to get away with using a thin grocery store bag instead. Contractor's Choice 50-count 42-gallon plastic outdoor trash bags are 3 mils thick and available at Lowe's for $25.
5. The ThinkTank Hydrophobia 70-200 ($149) accommodates a pro DSLR with 70-200mm zoom attached and stands up to a full day of shooting. Unlike protection systems that cover your camera more-or-less like a blanket, the Hydrophobia features a transparent plastic panel that gives view to the LCD and controls on the back and is secured by a special protective eyepiece. Nice, too, because the design allows you to directly handle the camera and make adjustment via two tight sleeves that let you in while keeping nature out.
6. Lowepro's DryZone BP 40L photo backpack ($249) isn't much for quick access, but if you ever pick a fight with a fire hose it will keep your camera and everything else inside dry and safe. It has an IPX6 rating, which means that it blocks out dust and liquid even when strafed directly by powerful water jets from all directions. It comes with a pullout padded gear organizer that's very useful in its own right. And it's yellow. How could you not love a waterproof yellow photo backpack? Available from most camera stores or directly from Lowepro.
7. Disposable rain covers, like those sold by Amazon, are inexpensive and easy to pack. They're also versatile in that one size fits nearly all. As emergency single-use protection from that unexpected cloudburst, they're not bad. As a full-time all-weather solution, they're not good. But then again, at $10 for a 2-pack, you can't expect caviar.
—Jon Sienkiewicz
FEATURED VIDEO