Zeiss Adds Two Super-Wides and a Short Telephoto to Their Milvus Line of MF Lenses for DSLRs
Zeiss has just added three fast prime lenses to their Milvus line of premium manual-focus lenses for DSLR cameras—a 15mm f/2.8, an 18mm f/2.8 and a 135mm f/2 telephoto. This expands the respected Milvus line to nine lenses offering optimum image characteristics, premium coatings, smooth bokeh, and uncompromising build quality.
The new Zeiss Milvus 15mm f/2.8 offers an expansive 110-degree angle of view and features a floating-element design utilizing special glass materials. The lens incorporates two aspheric elements to minimize chromatic aberration, optimize light transmission, and maximize resolution from 9.8 inches to infinity.
The lens comes complete with a detachable hood, uses 95mm filters, and employs a long focus throw for precise manual focusing.
The other new super-wide from Zeiss is the compact Milvus 18mm f/2.8, featuring 14 elements in 12 groups with two aspheric elements. Like the new 15mm f/2.8, this lens features a close-focusing distance of 9.8 inches. It boasts a 99.9-degree angle of view and utilizes a smooth internal focusing system.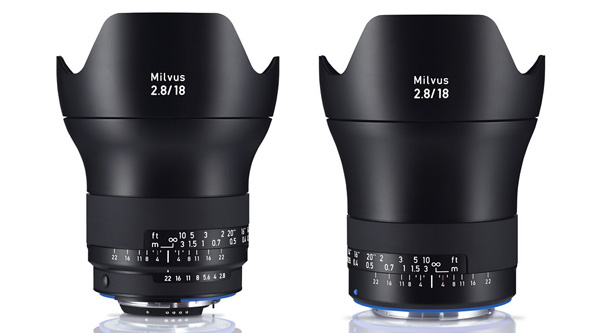 The new 18mm f/2.8 comes complete with a hood and utilizes 77mm thread-on filters.
The new Milvus 135mm f/2 is a fast telephoto that's perfect for portraiture and is designed to provide pleasing bokeh and optimum color rendition. The lens has a close-focusing distance of 31.5 inches and is constructed with 11 elements in 8 groups and utilizes 77mm filters. Like the other Milvus lenses, it comes complete with a custom lens hood.
Delivery of all three lenses in both Canon EF and Nikon F-mount is expected in November. Pricing is $2,699 for the 135mm f/2.8, $2,299 for the 18mm f/2.8, and $2,199 for the 135mm f/2. Zeiss offers an 8% discount to those purchasing three or four Milvus lenses. You can read more on the Zeiss Milvus website.

LATEST VIDEO