What's Inside a $2,300 Lens? Tearing Down the Sony 16-35mm f/2.8 GM to Try to Fix it (VIDEO)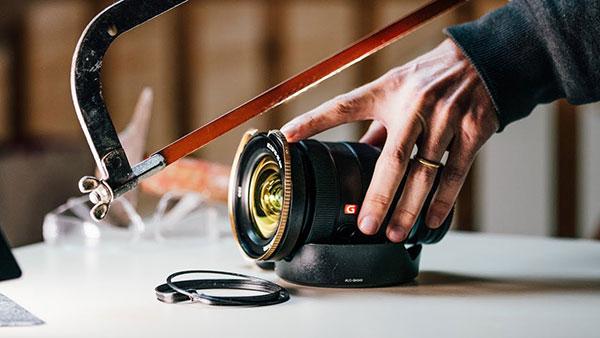 Travel photographer Pierre T. Lambert recently broke his Sony 16-35mm f/2.8 GM lens and rather than take it to an authorized repair shop, he decided to open it up and see what was broken inside the $2,300 lens. Smart move? Probably not but, luckily for us, he shot a video of the lens teardown, which we have embedded below.
The lens accident happened while Lambert was in the Maldives with his wife Trina. The pair got up early one morning to shoot some couples' shots at sunrise and Lambert ended up tripping on his tripod and knocking his Sony A7R III mirrorless camera and Sony SEL1635GM 16-35mm f/2.8 lens over.
Initially he thought both the camera and lens were destroyed but later realized it was just the Sony glass that was badly damaged. "There's a huge crack on the lens filter… and the external barrel on the zoom, the 16-35 2.8, is crooked," he says. "This is my only lens. I have only one lens. I have three weeks to finish: one week in the Maldives and two weeks in India. I need that lens."
What follows is his odyssey of trying to still shoot with the lens despite the damage and his final decision to try to repair it himself. If you've ever been in a similar situation or, if, simply this is your worst nightmare as a photographer, Lambert's ultimate lens teardown is an interesting if somewhat grueling watch.
We won't tell you what happens in the end but check it out below to find out. You can watch more of Lambert's fun and informative videos on his YouTube channel.

LATEST VIDEO