Tripod Add-ons; In The Field, Accessories Can Make A Difference
Here at Shutterbug we've always advised that using a tripod invariably leads to better image quality. While not every shot should or can be made with a steadying support, it's "best practice" to do so. We have covered a wide range of tripod offerings in the past (type tripods into the Search box on Shutterbug's homepage) so we thought that we'd look a bit deeper into this realm with some suggestions on accessories to make the most of your tripod when on the road. Following are some products I use in my own work or think would make an excellent addition to your kit bag.
When I take a trip locally I don't mind packing heavier equipment in my Jeep, but when I have to fly I like to trim the fat from my backpack. From Acratech, I found a nifty ball head especially suited for travel that I don't have to pack in my checked baggage. Called the GP model, it checks in at under a pound, complete with a level on the release plate designed for the Arca mounting system that's so universal today. It holds a moderate telephoto lens, doubles as a gimbal head, and as an added feature, the release plate can be removed, turned upside down, and repositioned on the ball head, doubling as a well-tuned panoramic device. In concert with the head, Acratech also makes an innovative Universal "L" bracket that, unlike dedicated brackets, is fully adjustable as to allow its use on many of your favorite D-SLR bodies by way of a camera plate. Complete with an Arca clamp, this bracket also helps to keep the weight of the body centered over the tripod for additional stability during longer exposures.
Giottos, well-known for its professional-style tripods, also makes a line of rugged ball heads in many sizes. By incorporating a hollow ball to save weight and a slim body style to reduce the overall size, they were all designed to use the Giottos patented sliding plate. All of these plates are reversible and come with a safety lock complete with flanged edges to keep the camera secure during a shoot and an auto lock retaining system. Twin bubble levels are included as well as adjustments for locking, tension, and panning around the base of the head.
Acratech Universal "L" bracket
How many times have you wanted a photograph of a tidal pool and found the legs of your tripod sinking slowly into the sand? Well fear not, Giottos has a variety of "snowshoes" that add a measurable amount of stability to your gear on sand, snow, or soft dirt.
Giottos MH 3300-658 ball head (interior construction)
While I still favor the original design of the popular Wimberley Head, the new Version II is a pound lighter and about 2" shorter in overall height. The bottom panning knob has been moved to an outboard position, allowing the use of the top swivel and bottom panning knobs to be operated with one hand. Both of these knobs are now "soft-touch" rubber to provide a better grip when using gloves. As the industry standard for nature photographers, I've used lenses up to the Canon 800mm with no problems and combined with an OP/TECH gimbal cover, it makes the perfect traveling companion.
Giottos FP 3021 Snowshoe
(mounts on the leg of the tripod)
When it comes to the Wimberley Plamp, I find many uses for it both in my studio and in the field. Inside, the Plamp will hold a small mirror or white card at the proper angle with small product photography; outside, it's great for offering a light touch on a delicate flower against the wind, moving the subject from a distracting background, or blocking stray light from your lens.
Sometimes carrying a tripod, a Wimberley Head, a camera body, and a 600mm lens is taxing on the shoulder. To the aid of many, OP/TECH has come to the rescue with their Tripod Leg Wraps; each leg can be wrapped in foam pads, then covered with Cordura leggings to protect your investment and your hands in both winter and summer. For easy transport of your favorite tripod, their Tripod Strap and Swivel version make for easy carry along the most difficult trail.
One look at the catalog from Really Right Stuff makes you wonder how you got along without all this gear! Introduced only a few short years ago, the BH-55 ball head is available with a number of options to include a lever release, screw type, panning, and a conventional platform with the common mounting screw.
OP/TECH gimbal (Wimberley) head cover
The CRD-87 Camera Rotation Device is yet another interesting accessory. When a favorite lens does not have a rotating collar, this will take its place. It rotates a full 360?, locks in any position, takes a flash bracket, and, with a foot of movement fore and aft, makes for an impromptu focusing tool for macro work. When it comes to a more formal application for close-up work, their B150-B Ultimate Package takes common body plates, mounts easily on any ball head, and moves your camera with minute adjustments left and right as well as fore and aft.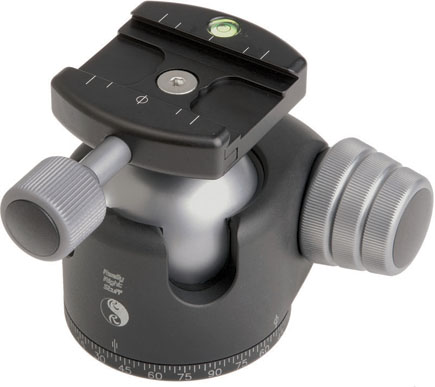 Really Right Stuff BH-55 ball head
Really Right Stuff CRD-87 Camera Rotation Device
Really Right Stuff B150-B Ultimate Package
Really Right Stuff Long Lens Support
FEATURED VIDEO