Tiffen Dfx 3.0 Digital Filter Suite: From A Company That Knows Filters
Tiffen's Dfx 3.0 offers photographers software that can make their images stand out from the crowd. The bundle is a digital emulation of 2000 of the company's glass filters that for convenience uses the same names of the company's Soft/FX or Pro-Mist filters, so those who've shot with their filters in the past know exactly what to expect when applying their digital equivalents. For those who haven't, rest assured that the company who made their name in filters knows their stuff. As a bonus, the software also includes effects created by lenses, lab processes, film grain, color correction, plus natural light effects.
I must confess that previous versions of Tiffen's Dfx Digital Filter Suite, while interesting, did not make the final cut of power tools in my personal digital toolbox. All that's changed in 3.0. It takes all of the good stuff from the previous versions, blends in new options, and wraps it around an interface that, while still containing a few less-than-elegant elements, retains its individuality and provides for smooth workflow.
As we went to press, Tiffen introduced a 3.0.5 update that adds new features and support for other systems and cameras. When installed on the same computer, a single Tiffen Dfx 3.0 Photo plug-in license lets you run the software on Adobe's Photoshop, Photoshop Elements, and Lightroom, along with Apple's Aperture. Want to apply these filters to video? With Version 3.0.5, a Tiffen Dfx 3.0 Video/Film plug-in license lets you run it on Adobe's After Effects and Premiere Pro, Apple's Final Cut Pro 6/7, including Avid 64-bit editing systems: Media Composer 6, Symphony 6, and NewsCutter 10 if installed on the same machine.
The Dfx 3.0.5 update is free to existing Dfx 3.0 users and can be downloaded from Tiffen's website but there's a caveat: when I uninstalled the old version (which they recommended) and tried installing 3.0.5 it failed, giving me a message that the serial number was "in use by another system." If 3.0.5 is not your original install, a call to customer support may be required to update.
What's New
At first glance the interface for Tiffen's Dfx 3.0 Digital Filter Suite appears similar to that of Nik's Color Efex Pro, but they're not even kissin' cousins and the only similarity is using big gray boxes with a selectable preview in the middle. Instead, Tiffen has placed all the different categories of filters along the bottom of the interface, with variations on the right panel and the adjustable sets of layers for the image on the left. Some of the icons for reset, add mask, add layer, and done (why not apply?) could look more intuitive but you'll get used to them—eventually. And I wished Dfx 3.0 could apply the final effects externally as a separate layer rather than internally, giving me more control not only for fading but being able to selectively erase part of the effects. Of course, you can do it yourself by applying the filter to a duplicate layer. That's what I did.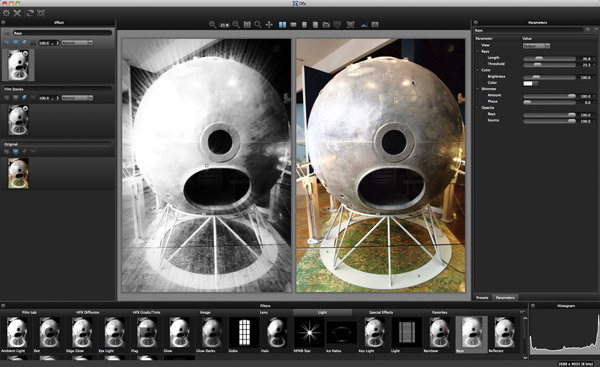 For some reason, Tiffen decided to make the scroll "thumb"—throughout the interface—lighten when you roll over it but otherwise it's dark and blends in with the background, making it hard to find when there are lots of presets or sliders in the Parameters tab. My plea? Please fix this in 3.0.6. Don't want presets? Select the Parameters tab and uncover what must be the most expensive array of sliders in all of filterdom.
Dfx 3.0.5 adds a Paint Mask tool with new blur controls, giving more control over blending and transitioning in effects and filters. An adjustable brush slider covers large areas; brush coverage can scale up to 50 percent of the screen. There's a Magnifier tool that lets you set the image in the preview window in specific increments but also shows a magnified area in a window in the lower left-hand side of the interface. As an alternative, and something I really liked, you can use the scroll button on your mouse to quickly magnify or reduce the image size in infinitely adjustable increments.
The Tiffen Dfx 3.0 image-editing effects suite features many new features and filters, including what I call the three D's. DeBand is not a musical group but is a tool that removes artifacts from an image by smoothing pixels in banded areas while retaining detail. With some digital cameras at certain resolutions, banding can occur in blue skies or large areas of a single color. This will fix it. DeBlock removes blocking artifacts created as a result of using high compression factors, such as in an overly compressed JPEG file, where you can often see square artifacts. DeNoise removes noise while retaining detail in still images or video created while working under low-light conditions and using high ISO settings and/or slow shutter speeds.
The Color Shadow filter creates a high-contrast image overlaid with a gradient, simulating the look and feel of the original iPod commercials. It's my favorite new filter. The Film Stocks filter simulates 113 different color and
black-and-white photographic film stocks from Kodak, Fuji, Agfa, Polaroid, and Ilford and can be found under the Film Stocks presets in the Film Lab collection. Next door to it is the Faux Film option that lets you "roll your own" by using an extensive collection of sliders. The Glow Darks filter glows and grows the dark areas of a photograph, creating a "stylized, dreamy dark glow."
Key Light lets you digitally relight images using a directional or point light after a photograph (or video clip) has been captured, giving additional control to fix or enhance an image as well as creating interesting lighting effects. The Rays filter produces realistic light ray effects quickly and easily. Rays can add a dramatic quality to any image with shafts of light streaming through clouds or a forest canopy, beams of light on a foggy night, or rays through a window.
Texture lets you add texture screens to an image and is one of the easiest ways I've found to apply texture effects and control them.
The Match filter matches the color, detail, grain, and tone of one image and applies it to another. Wedding and portrait photographers are going to like this one to make sure that all images, especially skin tones, from an event or session look the same. (Clients hate it when they don't.)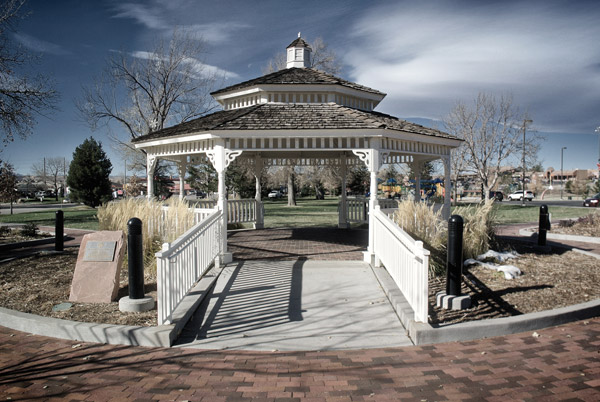 In addition to the above new features and capabilities, Tiffen's Dfx 3.0.5 has been updated with bug fixes and changes to make workflow smoother and more efficient. The way the package is designed is that you can work on images using the many different presets provided or jump into the Parameters tab—even after finding a preset—and push and pull those sliders to create quite specific effects. When making these adjustments the preview image, at least on my 2 x 2.66GHz Dual Core Intel Xeon-powered Mac Pro, was a bit slow to update, but I'm sure users with newer multiprocessor systems will be able to enjoy the acceleration and faster image rendering built into the software.
The Create Custom preset button found in the upper right-hand corner of the Parameters tab lets you save specific settings that you can later apply to other photographs in the same event or session (think senior portraits or weddings) or apply to another client's work. That's the upside; the downside is that there's so much here that users who are new to digital filters could get lost, but Tiffen has an answer for that too—presets.
Using all these presets along with the additional controls provided in the Parameters window produces an almost infinite number of combinations and permutations of effects, making Tiffen's Dfx 3.0 the ultimate Lego set of digital filters. You can use it to build anything! As I write this, the plug-in is available at an introductory price of $199.95, which is less than 10 cents a filter, making the Tiffen Dfx 3.0 Digital Filter Suite quite a bargain. The current price of the stand-alone version is $169.95. Of all the special effects and filter software products that I've tested over the years, Tiffen's Dfx 3.0 is the one where the more I used it, the more I liked using it, and I found something new and fun to do each time it was launched.
For more information, contact The Tiffen Company at: www.tiffensoftware.com.
FEATURED VIDEO