Three Olympus Zuiko Digital Lenses; 14-35mm f/2 ED SWD, 12-60mm f/2.8-4 ED SWD, And 50-200mm f/2.8-3.5 ED SWD
The Olympus D-SLR system always included a series of pro-caliber lenses targeting serious photographers working with the E-1 pro camera. Since the introduction of the newer E-3, Olympus has also unveiled three high-grade zooms, the first in the Zuiko Digital line with Supersonic Wave Drive (SWD) autofocus. Designed to provide the ultimate in AF performance, this trio offers wide apertures, extensive digital optimization, high-tech optical elements, internal focusing, improved manual focus, and rugged, splashproof construction.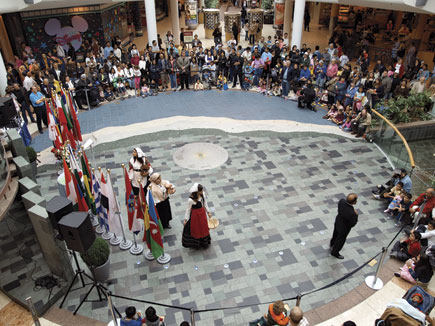 Even in images made at a 14-16mm focal length with the 14-35mm zoom, barrel distortion is noticeable only in formal architectural photography. In more typical applications, any obvious linear distortion is caused by tilting the lens upward or downward and not by an optical flaw. (This photo was made at 15mm and f/2.5, using an E-420 camera at the Carassauga Festival Preview, Mississauga, Ontario.)
All Photos © 2008, Peter K. Burian, All Rights Reserved
All three lenses also include a diaphragm with nine blades for a circular aperture at most f/stops and a lens hood with an opening that allows for adjusting a polarizer. My testing began in November 2007 but I could not complete this report until the third SWD lens—the 14-35mm f/2 model—finally became available. It was worth the wait because this zoom is even better than the first two, comparable to the best "prime" lenses on the market. During the long test period, I gave all three a good workout in travel, event, and action photography with an E-3 and two consumer-grade Olympus D-SLRs.
Zuiko Digital 14-35mm f/2 ED SWD
Billed as the world's first standard zoom with an f/2 aperture, this lens is also unusually large and heavy. That's understandable considering the wide diameter of the optical glass that was required and the number of elements. The engineers specified 18 pieces of glass, including an ED (extra low dispersion) and two aspherical elements to correct aberrations as well as distortion. The ultra-wide maximum aperture is valuable in low-light photography, providing fast shutter speeds. This feature also makes autofocus more reliable because the lens transmits a great deal of light to the camera's AF sensor.
Edge sharpness and brightness are both first rate with the 14-35mm zoom even at wide apertures and outstanding at mid-size apertures such as f/7.1. This image allowed me to make a 13x17" print that looks perfect under very close scrutiny; even a much larger print would meet professional standards. (This photo was made at 26mm with an E-420 camera using ISO 100 and a 1/100 sec shutter speed.)
Olympus categorizes this lens in their Super High Grade (SHG) series and refers to it as the "flagship" of the Zuiko Digital line. The metal barrel is beautifully finished with wide, well-damped focus and zoom rings with smooth operation. Overall build quality should satisfy even professional photojournalists who tend to subject their equipment to a lot of abuse.

Evaluation: As you might expect from the $2100 street price, the 14-35mm f/2 lens provides superlative image quality. In fact, this is the very finest short zoom that I have ever tested. Linear distortion is very well controlled, particularly at focal lengths longer than 17mm. Even at f/2 sharpness in the central 80 percent of the frame is remarkably high at all focal lengths, making this aperture suitable even for professional applications. By f/4 edge sharpness and corner brightness are impressive. The images exhibit great resolution of the most intricate detail, great clarity, snappy contrast, and a beautiful color rendition.

Peak optical performance (outstanding in every aspect) was produced in the 18-35mm range at f/8, for a level of quality expected from a pro-grade single focal length lens. I made some really stunning 13x17" prints, the largest possible with my Epson printer; oversized outputs should also be suitable for professional applications. While it's very expensive, photojournalists and others who often shoot in low light should love this "fast" 28-70mm equivalent Zuiko Digital lens.
(Above): Particularly in the 14-45mm range, at apertures from f/4.5 to f/11, the 12-60mm SWD provided images that made for 13x17" prints of gallery quality. While it's not inexpensive, this lens offers exceptional value for the price. (This photo was made at 24mm at f/5 using wireless off-camera flash with an FL-50R flash unit in Puerto Rico while testing the E-3.) (Below): The 12-60mm SWD lens provides effective focal lengths of 24-120mm on an Olympus, Panasonic Lumix, or Leica D-SLR, making it a perfect choice for anyone who wants a premium-grade "standard" zoom. It's far more versatile than the more typical 28-84mm equivalent Zuiko Digital zoom. (This image was made at 60mm at f/5.6 with an E-420 at ISO 200 using a Hoya Pro1D circular polarizer.)
Zuiko Digital 12-60mm f/2.8-4 ED SWD
More portable and affordable, this 24-120mm equivalent zoom is also more versatile, focuses even closer, and boasts an exotic optical formula. That includes a Super ED element, two pieces of ED glass, and three aspherical elements to correct the different aberrations at wide angle and telephoto focal lengths. The barrel includes some metal parts plus very tough polycarbonate components for great durability at an acceptable weight. Except in very dark locations where the f/2 zoom has an advantage, autofocus speed is also comparable: lightning fast, particularly with the E3 camera.

Evaluation: The close-focusing ability (to 9.8") is especially noteworthy. At the 60mm end that allows for maximum magnification of 0.28x, very high for a lens of this type; image quality remains very respectable particularly at f/5.6 to f/11. At more typical distances this zoom provided even better results. Sharpness is very high at all f/stops and focal lengths; this consistency is a sign of superior optical design. While some softness is visible around the corners at the widest apertures, it's very slight. Barrel distortion is noticeable in photos made of a test pattern but only obvious at 12-15mm focal lengths. Flare is very well controlled while vignetting (edge darkening) is barely noticeable and gone by f/5.

One of the best "standard" zooms that I have tested to date, this one produced the finest results in the 14-45mm range at f/4.5 to f/11 but I used all other focal lengths and apertures with full confidence. My best images made for 13x17" prints of exhibition quality. Overall, the Zuiko Digital 12-60mm zoom is a strong contender for professional status and its 24-120mm equivalent range is very useful. Although it's not inexpensive, the lens should certainly attract serious photographers who will appreciate the wider than average maximum apertures and the close-focusing ability.
Zuiko Digital 50-200mm f/2.8-3.5 ED SWD
A large, hefty lens with 100-400mm equivalent focal lengths, this one also features relatively wide maximum apertures. In addition to providing faster autofocus than the earlier version, the SWD-series lens is equipped with a more rigid tripod mount. The optical formula has been modified slightly but still includes three pieces of ED glass for effective correction of chromatic aberration.

This a very rugged lens with wide zoom and focus rings with plenty of friction and an internal focusing mechanism for fast AF. When zoomed to the 200mm end, the internal barrel protrudes by 2.5", changing the weight distribution; that's not a problem when using a tripod because of the very rigid mounting collar. Like the other two SWD zooms, this one features a circular aperture for a more pleasing "bokeh," that's particularly important with a telephoto lens.

Out-of-focus highlights in the background are rendered as round blobs—not hexagonal—at many apertures, for a more natural effect.
(Above): Although it does not bear a "macro" designation, the 50-200mm SWD zoom provides a minimum focus distance of 3.9 ft, making it useful for frame-filling images of small subjects. Image quality is excellent particularly in the f/8 to f/11 range. (This photo was made at f/8 using an Olympus E-3 on a Bogen/Manfrotto tripod.) (Below): For a 100-400mm equivalent lens, the 50-200mm SWD zoom features wider than average apertures. That can be useful in low light, especially when using a D-SLR with an Image Stabilizer, reducing the need for a tripod or a very high ISO level. (This photo was made at 200mm at f/3.5 with a 1/100 sec shutter speed at ISO 1600 while testing the E-3 in Puerto Rico at a time when I had neglected to bring a tripod.)
Evaluation: The Zuiko Digital 50-200mm SWD telephoto provided excellent results particularly in the 50-100mm range at all apertures. My images exhibit snappy contrast, great clarity, accurate color reproduction, and great definition of fine detail. I was able to make very fine 13x17" prints and gallery-quality 11x15" glossies. At longer focal lengths stopping down to f/8 provided optimal edge-to-edge sharpness suitable for making beautiful 10.5x14" prints. When shooting at f/8 on overcast days, ISO 400 was required for fast shutter speeds in action photography but the current Olympus cameras generated clean images at that ISO level.
FEATURED VIDEO