The Things We Carry: Our 7 Favorite Cameras & Lenses for Travel & Landscape Photography
"The lake and the mountains have become my landscape, my real world."—Georges Simenon
There are no mountains close to where I live but I can see the Rockies from my office window. On the other hand, Bingham Lake is within walking distance. Daisy Hill sits on a slight hill that climbs up from an elevation of 6,247 feet to the lake's 6,283 feet. When the weather cooperates—it is 10 degrees Fahrenheit as I write this—it's one of my favorite walks and I usually take a camera along, often an infrared-converted camera like the Panasonic Lumix G5 used to make the image that kicks off this month's column.
The point is, we all have photography gear that we love to bring with us, whether we're traveling around the world taking pictures, or going for a stroll in our backyard for a couple of local landscape shots. The following is the gear I find to be my essential "traveling companions" for trips both long and short.
Saturate the Colors
One of the best ways to get saturated images is to start with a camera with lots of megapixels and the ability to render images under a wide variety of lighting conditions. Caveat: Since this column is being written before the big CP+ Camera & Photo Imaging Show 2018 in Japan, some favorites may change. Right now in the mirrorless world, I'm intrigued by the potential of Panasonic's Lumix G9 (20.3MP) and Sony's A9 (24.2MP). As for DSLRs, here is what I'm interested in from the big two, Nikon and Canon:
Nikon's 45.7MP D850 ($3,296) lacks some of the glamour and bulk of the big dog 20.8MP D5 ($6,496) but it's got the pixel count. And weighs 14 ounces less. The D850's EXPEED 5 image processor gives a 7 frames per second (fps) continuous shooting rate for up to 51 frames, has an expandable sensitivity from ISO 32 to 102,400, and 4K UHD video recording using either DX crop or full frame. An 8K time-lapse recording mode is available, as well as focus stacking.
The weather-sealed D850 has the D5's 20K 153-point AF system and offers 99 cross-type sensors when focusing under a variety of lighting conditions. The D850 has a 3.2-inch LCD touchscreen for live view shooting, playback, and menu navigation with a tilting design for shooting Hail Mary shots or low-angle shots (my favorite). The D850 has two slots for XQD and UHS-II-compliant SD cards that can be used for overflow, in-camera backup, or to shoot Raw and JPEG files on different cards.
Who's It For: Nikon pro shooters or wannabe pros looking to upgrade to a sensor with more than enough megapixels.
Why I Like It: Back in the film days I was originally a Nikon shooter—my wife still is—and I still carry a grudging respect for the marque.
Need more megapixels? The 50.6MP Canon EOS 5DS ($3,699) and EOS 5DS R ($3,899) twins deliver the goods. While sharing the same sensor, the difference is the 5DS R's low-pass filter cancellation effect. A low-pass filter eliminates false colors and moiré patterns while the 5DS R's low-pass filter cancellation effect produces sharper and finer details but with the possibility of moiré and color artifacts that may (or may not) be eliminated during post-processing. The DSLRs include dual DIGIC 6 image processors, enabling fast performance with a 5 fps continuous shooting rate despite their large file sizes.
The 5DS features video capability, including HD 1080p capture at 30 fps, and an HD time-lapse function. The 5DS has a 61-point High Density Reticular AF system with up to 41 cross-type AF points. While not quite IBIS, the 5DS features a Mirror Vibration Control system driven by a motor and cams that reduce impact from the camera's mirror and its effects on the image. The 5DS offers a 1.3x and 1.6x cropping feature that produces 30.5MP (6768x4512) or 19.6MP (5424x3616) JPEGs respectively.
Who's It For: Canon DSLR shooters who want more power.
Why I Like It: More megapixels are always a good thing and if you currently lack the computer power to process these large files, the 1.3x and 1.6x cropping feature will help you until your ship comes in.
Photograph Locally
If you're going to photograph locally, using a versatile zoom lens is a good place to start. Sony is the preferred camera of the cool kids who hang out in the "mirrorless, no DSLRs" clubhouse and the company recently launched a lens that neatly straddles landscape and travel genres.
Sony's E 18-135mm f/3.5-5.6 OSS lens ($598) is designed for their APS-C mirrorless cameras and produces a 27-202.5mm equivalent field of view. It has a magnification ratio of 0.29x and a minimum focusing distance of 17.7 inches. To control spherical and chromatic aberrations, optical design uses both extra-low dispersion glass and aspherical elements. The lens has built-in Optical SteadyShot image stabilization to help with close-up shots. A rounded seven-blade diaphragm contributes a pleasing bokeh.
Who's It For: Sony APS-C camera shooters looking for a versatile and affordable alternative for travel and landscape photography.
Why I Like It: While I've never even held a Sony mirrorless camera in my hands, all the guys at the pool hall who shoot them seem to love 'em. And they like this lens.
In Canon and Nikon mounts, Tamron's SP 15-30mm f/2.8 Di VC USD lens ($1,199) includes Vibration Compensation (VC) while the Sony version does not because of its IBIS. On APS-C cameras, the lens produces the field of view of a 22.5-45mm lens. The fast f/2.8 maximum aperture performs well for low-light travel photography, providing shallow depth of field for selective focus.
The lens uses 18 elements in 13 groups with XGM (eXpanded Glass Molded Aspherical) and LD (Low Dispersion) glass elements to reduce chromatic aberrations and produce sharp images. The eBAND (Extended Bandwidth & Angular-Dependency) and BBAR (Broad-Band Anti-Reflection) coatings minimize ghosting and flare, while the front element's fluorine coating repels water and contaminants, which is a good thing since the curved front element makes it impossible to mount a filter.
The USD (Ultrasonic Silent Drive) autofocus motor provides fast AF with high torque, low response times, and quiet operation for video. A full-time manual mechanism enables focus fine-tuning, even when AF is engaged. At 2.43 pounds this is a hefty lens, but that shouldn't bother full-frame DSLR shooters because they seem to like that sort of thing.
Who's It For: Travel shooters looking for a fast, versatile, high-quality lens.
Why I Like It: It has a built-in lens hood to prevent flare and protect that protruding front element.
Use a Wide-Angle Lens
There's no "magic bullet" for photographing landscapes but I find wide-angle lenses produce a dynamic perspective, especially in situations where you can't back up enough to capture wide vistas.
One of the reasons I bought into the Micro Four Thirds system was the interchangeability of lenses between Olympus and Panasonic bodies. When combined with the ability, shared with most mirrorless cameras, of using other lenses such as my Leica M series via adapters, I think the Micro Four Thirds system offers the most versatility.
The Olympus M.Zuiko Digital ED 17mm f/1.2 PRO lens ($1,199) produces an effective angle of view of a 34mm lens that's well suited to both travel and landscape genres. It's sort of a wide-angle lens while offering travel shooters a fast f/1.2 aperture for after the sun goes down. Its design uses 15 elements in 11 groups, combining extra-low dispersion, aspherical, and high refractive index elements to reduce chromatic and spherical aberrations.
A nine-blade aperture achieves smooth bokeh, especially when working with shallow depth of field. A Z Coating Nano is applied to individual lens elements to improve contrast while limiting flare and ghosting. The included lens hood should help, too. Because it's a Micro Four Thirds lens, the Olympus 17mm f/1.2 only weighs 13.76 ounces and has a modest 62mm filter size. A low-profile Hoya 62mm EVO Antistatic UV filter ($56) might be a good investment. Think about it.
Who's It For: Must-have fast lens for travel and landscape shooters who wisely have joined the Micro Four Thirds fold.
Why I Like It: This is a useful yet well-crafted optic that's beautiful to look at as well.
One lens on my personal radar is Sigma's 16mm f/1.4 DC DN Contemporary ($449). It's a 32mm equivalent for Micro Four Thirds mirrorless cameras and a 24mm equivalent for APS-C Sony E-mount cameras. It's ideal for low-light travel photography while providing control over depth of field and selective focus. To control color fringing and aberrations, the optical design uses three FLD, two SLD, and two aspherical elements. Individual elements use a Super Multi-Layer Coating to suppress flare and ghosting. A petal-style lens hood is included.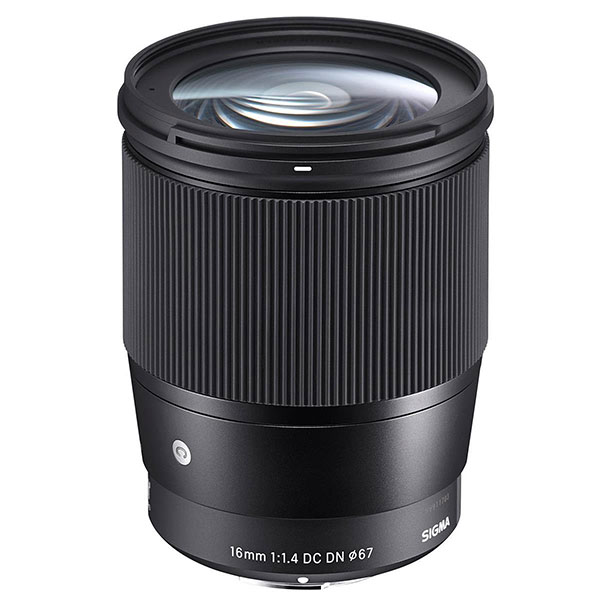 The lens has a stepping AF motor for quick, quiet, and smooth focusing for still or video. Its weather-sealed, durable construction makes it usable in inclement weather conditions but a Hoya 67mm EVO Antistatic UV filter ($74) would be a useful accessory for the serious travel photographer. Like many of Sigma's lenses, the 16mm f/1.4 is made from a Thermally Stable Composite material, along with traditional metals, which includes the mount.
Who's It For: Mirrorless photographers looking for affordable and beautifully crafted lenses that outperform competitors from camera companies.
Why I Like It: Sigma has been on a roll for a while now creating outstanding lenses and it's always a good thing to add more really good optics to mirrorless camera systems.
Creating Maximum Depth of Field
In this day and age, Rokinon's affordable 14mm f/2.8 IF ED UMC lens ($299) for DSLR and mirrorless cameras is one of the few that features a distance scale. It uses two ED lens elements, one hybrid aspherical lens element and one glass aspherical lens element, to produce sharp images with a minimum of distortion and chromatic aberrations.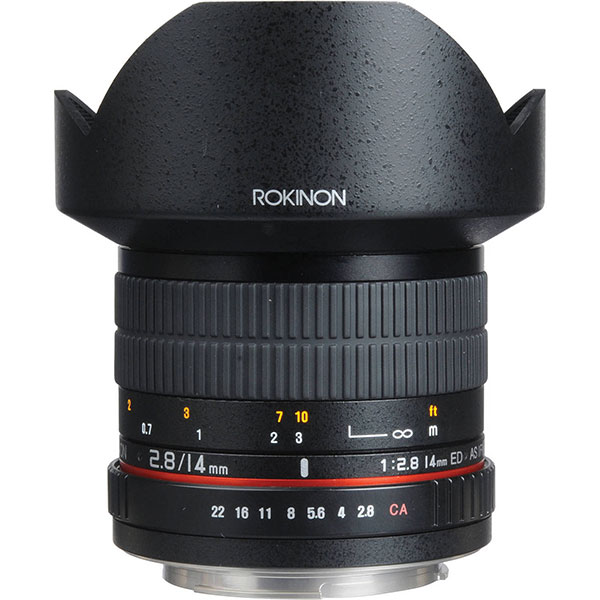 The lens has an approximately 115-degree field of view with a full-frame DSLR or 90 degrees with an APS-C camera. The lens focuses as close as 11 inches. A super multi-layer coating reduces flare and ghost images and the built-in petal-type lens hood should help as well.
Who's It For: It's a perfect wide-angle lens for mirrorless photographers or those who value classic manual focus lens design and construction.
Why I Like It: The price is really hard to beat for a really wide-angle lens like this.
Joe Farace enjoys shooting infrared landscapes using Canon EOS and Panasonic cameras. All his previous travel photography was made with Canon EOS cameras but increasingly he's using a motley collection of Olympus mirrorless cameras for travel. His wife, Mary, is a Nikon DSLR and mirrorless shooter—she calls the V1 her "art camera." You can see lots of Joe's IR and travel images at joefarace.com and on his Instagram feed (@joefarace).