Surf The Internet For Free
Sure, But Theres A Catch
Juno started out as a free e-mail service with their own telephone numbers and software but expanded into free Internet access. Free e-mail remains part of the package and is one of the easiest e-mail packages that I've used. It's not fancy but includes a built-in spell checker. Web access is provided when you click the third tab.
Nada, Nothing, Bupkis. Anything that sounds too good to be true usually isn't. But free Internet access uses an age-old formula to let web surfers gain access to the World Wide Web (WWW) at no cost. Radio. Yup, radio. After you buy the radio, you can tune into any kind of station you want, including talk radio, country and western, and even Texaco's weekly broadcast of the Metropolitan Opera's Saturday matinees. The catch? You have to listen to commercials.
Even though they don't interrupt Puccini's Madame Butterfly for a sales pitch for Havaline motor oil, by the time the broadcast is over, you know who the sponsor was. The same is true for free Internet access. You get to view all of the sites I highlight each month in the "Web Profiles" department, but while you do, there will be ads floating somewhere on the screen. Where these ads appear depends on the service. You may be able to move them, but you can't hide them. In exchange, once you have a computer and modem, you pay nothing for web access.
These days it seems that everybody, including K-Mart, seems to be getting into the act, so be sure to read the fine print as to what comprises "free." It might be more expensive than you think.
K-Mart's BlueLight.com free Internet service, offered in conjunction with Yahoo!, is one of the few sites that is truly free and supports both Macintosh and Windows computers.
Freebie E-mail & More
If you've been wanting to surf the WWW but were unsure about the cost, check out www.juno.com I became aware of Juno's free e-mail service while writing the first edition of The Photographer's Internet Handbook and saw an interview with the company's CEO on television. At that time Juno provided--and still does--a free e-mail service that's different than those offered by Hotmail, Yahoo! and others that require you to already have some kind of Internet access.
You don't need Internet access to make Juno work. All you need is a Windows-based computer, a modem, and Juno's software, which can be obtained by asking a friend to download it from their web site or by calling (800) 879-5866. There may be a small service charge (less than $10) to mail a CD-ROM disc, but that's your only out-of-pocket expense. Juno software is easy to install and you get to pick your own e-mail address and password.
The company offers three levels of service. Juno's basic service gives you free Internet access, as well as their signature free e-mail. You pay no monthly charges, no hourly billing, no start up or membership fees and no fees of any kind. In most areas, local telephone numbers provide access. Juno Web is a premium, but inexpensive (less than $9/month), Internet service that provides free technical support. Members of the free service pay $1.95 per minute to speak with a live Juno representative, but I've never called them.
FreeLane is another free ISP who provides both Mac OS and Windows software and whose access is limited in some areas. Check their web site to see if you can get online for free.
Juno Express is a fast DSL (Digital Subscriber Line) connection and is limited to certain areas. I can't get it or any other kind of high bandwidth service other than satellite from any other vendor. If you'd like free access via a DSL connection, visit Winfire's web site at: www.winfire.com The company offers free ADSL (Asymmetric Digital Subscriber Line) service, which is common for home and small business users. It's called asymmetric because most of its two-way bandwidth is devoted to sending data to the user's hardware. FreeDSL offers free service but you must pay for a $199 modem. Like Juno, it provides additional services with charges up to $34.95 per month.
What About Us Mac Folks?
One of the obvious problems is that Juno and several others don't provide service for Macintosh users. While you can always run their software on one of the hardware or software solutions that let Mac OS users run Windows software, you're better off looking for a Mac-based free ISP or getting an inexpensive, used Windows box. One free ISP that is Macintosh friendly is Free Internet.com (www.freei.net) but users have told me that, as of this writing, it is "the slowest connection since the caveman web surfed." Mac users might be advised to check it out to see if access has improved over the Jurassic levels my friends reported. For any kind of free Internet service users must provide personal information and have a small navigational bar containing advertising that's visible while you're connected. Some of the ads displayed by free ISPs feature products aimed directly at your demographics, which you provide when installing their software. If you've ever filled out a warranty card for a computer or VCR you'll recognize the information for what it is: market research. None of the questions seemed intrusive to me, but at the time I signed up Juno did want to know my annual household income and how many stock or bond trades I made over the past year. This might bother security-minded readers. I leave it to you to decide if this might be considered an invasion of privacy. If you're worried about being buried by junk e-mail as a result of providing this information, I get less spam on my Juno account than on CompuServe.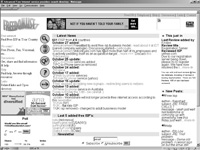 Bargain hunters will want to check out FreedomList.com, which the last time I checked had a listing of more than 600 free Internet Service Providers around the world.
Try These, Too
In the U.S.A. or Canada, NetZero (www.netzero.com) promises "No monthly bills. No fees of any kind. Ever," but is limited to Windows users. The company offers free, unlimited, direct Internet access, free e-mail accounts that let you attach files and photos--something Juno didn't initially offer for free, but now does. NetZero also offers free 24 hour a day customer support. With the popularity of Instant Messaging, they let you use AOL, Yahoo!, and other Instant Messaging programs with your NetZero connection. NetZero has thousands of access numbers across the US and Canada. A CD with the company's software has a modest $3.50 shipping fee for any US orders ($5.00 Canada).
I wasn't kidding about K-Mart. You can get their Totally Free Internet Service in a number of ways, including downloading from their web site (www.bluelight.com/freeinternet) or ordering a CD-ROM with their software that is truly free, with no handling charges of any kind. Unlike some other free ISPs, Bluelight.com supports the Mac OS and includes Yahoo! Messenger for instant chatting and Yahoo! Companion along with some helpful browser tools. Looking for more free ISPs? Take a look at www.freedomlist.com (a web site that lists all of the free ISPs around the world).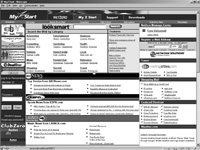 NetZero is a popular free ISP that lets its user have an impressive personalized start-up page, but is limited, at this time anyway, to Windows users.
Free E-mail, Too?
E-mail is the most popular Internet service. It's more popular than the WWW and many web sites offer free e-mail services. The only catch with most of them is that you need Internet access to use them. That means you can have an e-mail address that is joe521@yahoo.com that doesn't cost anything but you need to have some kind of web access to make it work. Since you probably already have an e-mail address provided by your ISP, why would you want another one? I can think of two reasons:
You can access the free e-mail account from any computer anywhere in the world. When at a trade show, such as photokina, I use any computer in the press room--Windows or Macintosh--to log onto www.juno.com and after entering my e-mail address and password, can read my current messages. I also use this time to delete any spam. Like my personal hero, Isaac Asimov, I respond to reader inquiries within 24 hours, but also get my share of messages I don't plan on answering. By deleting them while I am on the road they're not waiting for me when I return.
The second e-mail address can be used for personal, not business use. You can use a Hotmail (www.hotmail.com) address for your hobby. If you want to communicate with fellow enthusiasts, you don't have to wade through your business e-mail to find information on that headlight assembly for your Series I Jaguar XJ-6 only available from a dealer in Australia. (Auto enthusiasts should look at the AutoWeek web site (www.autoweek.com) for lots of auto-related e-mail addresses to identify yourself as an aficionado.)
Look Before You€
As you can see by this brief introduction, the word "free" has many meanings as interpreted by various Internet Service Providers. Some are truly free, while others have a modest charge for the initial software, while others offer a free option with "paid" alternatives. Just as when you try a new film emulsion, you can test a freebie first, but don't dump your paid Internet Service Provider until you see how well the new one works. In addition, you might like having two e-mail addresses and two ways to access the Internet, because you'll have access when one of them is down. Just as you have a back-up camera, a back-up ISP isn't a bad idea, especially if it's free.
Tip: One of the hottest trends in e-mail is the appending of an electronic "signature." Most users use this to add their name and some additional information about themselves, such as, their street address. Some users use it to call attention to their achievements, such as a new listing in Who's Who, the awarding of a Master's Degree in Photography, or just a pithy saying. A word of warning here. My friend, Steve, is currently adding little snippets onto his signature. For a while he was using "R2D2! You know better than to trust a strange computer!" This can be mildly amusing for a short time, but your regular e-mail recipients may get tired of it quickly if it is not changed regularly.
More Free E-mail
Here is a brief list of just a few of the free e-mail providers that are available. This list is provided as a jumping-off point for you to find a free service that fits your e-mail needs.
1 Free Email: www.lfreemail.com
AltaVista Email: http://altavista.iname.com/member/login.page
AutoWeek: www.autoweek.com
Doghouse Mail: www.doghousemail.lycos.com
FlashMail: www.flashmail.com
Hotmail: www.hotmail.com
Mail.com: www.mail.com
Postmaster: www.postmaster.co/uk
Turbosport: www.turbosport.combr> Yahoo: www.yahoo.com
WowMail: www.wowmail.com
ZipLip.com: www.ziplip.com/zplus/home.jsp
FEATURED VIDEO