The Sony Vaio Slimtop Pen Tablet
A Dream Computer For Digital Photographers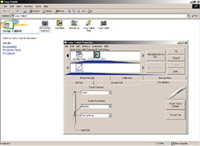 The Sony Tablet software utilities include a Sony Tablet Properties window that supports configuring the Pen-tip, toggle switch and eraser functions specifically linked to each application, including tip feel (pressure sensitivity) and what input effects the pressure modifies.
Photos © 2001, David B. Brooks, All Rights Reserved
The few times I have written about personal computers in the past there has not been a product that supports digital photography out of the box. Although Windows PCs available on store shelves today have much more general capability when applied to digital photography, there still remains much that must be added in both hardware and software to make most off-the-shelf models functional as a digital darkroom. Sony, as a leading manufacturer of both digital video and still cameras and a PC maker, now has a model that is a welcome exception. The new Sony Vaio Slimtop Pen Tablet PC is specifically designed to provide you with both the hardware and software configured with some advanced design and features that will support both digital video and still photography right out of the box. In addition, it is the first PC I've used that is also a lot of fun to use whether you're 8 or 80 years old.
Most of the PCs in stores today differ little in basic design and primary functionality from the systems available in the late 1980s. Today they are faster, more powerful, and cheaper relative to performance, but still mostly a big beige box, cumbersome monitor, keypad, and mouse. The new Sony, on the other hand, includes ingenious, practical, new design elements that greatly extend standard PC use, and also make the established computer tasks more accommodating to a variety of styles of individual uses.
The Sony Vaio Slimtop Pen Tablet provides both its unusual direct access and software support for both children and adults, novices and experts, enabling all the usual home/office functions as well as digital photography, video and audio input, editing and output.

This is not any weird and revolutionary computer, in fact, it has the box-like CPU case of the typical PC, but one that is less than half the size of a standard model. The keyboard is also pretty typical, as is the mouse that is provided. The monitor, however, is another story. It's a moderate-sized LCD screen, incorporating a flush strip of stereo speakers at each side. The monitor is also supported on an articulated arm and base that allows it to be positioned at a wide range of heights and angles. This is why this Sony Vaio is called a Pen Tablet. The LCD screen has a protective clear face and comes with a stylus pen making it directly interactive with what is on the monitor screen so you can draw and make "mouse" functions like selections, directly on screen.

In other words, the monitor functions both as the viewing screen and as a drawing tablet, with the pen functioning in the same way as a mouse. On first seeing this Sony Vaio Slimtop Pen Tablet PC, I immediately thought of the obvious Photoshop advantages like retouching images, or precisely selecting an area within a photograph to make editing changes. In addition, the pen is pressure sensitive and can be programmed so brushes applied with the pen can be lighter or darker, depending on how hard you press the pen on the surface of the screen.

Added Features These unusual hardware features would not be particularly significant, except this Sony Vaio model also has a very complete accompaniment of all the interface connections and internal support for both digital video cams and digital cameras, in addition to a very extensive bundle of software specifically chosen to support digital video and photography. It even has a built-in CDR drive. This software selection does not include just one application for video and one for digital photography. It includes advanced applications like Adobe Premier LE and Photoshop LE along with simpler, easier to use video and imaging applications that even children and novices will find accommodating. And, it doesn't end with just support for video and photography. Office applications like Microsoft Word and Quicken are also included.
The Sony Vaio Slimtop Pen Tablet provides a combination of user configurations combining typical computer input, as well as analog-like, friendly Pen Tablet direct input on screen. It is also one of the most space efficient, full-powered desktop PCs available.

Because this Sony Vaio has at its core the Pen Tablet that supports writing directly on screen, many standard computer functions can be enhanced with Pen Office software, which is included in a trial version. Pen Office allows making handwritten notations, underlining and editing markup on both MS Word and Adobe Acrobat documents, not to mention being able to affix a written signature to forms and contracts as well as letters in either format. Pen Office also provides support for the recognition and translation of handwriting done either on screen with the Vaio Pen or of scanned paper documents. The software bundle for this computer is rounded out with Sony's own AV applications including: DV Gate, to access and edit digital video; Media Bar, for audio/visual playback; MovieShaker, for easy digital video movie editing; Picture Gear, for digital image management providing thumbnail generation and filing as well as still image editing; Smart Capture, including Sony's proprietary iLink that allows capture of video that can be sent by e-mail; and Visual Flow, which is a multimedia browser designed for Sony Memory-Stik media.

Using The Sony Vaio Slimtop Pen Tablet Unpacking and setting up the Sony Vaio Slimtop Pen Tablet was a bit different than any previous experience I've had with a new computer system. There are simple directions included and the entire process can be accomplished in minutes, as it only amounts to plugging a very few cords into the components, including a single power cord, and then turning it on. Unlike a typical PC, there is not a "nest of worms" tangle of cords involved and is, by comparison, clean and simple. In addition, all of the software running on Windows ME listed earlier is pre-installed and ready to use. The only additions I made were putting in Adobe Photoshop Elements, which will eventually replace the provided Photoshop LE, and drivers for a printer and scanner. (Besides the fact Elements will replace Photoshop LE in time, Elements includes color management and LE does not, which I felt essential to evaluating this Sony PC as a digital darkroom system component.)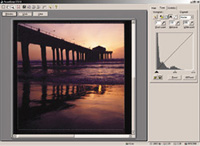 Working in Adobe Photoshop Elements with the Sony Pen Tablet was an easy and effective delight applied to doing a complete glamour retouching job to make a beautiful face almost perfect. The direct Pen on screen-image relationship is naturally direct, making retouching a more accurate and a faster process. The same can be said for any kind of input which mimics analog creation with a pen or pencil on paper.
Although I "played" with the Sony AV applications using video clips I had on file, I did not have the use of either a Sony digital still camera or videocam to try all of the Sony Vaio Slimtop Pen Tablet capabilities. Nor would I take it upon myself to pass judgment on video functions, as I have not been involved actively in the field for a number of years. However, from what I was able to use, the Sony AV applications are incredibly accessible and easy to use, encouraging anyone to get involved, if only quite casually.
On the other hand, as a digital darkroom, I took this Sony Vaio through its paces. Coincidentally I received two Canon products, a S600 Bubble Jet printer and a CanoScan D2400UF flat-bed and film scanner for evaluation, and began that process using the Sony Vaio. This involved scanning some documents, but mostly transparency and color negative film. My selection of images was challenging, as I'd just opened a box of my earliest work from the '50s and early '60s. These images were scanned into Adobe Photoshop Elements, checked for quality and further color correction needed was applied. The one function which interested me most was using the Pen Tablet to both retouch any dirt, scratches, and image imperfections, which with 50-year-old film images were considerable, and to make selections of precise areas to apply local adjustments. I also scanned and retouched some more recent portraits on chrome and negative film to provide additional opportunity for using the Pen Tablet for portrait retouching. Once I had finished a sizable selection of different images, and they were clean and critically adjusted, I used the Canon S600 printer to output a full set of photo prints using several different kinds of paper.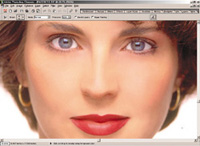 Using the Canon CanoScan D2400UF and the Canon ScanGear driver provided a preview image that supported adjusting the scan to produce a predictable scanned image opened in Photoshop Elements. With little post-scan adjustment, these images scanned into the Sony Vaio Slimtop were output to the Canon S600 Bubble Jet with high predictable image quality and fidelity to the image on screen.
Evaluation And Recommendation Fortunately, the Sony Vaio Slimtop Pen Tablet takes up very little desk space, and I was able to work with it without disturbing the setups of my own computers. However, I soon found that if this computer were mine permanently I would want to locate the keyboard in a drawer or a keyboard holder that slides in and out from under the top edge of a desk. I also found that many typical computer functions, including scanning and printing, were easier to perform with the standard mouse and keyboard provided rather than using the Pen Tablet to mark and click on commands on screen. So, unless I was drawing, making image area selections and retouching, I kept the Pen Tablet screen upright. However, it just takes a second to move the screen Tablet into a lower angle closer to that of my desktop to comfortably use the Pen.
So, depending on the task at hand I moved back and forth between the mouse/keyboard configuration and the Pen Tablet setup, working with the Pen directly on screen. And, for much of what one does, especially using brush and selection tools in Photoshop, being able to use the Pen directly on the image is a great advantage. For retouching, the screen image is very sharp and reveals subtle differences in the image even at 100 percent magnification, making both cleanup and retouching a comfortable eye-hand coordinated function that's easier and faster than even using a large CRT monitor and a drawing tablet to perform the same tasks. Plus, if you have children, I'm sure they'll delight in using Sony's Picture Toy that's the easiest draw/paint application I've encountered. And, for anyone who wants to be more seriously creative using the Pen Tablet, it is ideal for applications like Corel Painter.
Taken on the fly just after a late afternoon thunderstorm cleared, this rather underexposed Kodacolor 120 negative was scanned with surprisingly realistic color reproduction based on adjusting the image in the Pen Tablet LCD display of the Sony Vaio computer.
The LCD screen-based Pen Tablet is the heart of the Sony Vaio Slimtop Pen Tablet computer system. The screen is also the keystone of image color quality control through color management to obtain predictable high quality color, input through output. So, I was as much concerned about this effect on digital darkroom functioning as I was about the Pen tool itself. In this regard I found that as it is set up out of the box, the Vaio has an effective ICM profile for the LCD monitor in place. Both the Canon printer and scanner installations also placed ICM profiles in the system when their software was installed. The result was that my color correction both in the Canon ScanGear software and in Photoshop Elements was accurately reflected in the image qualities of the prints reproduced by the S600 Bubble Jet printer from my scanned image files.
The Sony Vaio Pen Tablet incorporating an LCD monitor and drawing tablet in one is not exclusive. In fact, Wacom offers three models of Pen Tablets for both PCs and Macs, and it is quite apparent to anyone who has a Wacom tablet that the software supporting the Sony Pen Tablet is from Wacom. However, the Sony Vaio Slimtop Pen Tablet provides this unusual capability as part of a powerful PC fully outfitted with software for a list price under $3000, while the discounted price of a comparable Wacom Pen Tablet monitor alone is $2175. This makes the Sony Vaio Slimtop Pen Tablet an incredible value.
From my limited use of this computer solely as a digital darkroom, I found its design, performance, and extended functionality provides an almost ideal computer base for a photographer. Of course, these advantages will be most valuable to anyone just beginning with digital photography because the software bundle will be of greatest value. The Sony Vaio is of course most advantageous if a Sony digital camera or videocam is used with it, but there are no impediments to using other brands of digital cameras and videocams. For anyone beginning in either digital photography or video, and particularly both, the Sony Vaio Slimtop Pen Tablet is the most complete, ready to use, easy and effective all-in-one package I've worked with yet. Other than upgrading to Photoshop Elements and adding at least another 128MB of RAM memory, there isn't much you could think of to add to it. A more complete solution or a better one, and at a reasonable cost, would be hard to imagine.
For more information, contact Sony Electronics Inc. at (201) 930-1000.
Technical Specifications
Sony Model PCV-LX900
Processor: 1 GHz Intel Pentium III
Hard Disk Drive: 40GB ATA-66
C/D Partition: C:=l6GB/D:=24GB
Standard SDRAM: 128MB PC-133 SDRAM, expandable to 512MB
Video RAM: Shared with system memory
Graphics: SiS 630 graphics hardware acceleration
Sound Capabilities: SiS 630 (AC97 compliance)
CD-RW Drive: 32X maximum CD-ROM reading, 8X maximum CD-R writing, 32X maximum CD-R reading, 4X maximum CD-RW writing, 20X maximum CD-RW maximum reading
Modem: Lucent 1648 technology/V.90 compatible data/fax modem (REN 0.7)
Expansion: PCI slots (two)
Connection Capabilities (Front): PC card slot (card bus support); USB port; Memory Stick media slot; iLink (four pin) port
Connection Capabilities (Rear): USB ports (three); modem line jack (RJ-11); phone line jack (RJ-11); CRT display; Sony Pen Tablet display; line in jack; iLink (six pin) port; 10Base-T/1 00Base-TX Fast Ethernet LAN jack (RJ-45); headphone jack; microphone jack; PS/2 mouse port; PS/2 keyboard port; USB port
Dimensions: CPU: 4.2x14.5x11"; keyboard with palmrest: 17.1x2x8"; LCD display: 17.1x14x6.4"
Weight: Total all components: 28.8 lbs
Estimated Street Price: Under $3000
FEATURED VIDEO