Software Roundup 2001
New And Improved Tools For The Digital Photographer
From the e-mail I get from photographers doing photographic things with computers I have the impression many carry over their analog perspective, with its emphasis on hardware, to the digital world. In other words, too little attention is given to the fact it's the software that puts you in the driver's seat, providing the control over what the hardware does. In the past, applications like Photoshop, although very powerful and capable of doing amazing things with digital images, also required the user to climb a steep learning path to be able to access the "magic." Now, even professional-level image editors have a more "intuitive" interface with effective interactive help on screen and provide much better learning resources stored along with the application on the program CD. With many of the latest consumer photo software products, programmers have achieved much more effective automated image enhancement and designed really effective guided pathways to accomplish a variety of tasks. This provides ease of use and quality output for even the most casual user. The following mini reviews are based on my use of a rather considerable range of varied software products and represent a part of what you can find for both PC Windows and Macintosh computers.
Corel Print House 2000
Although there is a large selection of consumer entry-level photo applications for Windows, there are few off-the-shelf packages for the Mac. The Corel Print House 2000 is a welcome alternative. In fact, at $79.95, it is an exceptional value, providing not one but two applications as well as a very rich collection of stock graphics, templates, frames, backdrops, borders, and over 300 type fonts. The two applications are Print House and Photo House. Print House is an easy to use, guided graphic document layout application that supports inserting photographic images. The supplied templates and guided application process makes it easy to produce custom greeting cards, business cards and stationery, calendars, brochures, etc. Photo House is a photographic image-editing application with a parallel interface with guided activity to adjust and creatively manipulate photographs as well as add text and create composites.
It has been over a year since I worked with a previous Windows edition of Corel Print House, so trying the new Mac 2000 version was like starting from scratch. Regardless, in minutes I had a photographic image file open in Photo House and was color correcting, adjusting, manipulating, and adding type over the image. As soon as I saved one version of the image I started Print House and dragged the image I'd just worked on to it. I found that I could use essentially the same workflow to put together a document using the photo image.
For the enthusiast, Photo House has considerable depth. You can begin at the surface and follow the guided activities. This yields satisfying results that can be used for all kinds of fun purposes. Or, you can click on the "options" tab in the left side control/instruction window and acquire access to manual for more precise control. This includes basic image color correction and a fully adjustable clone brush to perform quite professional quality retouching and image restoration. Finally, one of the qualities which sets Corel Photo House apart is the refinement and sophistication of the special effects and filters provided. Print House/Photo House is also a good path to learn and upgrade to CorelDRAW and their professional-quality image editor, PHOTO-PAINT. In fact, all of the files you create and save in the Print House native format will be accessible in CorelDRAW and PHOTO-PAINT. For more information go to Corel's web site at: www.corel.com.
MGI PhotoSuite 4 Platinum Edition
MGI PhotoSuite 4 Platinum Edition
Of all of the many consumer photo applications for the Windows platform, MGI's PhotoSuite has been the most continuously developed and successful in meeting user needs. This latest version, 4 Platinum, has been further refined. It boasts the ability to run on web browser architecture, providing inside direct access to web photo sites. It also has facilities to easily create personal web pages, galleries, and slide shows. MGI has partnered with developers to add some stunning, fun, effects, including a Photo Sprayer, panoramas, animations, Photo Tapestry and a host of filter effects. There is also easy to use support for the preparation of photos for e-mail as well as the ability to compose and send e-mail with photos attached from within PhotoSuite.
Of course, there is a host of templates supported by clip art and graphic resources to provide the basis for the easy creation of all kinds of documents, like personalized greeting cards. And, as a basis for all of the activities and uses of photography, the MGI PhotoSuite has just about the best automated image enhancement and adjustment facilities available, including an effective dust and scratch removal facility that does not degrade sharpness and image detail definition. All of this functionality is available for the very favorable price of $49.99. For more information about the MGI PhotoSuite 4 Platinum edition visit their web site at: www.mgisoft.com
Ulead PhotoImpact 6
Ulead's PhotoImpact is like an old friend. My first acquaintance was about 10 years ago, when Aldus introduced PhotoStyler as the first "professional" image editor to the then new world of MS Windows. Adobe bought Aldus and PhotoStyler was shelved in favor of a Windows version of Photoshop.
Ulead, the company that programmed PhotoStyler, soon released PhotoImpact, which contained much of the same programming philosophy as PhotoStyler but with a different look and an object structure instead of layers. Now, after a number of upgrades and changes in market focus, the latest version 6 of PhotoImpact is dressed up as a web page creation environment, but the core image-editing philosophy remains. It is now more efficient with more capabilities and refinements. It continues to be the most powerful and sophisticated environment for working with photographic images that almost everyone can afford at under $100.
With Ulead's PhotoImpact a photographer gets much more than just an excellent image editor and a web page creation environment. The entire package also includes Album, a thumbnail generator and database that I still find the most flexible, easy to use and effective tool for organizing my image files and keeping track of all the digitized photographs I've collected over the years. Also included is the best screen capture utility I've worked with. PhotoImpact contains a text function that supports very creative text/font styling and modification. The filter and special effects that are a part of the PhotoImpact package are diverse, sophisticated, and readily customized. They provide individualized creative capabilities unique to any other imaging package. There is a utility to easily optimize either GIF or JPEG image compression output that incorporates a side-by-side window comparison so you can see the effect compression has on image quality. The capabilities and features are easy to learn, with many automated functions. In other words, the image editor alone is worth the price, and the add-ons and resources that accompany PhotoImpact are by themselves an equal value. So, if you are a Windows user and have a digital darkroom and possibly another imaging application, I'd add PhotoImpact anyway. It's worth it. For more information on Ulead PhotoImpact visit Ulead's web site or download a trial copy (downloaded from the web the PhotoImpact license is only $89.95) of the application at: www.ulead.com or call (800) 858-5323.
Picture Window 3.0 From Digital Light & Color
Picture Window 3.0 From Digital Light & Color
Picture Window is a professional-level PC Windows image editor expressly designed for photographers. Unlike most of the commercial software publisher's image editors, which evolved out of bitmap painting applications, Picture Window was programmed with the photographer in mind. This becomes apparent when you consider the highly developed and refined functions, like a lens distortion correction transform and a very advanced image perspective correction transform. The new Version 3.0 Digital Light & Color has added many new features, including full color management support and control from within Picture Window, as well as the addition of Praxisoft WiziWYG color calibration software on the Picture Window CD. Other new features include a match reference transform, which is based on the MacBeth Color Checker target, which provides a specific color interpretation of photographs made in odd and unusual conditions when the Color Checker is included in an exposure frame. The web slide show creation feature has been revamped, providing the means to make a show with images, sync sound, and captions that are all HTML compliant for the web. Picture Window now supports the "file comments" contained in digital camera files, such as the recording of date and time and exposure settings. The lens distortion correction transform I mentioned is also new. Ease of use features that are new include a mask brush with features that makes masking complex outlines easier and more accurate. For those who scan images and want to save high-bit archives and use an image editor to do color correction for output, Picture Window supports a 48-bit mode.
Picture Window is for any photographer who wants a truly professional image editor and who is willing to invest the time into learning how to use it effectively. At $89.95, it eliminates the sting of a high software price. On the Windows platform, Picture Window is quite as capable as Photoshop or Corel PHOTO-PAINT in image editing and color correction capabilities, as well as more creative tasks like compositing and using layer effects. All have a fairly steep learning curve, but in this respect Picture Window is well documented with how-to information for each feature and function. If you are starting fresh, I would recommend taking a serious look at Picture Window if you are using a Windows PC. For those like myself, who have a backlog of experience with traditional paint-oriented image editors like Photoshop, Picture Window is almost an alien world. Although the tools and functions perform in a parallel manner, the style, logic, and nomenclature of the interface is unique.
For more information, and to order a copy, or try a free trial of Picture Window, visit the web site at: www.dlc.com.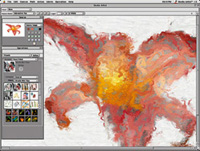 Studio Artist By Synthetik Software
Studio Artist By Synthetik Software
A fairly new Mac application called Studio Artist is a visual artist's metaphor of the music synthesizer. There have been quite a few computer graphics software tools devised to simulate the look of traditional artist's media, like oil paint and watercolors. There are also numerous filters which can be applied to an image file, which will alter the look to somewhat simulate these traditional media. Filters, however make every image look somewhat alike, because the dimension of adjustment of the effect applied is quite limited. On the other hand, photographers using a painting application executed by hand with a mouse or tablet may find the work slow and laborious. All this ignores the fact that many with an artistic motive choose the camera as their media because they do not have a natural affinity for drawing or painting.
Synthetik's Studio Artist is an exceptional set of tools and is particularly friendly to digital photographers. It requires a source to do its paint creations, and that source can be a digitized photograph. Studio Artist also has an effective auto paint mode that intelligently applies the painting strokes for you. And, most significantly, it is relatively easy to create or modify your own custom Paint Patches to achieve both a look that is both favorable to the original image characteristics and results in a quite unique individual image style.
I have always had an interest in photographic special effects techniques and processes. My primary aim was to reproduce what the camera records in ways that make the resulting image more of a personal interpretation of what I can visualize in my mind's eye. Synthetik's Studio Artist is the most adept and powerful software yet to serve this purpose. I would definitely recommend it for anyone who wants to be as creative as possible in a digital darkroom. In fact, it can also be a fun entertainment medium, as you can try out different variations and then watch the application re-create the source image. Studio Artist's Version 1.5 has a suggested retail price of $329. It can be purchased directly by calling Synthetik at (888) 808-4188 within the US. For more information I would suggest visiting the Synthetik web site at: www.synthetik.com.
Corel KnockOut 1.5
Corel KnockOut 1.5 is a very powerful, easy to use professional masking tool that functions as a stand-alone application. It is available for both the PC Windows and Macintosh computer platforms. It's ideal for portrait photographers who want to offer portraits with a selection of different backgrounds and commercial catalog photographers who want to create silhouetted product shots. It also works just as well as a tool to mask a complex detailed object in order to apply selective image adjustments. For all these uses, Corel KnockOut 1.5 is the easiest and most effective tool yet. The basic procedure for creating a mask is very easy and simple. Use your mouse to roughly select the inside and outside of the area(s) you want to mask. Then, define the color content that differentiates each area, inside and outside of the mask. In addition, there is a second set of selection tools to add the shadow associated with an object attached as an addition to the mask. One more click and the mask is created. Sometimes however, there is a lot of variation in the values of both the object and background of the masked object, and the masking works in some places and not others. This is easily determined visually on screen. If this occurs you can fine-tune the masking with the inside/outside Syringe Tool. Once done, you can save the object masked and the mask as a file for use in a variety of different file formats used by all of the popular imaging applications.
Even if you use a large tablet instead of a mouse and can draw a selection very accurately by hand, masking complex image objects, like a person's hair against a varied background, can be difficult and time-consuming. Corel KnockOut 1.5 is the best at this and the easiest to use masking tool I have used, including the facilities that are now part of most popular image editors in their latest editions. If you are working with digital photographs and have a substantial amount of masking to do, and it has to be done well, the $279.99 retail cost of Corel KnockOut 1.5 will be readily paid for in time saved. There is also a $50 rebate from Corel for all users of CorelDRAW, Corel PHOTO-PAINT, and Ventura when you purchase KnockOut. For more information visit the Corel web site at: www.corel.com.
Corel KPT 6
Corel KPT 6 keeps alive, in newly refined form, a collection of some of the best plug-ins Kai Krause originated early in the history of personal computer graphics. Available for both the PC Windows and Macintosh platforms KPT 6 is a collection of 10 distinct plug-ins that can be used in a large number of current applications, including the bulk of the Adobe and Corel applications. It can also be used with many of the applications I've reviewed here. These plug-ins are virtually stand-alone applications in their own right, with an ingenious easy to use visual interface. They provide a broad range of variations as well as image-specific adjustments.
The plug-ins in the KPT 6 collection include: KPT Goo, KPT Lens Flare, KPT Materializer, KPT Equalizer, KPT Turbulence, KPT Reaction, KPT Projector, KPT Gel, KPT SceneBuilder, and KPT SkyEffects. All told, the group provides an easy way to enhance and sharpen an image, correct distortion, add a realistic pattern overlay, put clouds in a sky, and add a customized and dramatic lens flare to an image. KPT 6 does it all well, and using the plug-ins are effortless. The entire collection of 10 plug-ins has a list price of $199. For more information visit the Corel web site at: www.corel.com.
CorelDRAW 10
CorelDRAW 10 is a complete PC Windows graphics production suite consisting of three main applications and seven graphics utilities (a Mac version of CorelDRAW 10 is slated for release this year). The entire suite is supported by a single, central color management system that includes the choice of a Kodak CMM supplied by Corel or the Windows ICM 2.0 engine. The color management setup is a graphic, single-screen interface that intuitively supports easy configuration and helps avoid errors in a CM setup. One of the main applications is CorelDRAW, a vector-based illustration and page design environment with the latest facilities for producing web pages as well as output in industry standard formats. Corel PHOTO-PAINT is professional-level image editor with many new features, as well as a highly customizable workspace for configuring tools and processes for every possible individual style of work. Many of the PHOTO-PAINT tools and brushes have been enhanced as has the application's internal video display function. This provides fast brush response and the smooth functioning of editing, plus an accurate comparative window or workspace interaction from dialog window adjustments. An entirely new application, Corel R.A.V.E., is a vector animation application for web production. It outputs Macromedia Flash compliant rollovers and animations using all of the Corel file format images, objects, and files as resources.
The CorelDRAW suite is a very complete production resource, including a multiple CD collection of fonts, textures, objects, and clip art. This collection of utilities alone, if purchased separately, would probably cost as much as the entire CorelDRAW suite. The utilities include: Bitstream Font Navigator, a quick and easy way to organize and view the fonts on your system that puts them in logical and functional groups for easy access. Canto Cumulus Desktop 5.0 LE is an effective, professional, single-user graphics resource database management and thumbnail generation utility. CorelTRACE is a bitmap to vector conversion utility that allows changing a bitmap image, like a photo, to a vector-based resolution independent format. This can then be used and edited in CorelDRAW.
CorelTEXTURE supports the building of custom textures with the use of as much as seven user defined material layers, plus lighting effects. CorelCAPTURE 10 is a screen capture utility with many defined capabilities, now extended to include record on-screen actions as animation files. And Adobe Acrobat Reader 4.0 allows viewing Acrobat .PDF files that can be generated from the main applications.
Of course, the focus of my attention was on Corel's PHOTO-PAINT. In the Windows environment it compares and can compete with Photoshop. Its output is largely compatible with the Adobe product. The entire CorelDRAW suite with its three applications and seven utilities, as well as all of the fonts and graphic resources, is $569 list or $249 upgrade, less than the cost of Photoshop alone. For more information call (800) 772-6735 or visit their web site at: www.corel.com
Editor's Note:
Next month Joe Farace will enlighten you with additional software programs for your photo enhancement.
FEATURED VIDEO