The Right Stuff: Our Favorite Gear for Wildlife & Nature Photography
"Show me a home where the buffalo roam…and I'll show you a really messy house." —Anonymous
In my opinion, there's no more challenging photographic genre than wildlife and nature photography. To do it right requires heavy, expensive long focal length lenses, a sturdy tripod, and the prowess to schlep this gear through physically demanding environments. Not to mention, patience.
Nature photography is no picnic either, although Yogi Bear might disagree, because it's fraught with traps of cliché and the ghost of Ansel Adams. I'm not an avid nature or wildlife photographer so I asked friends for recommendations about their favorite gear and this is the best of the best, according to us.
Big Lenses and Big Bucks
For the same price as a 2014 Honda Accord you can purchase Nikon's AF-S Nikkor 800mm f/5.6E FL ED VR lens ($16,296). Those with more modest budgets, however, might prefer the AF-S Nikkor 200-500mm f/5.6E ED VR lens that costs $1,396. It's designed for FX sensors but when used with a DX camera results in a 300-750mm equivalent focal length.
The constant f/5.6 maximum aperture produces consistent performance throughout the zoom range. To reduce chromatic aberrations and distortion, the optical design incorporates three extra-low dispersion glass elements with Nikon's Super Integrated Coating, lessening flare and ghosting. Built-in Vibration Reduction compensates for camera shake up to 4.5 stops, while a rotating tripod collar offers support for shooting atop a tripod or monopod in vertical or horizontal orientations.
Who's It For: Nikon shooters getting started in wildlife and nature photography.
Why We Like It: While not inexpensive, the Nikkor 200-500mm f/5.6E ED VR lens nevertheless represents a bargain for shooting wildlife.
Well-heeled Canon shooters could spring for the EF 800mm f/5.6L IS USM lens that costs $12,999—the same price as a 2015 Toyota Camry—but a more affordable choice is the EF 100-400mm f/4.5-5.6L IS II USM lens for $1,999. Part of Canon's L-series, it offers compatibility with both full-frame and APS-C EOS DSLRs where it produces a 160-640mm equivalent focal length.
The lens's weather-resistant barrel contains one fluorite element and one Super UD element to reduce aberrations and distortions with Canon's Air Sphere Coating applied to the elements to lessen flare and ghosting. Built-in optical image stabilization minimizes camera shake up to four stops.
The rotation-style zoom ring includes torque adjustment to let you set zoom tension. Nine rounded diaphragm blades produce pleasant bokeh, which is just as important when photographing bears as people. The tripod collar can be attached or detached without removing the lens from the camera and the lens hood has a window allowing you to adjust a polarizer.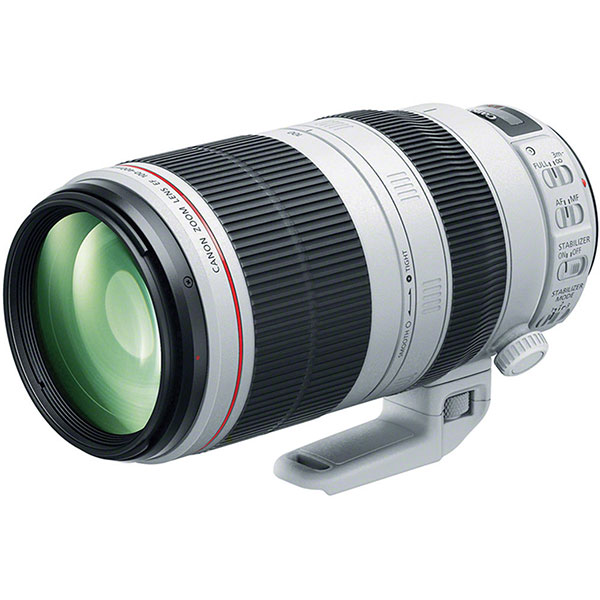 Who's It For: Canon shooters wanting to dip their toes in wildlife and nature photography genres.
Why We Like It: When compared to the Nikkor 200-500mm, it's a little short focal length-wise, but adding Canon's Extender EF 1.4x III ($429) fixes that nicely.
One of the Micro Four Thirds system's aspects I love is the large assortment of lenses from Olympus and Panasonic. Prime lovers will prefer the Olympus M.Zuiko Digital ED 300mm f/4 IS PRO lens ($2,499) that produces a field of view equal to a 600mm lens with optical image stabilization good for four stops.
The in-lens IS system works with the in-body stabilization of select cameras to produce a five-axis sync image stabilization that compensates for up to six stops of camera movement. It has a 77mm filter size and a retractable hood along with an Arca-compatible tripod collar with removable quick-release base plate. Olympus offers an MC-14 1.4x Teleconverter ($349) for this lens that produces a 420mm focal length that bird photographers will appreciate.
Zoom lovers might prefer Panasonic's Leica DG Vario-Elmar 100-400mm f/4-6.3 ASPH POWER O.I.S. lens ($1,797), which produces a 200-800mm equivalent focal length range in a relatively compact 6.75-inch package. It has a 72mm filter size and uses aspherical and extra-low dispersion elements to reduce chromatic and spherical aberrations. The optical image stabilization system is compatible with the Dual I.S. function in Lumix G cameras to minimize camera shake. A two-part rotating tripod collar permits switching between horizontal and vertical shooting and maintains the lens controls in the same place after rotation.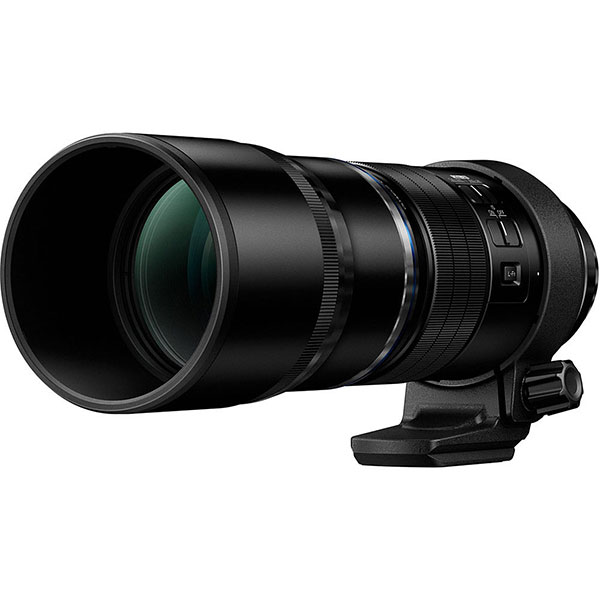 Who's It For: Nature and wildlife shooters not interested in schlepping heavy gear into the wilderness.
Why We Like It: The interchangeability of lenses and bodies from Olympus and Panasonic offers a wide choice of lens options no matter the genre.
Stand by Me
Tripods are more stable than your hands but are they rock solid? Maybe, maybe not. That's because vibration caused by mirror slap during exposure varies based on the tripod's construction. Carbon fiber typically produces smaller vibrations that don't last long. While this might be seen as an argument for mirrorless cameras or at least using your DSLR's mirror lockup, I know old habits are hard to break.
Serious wildlife photography with big lenses needs Really Right Stuff's TVC-34 Versa Series 3 carbon-fiber tripod ($1,045) that weighs 4.4 pounds and supports 50 pounds. The tripod's four-section legs extend the tripod to a maximum height of 58.5 inches yet fold to a hikeable 21.1 inches.
The legs' twist locks require a quarter rotation to unlock and relock, producing a minimum working height of 3.8 inches. The anodized aluminum joints and collar have a ratcheting angle stop that automatically locks into place when the legs are folded down. At the lowest height settings, the teardrop-shaped rubber feet prevent the legs from touching the ground and have a nonslip grip that's usable indoors and outdoors. A set of all-terrain spikes is optional ($32).
Who's It For: Serious wildlife and bird photographers whose gear bag is full of long, fast, and heavy prime lenses.
Why We Like It: There is something about the over-the-top "cost is no object in the pursuit of perfection" philosophy that we like about Really Right Stuff's gear.
Manfrotto's MT190CXPRO3 carbon-fiber tripod ($354) weighs 3.5 pounds and folds to 24 inches. When the three leg sections and center column are fully extended, the tripod reaches a maximum height of 63 inches with a load capacity of 15.4 pounds. Once set up you can use the center column in vertical mode or swing it horizontally like a boom. With the column in horizontal mode, tabs on the leg angle selectors get you down to only 3.5 inches for macro work. It has a bubble level that rotates so you can see it easily regardless of the tripod's position.
Who's It For: Nature shooters with medium and lightweight gear who are looking for good value in a well-made carbon-fiber tripod.
Why We Like It: We have an old Manfrotto tripod from more than 20 years ago and it's as solid as the day it was made.
Getting a Head in Nature Photography
Wimberley's WH-200 Gimbal Tripod Head II ($594) incorporates an elevated tilt mechanism and an adjustable platform that allows perfect alignment of the center of gravity of the camera/lens combo and tilt axis. Because of the gimbal, even a big lens, like Nikon's 800mm f/5.6E FL ED VR, can be controlled with one finger. The head features a newly designed panning base, soft-touch knobs, and includes an Arca-compatible quick-release base. An optional ($51) Arca-type quick-release plate is required.
Who's It For: For the professional or professionally minded nature and landscape photographer.
Why We Like It: We like using high quality, highly specialized products from small companies like Wimberley.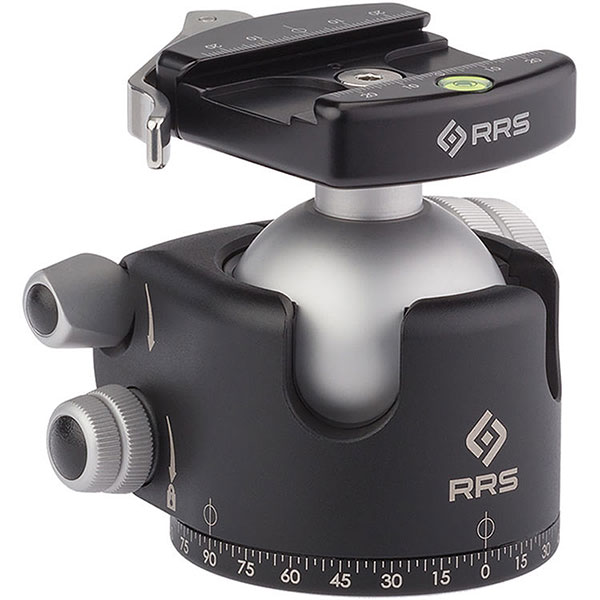 Ball heads have traditionally been favored by nature and wildlife shooters and one of the best is Really Right Stuff's BH-55 Ball Head ($489) that can handle a camera and lens weighing up to 50 pounds. If your gear is lighter, consider their smaller BH-40 that handles 18 pounds. Although at $415 you won't save that much money, the BH-40 weighs 15.7 ounces compared to the BH-55's 31.35 ounces or 1.96 pounds.
The BH-55 is made from aluminum and stainless steel with an oversized locking knob for 45-degree tilting in all directions and dual 90-degree drop-notches, allowing switching from horizontal to vertical. A tension knob lets you apply pressure corresponding to your camera's weight. A third knob loosens and locks the panning base, which is engraved from zero to 360 degrees in 2.5-degree increments.
Who's It For: Ball head-loving nature and wildlife photographers, and that's most of 'em.
Why We Like It: For us, Really Right Stuff ball heads are the gold standard in tripod heads.
Blending In
LensCoat doesn't just make neoprene covers for camera lenses, tripods, and lens hoods, it also makes the LensHide Lightweight Photo Blind ($119) to cover the photographer. Available in either Realtree AP Snow or Realtree Max-4 designs, the blinds are made from a breathable polyester/cotton blend and include an elastic cinch cord for the camera and lens along with a mesh window so you can see the subject. A slot with a hook-and-loop closure lets you use an external flash and there's an integrated storage pouch with D-rings along with an internal accessory pocket. The blind is held in place with hook-and-loop closures and is made in the U.S.A.
Who's It For: Wildlife and bird photographers who need to blend into the environment while waiting for their subject to come into their field of view.
Why We Like It: LensCoat products are not just well made, there's a real nature photographer behind their designs that makes them uniquely suited for wildlife and bird photography.
Light 'em Up
Because they are light and portable, speedlights are ideal for wildlife and nature photography but their range may not match up to some of the long lenses used. MagMod's MagBeam Wildlife Kit ($74) includes a lens that produces an additional two to three stops of usable light while creating a distinct beam with crisp edges. The MagBeam can be collapsed or extended in any of three positions to create spotlight patterns. The MagBeam accepts optional MagMasks ($34) and a wide lens for projecting patterns on your scene. The MagGrip uses neodymium rare-earth magnets to mount accessories from the MagMod system with silicone rubber to hold the modifiers without damaging your flash.
Who's It For: Any wildlife photographer who uses speedlights and wants some extra output.
Why We Like It: Clever design and one of the few inexpensive accessories in a genre that typically requires costly gear.
Lots of wildlife calls Daisy Hill home and I've photographed the mule deer that think my landscaping is a smorgasbord that's kindly been set out for them. Same with the bunnies who think I'm Beatrix Potter; not so much for the coyotes and foxes. You can see some of the landscape, nature, and occasional wildlife I've photographed over the six years we've been on Daisy Hill on my blogs, joefaraceblogs.com and mirrorlessphototips.com.