Quantum Turbo 3 Ultimate Flash Power Pack Sweepstakes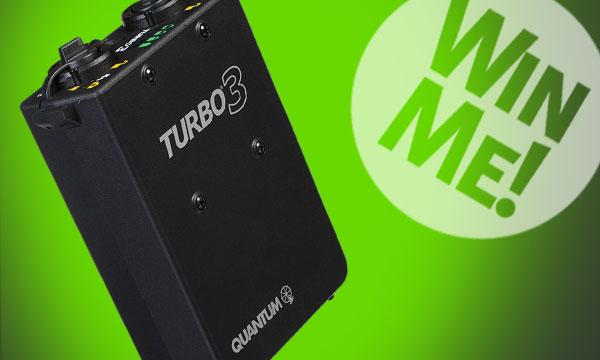 Register to win a Quantum Turbo 3 Ultimate Flash Power Pack ($624.00 Retail Value) we are giving away.
According to the company:
Quantum Turbo 3 Ultimate Flash Power Pack is a small light weight solution for on-location or studio shooting. This Nickel-Metal-Hydride battery is durable and has ultra-fast recycling time. Plus, it is not restricted for air travel.

Up to 600 Qflash 150ws full power shots.
Up to 1000 full power shoe flash shots.
High voltage output with compatible flashes means exceptional recycle times.
High capacity NiMH cells.
Worldwide 90-240vac charger included.
Dual lockable cable sockets keep the cables connected.
Use the included belt clip or attach a shoulder strap.
Item #860140 for US, Canada and Japan.

Save BIG on popular Quantum professional lighting products with the best mail-in rebates of the year.

This offer is good for items purchased from November 21, 2016 to March 31, 2017.
To enter the sweepstakes, all you need is an account on this website. If you don't already have one, click on the link labeled "register" at the bottom of this announcement or "LOG IN/JOIN" in the nav bar at the right. Then, enter a username and a valid e-mail address, and click on the "Create new account" button. A message will be automatically sent to the e-mail address you specified, which will include a link to activate the account.
The final step (and only step for those who already have an account) is to log in and leave a comment right here on this announcement—any comment will do, as long as it's not profane or spam. Then, when the sweepstakes closes, a lucky commenter will be chosen at random to receive the prize. So post a comment, and good luck!
For complete sweepstakes rules, click here.
[This Sweepstakes is now closed]