Porter Case PCi; Transportation Transformation
Having flown my fair share of miles in the last few months I have come to appreciate a roller bag that can be used to carry camera gear, be carried on or checked, and that can help and not hinder the trip. I have gone from using a camera backpack loaded inside a standard roller suitcase (just to get from the airport to the destination) to leaving home gear that I later regretted not bringing along due to the restrictions of luggage and especially the often extortionate extra fees airlines charge for bags. One candidate for baggage that might always be considered as a part of future trips is the new Porter Case PCi, a "trolley" case that can be swapped out to handle many tasks, as well as serve as a trolley carrier that can be used for loading luggage to get from carousel to curbside without having to rent additional carts.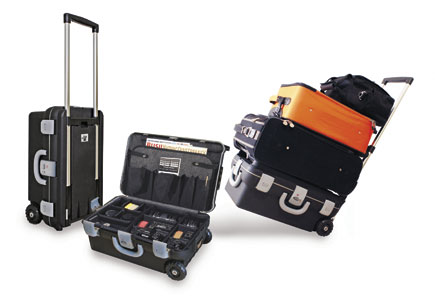 The PCi case ($259 to $347, list, depending on configuration, inserts, etc.) measures 22x14x9", which puts it right on the US carryon regulations, and inside the European restrictions, which according to the American Airlines site is 22x18x10". The case features three TSA locks (which means you can lock and check), weighs in at a bit over 10 lbs, and comes with six different interior configurations. Photographers might like the Deluxe Camera Divider configuration ($347, list) although you should check their website (www.portercase.com) to see which works best for you.

The case has high-impact PP plastic injection construction and a hardy set of ball bearing wheels. There's a top and side handle, for negotiating stairs when no escalator or elevator is available, and an almost 40" extension handle. So, you can carry it like hand luggage, as a "wheelie," or, by dropping the main case down and stacking luggage atop the case (up to 150 lbs), as a luggage cart to get you to the check-in counter with ease. The "conversion instructions" come with the case and it's done with ease the first time and as second nature every time after.

Once you get to work with the unit it makes perfect sense as a traveling companion, and as you go you can decide whether to carry it on or check it, depending on the gear, the trip, and the other stuff you bring along. I even checked it with some test items inside (wrapped glass items, an old lens and camera body) and it made it from out West to New York (with a change of plane) with no harm to it, or the contents inside. On another trip I used it as a carryon; it can hold my full complement of gear, including two bodies, three lenses, a flash, and assorted wires and cards, plus it has stowage for a laptop in the top compartment. In all, it's one versatile case.

While soft-sided cases might seem less weighty when empty, it's good to have a sturdy, if slightly heavier case to start, knowing that the gear you stow in it will be safe. This comes in especially handy when you get a "valet" check and they snatch the bag from you when trying to board one of the smaller commuter connectors that have become more common these days. The grip of fear this instills can be lessened considerably when you have a case like the Porter Case PCi on the trip.

For more information, contact Porter Case at: www.portercase.com.
FEATURED VIDEO