Picture This!
Colorful Carnivals
This month's Picture This! call was for "Colorful Carnivals" and readers responded with a wide range of shots from the midway. In many of the pictures you can almost hear the delighted screams of those on the rides and the barkers calling to the crowd to try their luck. Many of the shots were made at night, the time and light being the most complimentary to the fairs. And all took our watchword of "colorful" seriously, with each shot displaying the highly saturated--some would say garish--paints, baubles, and lights that make these such magical spaces for young and old alike.
Circus Star
Keith Vanstone shot this clown at the Royal Hanneford Circus in Auburn Hills, Michigan, with his Nikon F4 and Nikkor 28-85mm lens on Fujicolor 200 film (which he developed at home). He digitized the negative with an Epson 2450 scanner and did some Photoshop magic on the image.
© 2006, Keith Vanstone, All Rights Reserved
Trinity Square Fair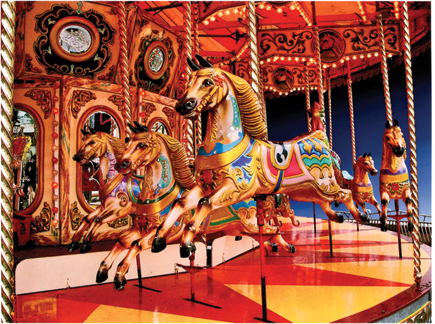 Aside from adding a gradient background, John Matthews assured us that this amazing color and light was "straight from the camera." Matthews shot the carousel at Trinity Square Fair in Nottingham, England, with a Sony Cyber-shot DSC-F828 camera on autoexposure and autofocus.
© 2006, John Matthews, All Rights Reserved
Wild Bill's Curly Fries
The culinary delights of the midway are displayed with rich color in this photo by Anthony Ruiz. He photographed with a Nikon D70 and Nikkor 18-70mm lens with an exposure of f/16 at 1/500 sec at ISO 200.
© 2006, Anthony Ruiz, All Rights Reserved
Yo-Yo
Now here's a ride for the brave and foolhardy. Jeffrey LeBlanc made this shot at the Evergreen State Fair in Monroe, Washington, with a Nikon D200 and Sigma 17-35mm lens on a Bogen 3031 tripod. Exposure was f/4 at 1.6 seconds. LeBlanc had a friend stand in the corner of the frame to show, as he wrote, "...how big the Yo-Yo really was!"
© 2006, Jeffrey LeBlanc, All Rights Reserved
Swings
Randy C. Finch wrote: "My son and I decided to ride the big swings while at the carnival. I snapped this photo of my son in the swing directly in front of me...while spinning around at a fast clip." Finch used a Pentax Optio 550 with 38mm (equivalent) lens with an exposure of f/2.8 at 1/8 sec.
© 2006, Randy C. Finch, All Rights Reserved
Tunnel Ride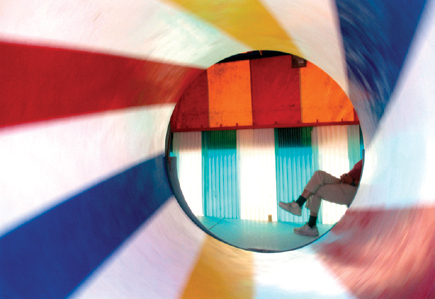 The spinning tunnel frames the still sitter in a colorful display of motion and form in this shot by Steve Bibiano. He photographed with a Canon EOS 10D with a 17-35mm Sigma lens. Exposure was f/18 at 1/15 sec.
© 2006, Steve Bibiano, All Rights Reserved
Sicilian Carnevale
Joseph Zarba sent us this shot from what he told us was "Il piu Bel Carnevale di Sicilia" (the most beautiful Carnevale in Sicily). This colorful float was photographed with an Olympus C-7070 with an exposure of f/2.8 at 1/50 sec at ISO 400.
© 2006, Joseph Zarba, All Rights Reserved
Tickets
Carnival art has an aesthetic all its own, and Paul Mosher composed to include a number of examples and the ticket booth that gets you in. He photographed with a Canon EOS 20D and Sigma 18-125mm zoom lens. Exposure was f/8 at 1/125 sec at ISO 100.
© 2006, Paul Mosher, All Rights Reserved
How Many Calories Can You Fit In One Frame?
That's the question Wendy Kaveney posed with her shot at the Indiana State Fair. She photographed with a Canon EOS 1D and Canon 75-300mm lens at the 300mm focal length, which compressed the space between these booths. Exposure was f/11 at 1/125 sec at ISO 100.
© 2006, Wendy Kaveney, All Rights Reserved
Pacific Wheel
Mark Messerly made this dynamic and colorful shot at the Santa Monica Pier with a Hasselblad 500 EL/M on Fujichrome RVP 100F film using a polarizing filter. Exposure was f/16 at 1/30 sec.
© 2006, Mark Messerly, All Rights Reserved
FEATURED VIDEO