Photography's Future: Here Are 6 Intriguing Imaging Trends to Watch for in 2018
"Great things are not accomplished by those who yield to trends and fads and popular opinion."—Jack Kerouac
Trends in photography, as the pundits like to say, are always with us: from images of people batmanning (vertical planking) that I didn't even know was a thing, to HDR techniques that produce images resembling Elvis paintings on velvet, to the selfie, which I suspect will never die as long as social media is alive and well.
If you're using social media to promote your photography, you should know that according to Forrester Research, only 16 percent of your Facebook followers see your posts organically and only 10 percent of Twitter followers see your tweets when they are posted.
I've found Instagram (follow me @joefarace) to be more organic because it's almost entirely image-based. Yet 80 percent of Instagram users are outside of the US, a trend I see with increasing numbers of new followers from Eastern Europe. And for you high school senior photographers, Contently reports that social media users are getting older and by 2020, 54 percent of them will be at least 35 years old.
All of which is to say, here are the imaging trends I see dominating headlines in 2018: for better or worse.
1. Action Cams & Drones: Still Making Noise
While industry experts expect the action camera market to grow through 2019, not everyone is feeling the love. GoPro, who more or less invented the action cam, announced in March plans to cut 270 more jobs in addition to the 100 announced in January 2016 and 200 in November 2016, amounting to 7 and 15 percent of its workforce.
My theory is sales of these cameras have been hurt by market saturation as well as by entry into this narrower-than-anybody-thought category by high-visibility manufacturers such as Nikon with its KeyMission cameras. Yet for all this, if you're rock climbing up the side of Montezuma's Tower at the Garden of the Gods, an action cam is the perfect companion.
Following a report by aviation authorities that drones as small as 400 grams (14.1 ounces) could damage helicopter windshields, the UK government in July stated that all drones larger than 250 grams (8.8 ounces) must register with the Department of Transport. Here in the land of the free, a federal appeals court in May struck down a Federal Aviation Administration (FAA) regulation requiring the public to register drones. As a result of a lawsuit brought by a Maryland hobbyist, the US Circuit Court of Appeals for the District of Columbia found the FAA did not have the authority to regulate model aircraft. So to all you drone flyers out there: "Cry 'Havoc,' and let slip the dogs of war."
Expect to see more noise about action cams and drones in 2018 but I doubt you'll see anyone touting them as the imaging "game changers" they were once thought to be.
2. Analog Comeback
I've been writing about film photography in my annual trends column for so long that our editor told me I almost have him convinced that film is still a thing. According to Kodak, sales of their professional film grew more than 5 percent between 2013 and 2015. Sales of Fuji's Instax cameras have risen steadily since 2013 and are expected to hit five million units in 2017.
Demographics are on film's side: Ilford Photo confirmed this trend last year after a survey found 30 percent of film users were under 35 years old, and 60 percent had only started using film in the last five years.
But shooting film requires film cameras. And although you can still purchase a new Leica M-A ($4,450), chances are you're going to end up with a camera that's no longer manufactured, like my beloved Hasselblad XPan. While parts for some old cameras may still be available, the supply of NOS stock isn't going to last forever, which brings us to another analog-related trend: 3D printers.
Many auto restoration shops create prototype parts using 3D printers and then check to see how they fit, before casting or machining the actual parts using the 3D printed parts as a model. I expect this to happen with camera parts as well. And why not? Prusa's i3 3D Printer is selling at Walmart (for goodness' sakes) for $169, as I write this. At that price, anyone can afford a 3D printer, if only to make chess pieces or parts for their Lego projects.
3. Hybrid Photography
I'm not a fan of the term "hybrid" photography but video capture in some form or another has been part of many DSLRs, with Canon notably more video-focused, some say to the detriment of their cameras' still photography capabilities.
Mirrorless shooters embraced video from the beginning, especially 4K video. Best Buy is selling a 55-inch Sony 4K Ultra HDTV for $599 and Target has a huge selection of 4K Ultra HD Blu-ray discs on sale at admittedly usurious prices ($29).
Panasonic has consistently raised the bar since 4K became de rigueur and they include it on even their least expensive mirrorless cameras. Their Lumix GH5 ($1,997) with its 6K and 4K capture modes can pull 18/8-megapixel images from a video burst.
This is changing, and will continue to change, the way action photographs are captured. No longer is capturing that "decisive moment" a combination of skill and luck, it now becomes a matter of technique. Even though it's still obvious that people using that very same technique can make bad and boring pictures, as is true with any camera.
This in turn has led to yet another hybrid trend: the creative use of formerly video gear like the gimbal, which is a pivoted support that allows the rotation of a camera about a single axis. With three gimbals, like the Feiyu a2000 3-Axis Gimbal ($639), a DSLR or mirrorless camera mounted on the innermost gimbal may be used to allow it to remain independent of its support's rotation. And who knows how much the impact of 3D printers will have on creating custom gimbals and parts, producing a veritable trifecta of confluence.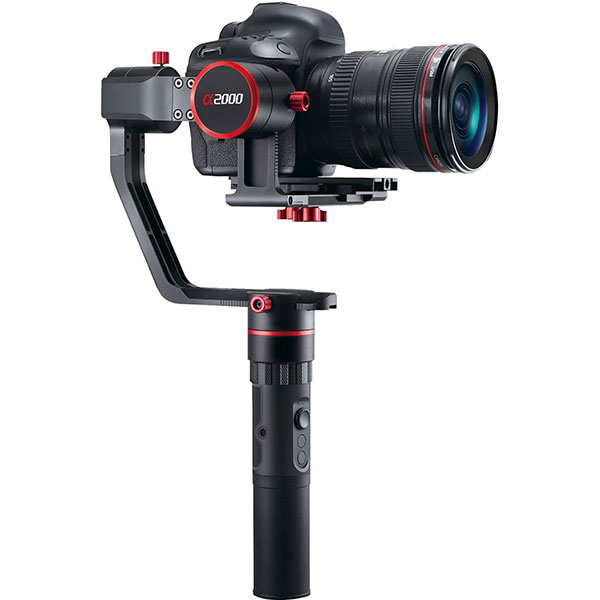 4. Augmented Reality
When Google Glass was introduced it was embraced by some and ridiculed by many. Now it's finding a niche as the Enterprise Edition, which is being sold by Google's partners that customize the device for industrial purposes.
Now the growing Augmented Reality trend is coming to drones with Epson's Moverio BT-300FPV Smart Glasses ($799) that let photographers watch a DJI drone camera feed in their field of view, while keeping their craft in sight. The in-glasses screen keeps photographers within FAA guidelines, which requires pilots to keep their drones in line of sight at all times, but more importantly, for a crash expert like myself, provides camera views that let you avoid trees, poles, buildings, and restricted areas.
The Moverio isn't cheap but such is the case with all early adopters and I expect Epson's entry is only the beginning. Next year look for more use of Augmented Reality in applications of remote mirrorless cameras used for sports and wildlife photography.
5. Black & White and Infrared Photography
In a world where consumers are constantly bombarded with images, one way to make your images stand out is by shooting/processing them as monochrome files. I covered this subject in some detail in my October column, so there's not much to add here other than I expect this trend to expand next year.
Part of this trend, I think, is fueled by a subtrend and another confluence. First, there's the growing popularity of infrared imaging I mentioned in October. This trend is fueled by incredible work being done by infrared photographers around the world who have, in effect, reinvented this genre. Search Instagram using #infrared and prepare to be amazed.
Second, there's an important confluence with film photography with new black-and-white films being introduced on a regular basis. In February, Bergger, a French manufacturer, announced Pancro400, an ISO 400 black-and-white film that's available in 35mm and 120 sizes. That same month, Film Ferrania launched P30, an ISO 80 black-and-white 35mm film. Even Michael Freeman's new book, Black & White Photography, while almost exclusively digitally focused, includes an appendix on processing black-and-white film.
6. More Versatile Flashes
While I've been critical in the past of the complexity and cost of camera manufacturers' speedlights, there is no doubt these are truly magical devices that in the right hands are capable of creating images unheard of in the days of the once-ubiquitous Vivitar 283 shoe-mounted flash. Although introduced in 1970, used Vivitar 283 flashes are available today through Amazon at prices around $50.
Yongnuo, who make dedicated speedlights for Canon and Nikon DSLRs, in what must be a Back to the Future moment, are producing a 283-like speedlight for the new millennium. Their YN560-IV speedlight ($69) has a guide number of 190 at ISO 100, output from full to 1/128 power, and a zoom range of 24-105mm that acts more like the Vivitar 285 but is nevertheless priced like these flashes were in 1970.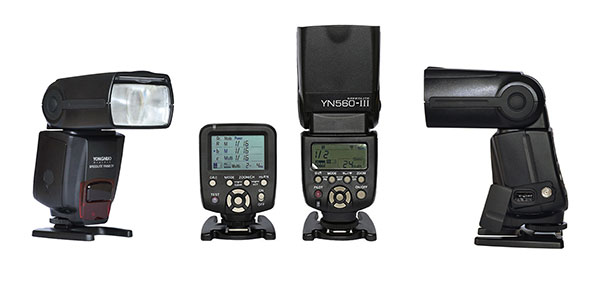 Yet for all this simplicity, the optional YN560-TX Manual Flash Controller ($39) for Canon enables remote triggering of Yongnuo speedlights and manual control of flash output for up to six groups, utilizing 16 channels at a frequency of 2.4GHz with a range of 328 feet. I expect this combination of versatility and price to be felt by photographers (and maybe other manufacturers) in much the same way that Korean automobiles went from curiosities to mainstream in a short time.
Again there's a confluence—maybe confluences are a trend?—with light banks being designed specifically for speedlights, such as FourSquare's 48-inch softbox ($319) that I found perfect for shooting portraits. The FourSquare softbox can be used with up to four speedlights but works just as well with one.
Joe Farace shares his thoughts on trends in photography as well as tips, tools, and techniques in Shutterbug's print and online editions as well as each day on his own sites and blogs, such as joefaraceblogs.com and mirrorlessphototips.com. If you enjoy looking at and photographing cars, you'll find something of interest on his website/blog joefaraceshootscars.com. Information about the gear he uses can also be found on these sites/blogs.