The Pentax *ist Ds; Compact 6-Megapixel Digital SLR With Intelligent Automation
The smallest digital SLR on the market when it was first released, the Pentax *ist D received accolades for its diminutive size. Surprisingly, the newer *ist Ds is even smaller and lighter yet it boasts a larger 2" (vs. 1.8") LCD monitor. It's also priced at $300 less but, as we'll see, it's not just a stripped-down version of the earlier model. In fact, the *ist Ds employs the same 6-megapixel sensor, virtually identical technology, and similar stainless-steel sub frame.


As the specs confirm, it's also loaded with capabilities, including most of those available with the more expensive camera. Granted, it's missing a few *ist D features but many potential buyers will prefer the *ist Ds because its new features make it more user-friendly. Anyone who has avoided buying a digital SLR because such cameras are "too large and heavy" or "too complicated" will love this model.
Operation And Features
The primary difference between the *ist D and the *ist Ds is in the camera's target market. As indicated in our chart of the most noteworthy changes, the newer model was specifically designed to attract the first-time SLR buyer. Hence, Pentax has omitted some advanced amenities while adding others that allow for true point-and-shoot simplicity. In my estimation, the best new features are the seven Program modes. When selected, each of these sets a suitable aperture, shutter speed, white balance, contrast, and edge sharpness level for a common subject type such as landscape, portrait, or action.
The Pentax *ist Ds is ideal for quick snapshooting, using one of the seven new subject-specific Program modes. For this shot, I used the Portrait Program and the built-in flash unit to produce a photo that the entire family loved. (At f/5.6 at 1/60 sec; ISO 400; 18-55mm f/3.5-5.6 AL zoom; image cropped. Models: Rachel and Jen Dietrich.)
All Photos © 2005, Peter K. Burian, All Rights Reserved
The downsizing was achieved by the switch from CompactFlash to Secure Digital memory cards, the use of multilayered electronic circuit boards, "high-density packaging" technology, plus some handgrip modifications. This camera is a featherweight when compared to the Nikon D70, for example, but build quality appears to be excellent. In spite of the small body size, the well-sculpted handgrip will suit most users and the analog controls are large enough for convenient manipulation. They're well marked and logically located.

Overall operation has been simplified. There's more information in the LCD monitor as to the purpose of each function and the new Fn button streamlines camera operation. This control is a shortcut for setting white balance, ISO, Drive mode and Flash mode, reducing the need for searching through the vast range of menu options. After an initial setup using a few menu items, most novices will get by nicely with the icon-based mode selector dial, the Fn button, and the input dial that's used to confirm a desired setting. Experienced photographers will certainly want to take advantage of additional options, including some of the 18 custom functions.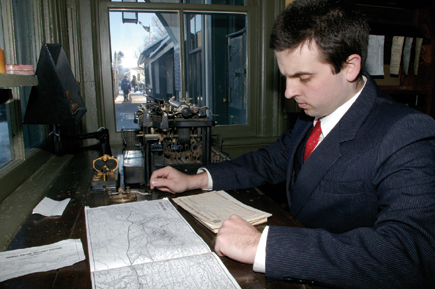 Employing sophisticated P-TTL flash metering, the built-in flash unit often produced accurate exposures both indoors and outdoors. For more serious photography however, I would use an optional FGZ-series flash unit, taking advantage of the wireless off-camera flash capability. (At Doon Heritage Crossroads; f/22 at 1/30 sec in Aperture Priority AE mode; 18-55mm f/3.5-5.6 AL zoom.)
Just like the *ist D, the newer camera maintains compatibility with manual focus KA and K mount lenses; with an optional adapter, it also works with the old screwmount lenses. (Nikon digital SLR cameras also accept manual focus lenses, but they disengage light metering unless you're using one of the few AI-P lenses.) Naturally, some high-tech *ist D functions do not operate with a manual focus lens. Program mode, multi-segment metering, autofocus, and P-TTL flash control, for example, are not available but the degree of compatibility is still remarkable.
New Pentax *ist Ds Compared To The *ist D

As mentioned in the text, the *ist Ds omits some features available with the older *ist D, but gains others intended for greater simplicity and for taking good pictures with more extensive automation. The following chart lists the most significant of these.

Omitted Capabilities
New Features or Benefits
TIFF Capture mode and a few JPEG options
Smaller and 1.6 oz lighter but larger LCD monitor with higher resolution
Four "complicated" Program modes

Seven new subject-specific Program modes with "intelligent" automation
User-selectable continuous tracking focus option in
all operating modes
Continuous tracking focus is automatically engaged in Action Program
Reflex mirror lockup
Faster framing rate (2.8 vs. 2.6 fps) and faster flash sync speed (1/180 sec vs. 1/150 sec)
A PC terminal for connecting studio flash systems
New Fn button for quickly selecting frequently used functions
Speed And Performance Issues
While shooting for my stock files in southern Ontario, Canada, I tested the *ist Ds extensively at various tourist attractions. Favorite locations included the stately Dundurn Castle in Hamilton, the Niagara Falls Aviary with its free-flying tropical birds, and Doon Heritage Crossroads, a pioneer village in Kitchener, populated by costumed interpreters. Later, during a family event, I made a lot of snapshots taking advantage of the great simplicity offered by Program modes and the built-in flash. The camera turned in solid performance and I was particularly impressed with its convenient operation, versatility, speed, and the image quality at high ISO levels.

When turned ON, the *ist Ds was ready to shoot in 1 second. Autofocus was very fast outdoors. The SAFOX VIII autofocus system employs 11 focus detection points and nine are cross-hatched for great reliability: quick focus on virtually any type of pattern. The camera seemed to respond instantly to a touch of the shutter button with no perceptible shutter lag. I found both features to be useful in action photography and in candid picture-taking for capturing a fleeting gesture.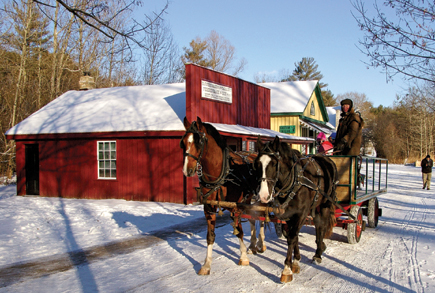 The Continuous autofocus system was highly effective in tracking moving subjects, including those traveling at faster speeds than these horses. Continuous autofocus is available only in Action Program mode, but even in this setting, the camera allows for adjustment of important image parameters. (At Doon Heritage Crossroads; Color Saturation at High level; +0.5 exposure compensation; ISO 400; 18-55mm f/3.5-5.6 AL zoom.)
In Continuous framing, I was able to shoot nine Large/Best JPEGs in about 3 seconds at a shutter speed of 1/250 sec or higher. Although the camera required 7 seconds to fully clear the buffer (a temporary storage bank), it allowed me to continue shooting one frame every second during that time. (For these tests, I used a high-speed SanDisk Ultra II Secure Digital card.) That's adequately fast for most applications and impressive for a camera in the affordable category.

During inclement weather, I did a lot of indoor shooting and found that autofocus was a bit slow in low-light conditions. It was a tad faster when I selected only the single, central focus detection point. When I used flash, focus response was quicker, thanks to the focus assist pre-flash of the built-in head or the more subtle near-infrared beam of the AF360FGZ flash unit.


FEATURED VIDEO