Panasonic Lumix DMC-GF6 Mirrorless Camera Review
The GF6 is the latest model of Panasonic's ultra-compact GF series. It is based on a Micro Four Thirds sensor and lens mount system and offers a resolution of 16MP.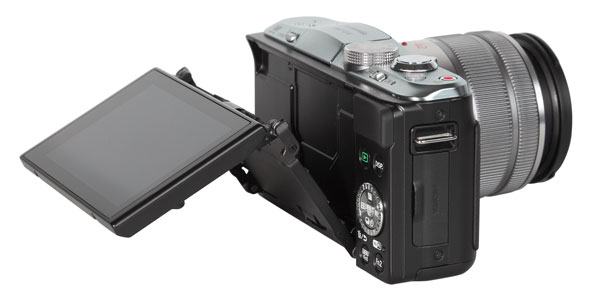 The camera doesn't offer a viewfinder system, but does have a large, touch-sensitive swivel LCD screen with high resolution (1,040,000 RGB dots). All camera functions can be controlled with the four-way control field, which is also a setup and navigation dial, but there are also many functions that can be controlled with the touchscreen in a very handy way.
Presumably, most photographers will change the AF area by using the touchscreen; however, the zooming function on the screen (which is available when a "motor zoom" lens is mounted) isn't as handy as the standard zoom switch near the shutter release button. When using a manual zoom lens (which uses a lens ring to change focal length) the additional "zoom switch" near the release button can be used as a setup switch. In manual exposure mode you can change the aperture size with this switch while the setup dial on the back is used to change the shutter speed.
The LCD can be flipped up- and downward (up: 180 degrees, so that the screen shows to the front of the camera and can be used for self-portraits; down: 45 degrees). But it can't be flipped to the side and doesn't have a "parking position" which would protect the front glass by turning it to the back of the camera's body.
The Panasonic GF6 has a Wi-Fi module for direct image sharing. Panasonic offers a free app in Apple's iTunes store and Google's Play store which allows the user to utilize a smartphone or tablet computer as a remote control. The NFC module allows for very fast set up of the wireless connection between a smartphone and the camera. Setting up the Wi-Fi transfer for an existing WLAN is also easy; all it needs is manual input of the WLAN password.
Comments On Still
Image Quality
Color: The camera showed good color reproduction in our tests. The white balance system reproduced the GretagMacbeth chart with a slight shift into the yellow and green area, but isn't really noticeable in our standard test box shot, which had a more bluish character. In the portrait shot you will also notice a more bluish shift in the bright background.
The skin tones are fine, but can show a shift into the more magenta- or orange-colored areas.
The bright skin tones in the portrait shot show some slight "pale" nuances while the darker areas had a higher magenta rate and therefore cause a more pink character in some blemishes in the model's skin. We have observed that this combination of pale, bright skin tones and higher magenta rate in darker skin tones is typical of many Panasonic cameras.
Sharpness: The camera gains a maximum of 2820 lines per picture height which is an acceptable result for a camera with a nominal resolution of 3448 lines in picture height. The JPEGs show a slight "artificial sharpness" character because the camera uses an intense anti-noise filtering and afterward an intense sharpness filtering to enhance image details. We noticed that on contrast lines in the standard test box image and the portrait shot. The differentiation of colors is very good, but we noticed this sharpness effect in the hair structure in our portrait shot and the colored spools in the test shot.
Noise: Even at low ISO speed settings the luminance noise level is quite high. The camera uses an intense smoothing filtering to get rid of the noise artifacts. This is one reason for the sharpness results, because image details are also smoothed. The color noise results are very good. Up to ISO 3200, the image has a clean and smooth look. In images taken with ISO 6400 or higher we noticed color clouds in homogeneous-colored areas, caused by intense color noise artifacts and the anti-noise smoothing filtering. The anti-noise filtering effects get really extreme in images taken at ISO 12,800. It might be better if Panasonic would limit the ISO speed to 3200 or 6400.
The dynamic range of the camera is very good. It has a maximum of 10.9 f/stops and shows high results even at ISO 1600 and ISO 3200.
Comments On Video Functions
The Panasonic GF6 is able to record Full HD video (1920x1080 pixels) in 50i mode. By using the "AVCHD lite" option it is able to record with 50 progressive frames per second but with reduced resolution (1280x720 pixels). Video recording in MP4 mode allows the GF6 to deliver 1080 resolution with 25 progressive frames per second. This 1080/25p mode is the video mode with the highest data rate (20MB/s) while the AVCHD modes offer a maximum of 17MB/s.
The camera offers all manual exposure modes when recording video (P, S, A, M and ISO speed setting). The set up of these modes is a bit tricky, because you can't use the P, S, A, and M settings on the mode dial. Instead you have to choose the "manual video recording mode" marked by a little film camera with an M and use the LCD menu to change the video exposure mode under Setup/Exposure mode. ISO speed is limited to ISO 3200 in video mode.
The camera is able to use motor zoom lenses which allow a very smooth change of the focal length when recording video. A focus loupe helps to set up focusing manually, but a focus peaking function is missing.
Comments On Video Quality
The video quality is very good. The camera offers good resolution and video sharpness even though the resolution results seem to be low (775 lines of 1080 lines in picture height). However, there are only a few similar cameras that score higher resolution results because higher sharpness will increase the risk of aliasing effects in a very extreme way. The GF6 videos are nearly free of aliasing and moiré. The color results are also very good. The white balance system worked well with only some blue/green and two yellow tones showing slight deviation.
Scorecard
Pro
+ Good image quality, although JPEGs have a somewhat soft character to them
+ Very compact and light camera
+ Many manual settings, custom settings, scene modes, and effects programs
+ Easy handling with touchscreen and swivel LCD
+ Full HD video in high quality
+ Wi-Fi function and NFC module
Con
- Missing optical or electronic viewfinder
- Missing accessory shoe for external flash
- Missing 3.5mm jack for external microphone
Image Tech is where we publish web-exclusive lab reports on cameras. To read the reports please go to the Shutterbug homepage at www.shutterbug.com and click on the Image Tech tab on the top navigation bar. New reports are published frequently, so check Image Tech for updates.
Lab results and test images by BetterNet, our TIPA-affiliated testing lab. Edited by George Schaub.
The Panasonic Lumix DMC-GF6 with a 14-42mm f/3.5-5.6 II kit lens has a list price of $599. For more information, visit www.panasonic.com.
FEATURED VIDEO