Panasonic Lumix DMC-G6 Mirrorless Camera Review
As a member of the G Series, the G6 is styled like an SLR system, in contrast to the GF models, which are styled like compact cameras. The G6 offers a high-resolution viewfinder system with an OLED screen that has 1.4 million RGB dots. In addition, it has a swivel LCD screen with 1.04 million RGB dots, which allows for comfortable shooting, especially in video mode. The LCD screen is touch sensitive and is very helpful for handling and making settings.
The camera has a 16MP Live MOS sensor and during our tests showed very fast performance. Start-up time is only 0.7 seconds; shutter delay is also extremely short (0.22 seconds).
The camera offers a Wi-Fi system for wireless remote control (with iOS and Android apps available in iTunes and Google's Play store) by smartphones or tablet computers. In addition, it is able to send images to computers and/or has a direct upload to social networks like Facebook and YouTube. The additional NFC module allows for the most modern wireless communication with smartphones or tablets simply by a short touch/contact of the camera and smartphone or tablet to establish a direct connection.
The camera offers numerous scene and effect modes. Besides standard scene modes like "portrait shot" or "landscape" it offers some very "exotic" modes, like two different sunset modes, a "sparkling water" mode or "softened image of a flower" setting. Many of these scene modes are also available when recording video. In addition, the camera offers effect filters like "high key," "low key," "sepia," "high dynamic," and "retro look."
A zoom switch on the top allows the user to change focal length electronically when using a servo zoom lens. This is very handy in photo mode and allows smooth zooming while recording video. When using a standard zoom lens or lens system with fixed focal length, this "zoom" switch can be used as an additional setup switch. The default setting in this mode is the "EV compensation," available in a range of +/-5 EV stops. The user can customize the settings for this additional switch as well as for the Fn buttons and nearly all setup buttons can be configured as Fn buttons. Indeed, the G6 has five Fn buttons on the back and two additional virtual Fn buttons on its touchscreen. This allows the user to create a very personal setup of the camera controls. Two custom-defined settings (C1, C2) on the mode dial add to the customization features of the camera.
The camera is able to record Full HD with 1920x1080 pixels and up to 50 frames (progressive) per second. It offers numerous manual settings in video mode and professional filmmaking features. Finally, the G6 is Panasonic's first CSC system that offers focus peaking as a manual focusing aid. Even the company's flagship GH3 doesn't offer this function. The camera has a 3.5mm jack for external microphones and better sound recording.
Image Quality
Color: The camera showed a very good performance in our color tests. The saturation is a little high for a semiprofessional system camera (108.6 percent) but there are only a few colors which are exaggerated (blue nuances) and which will cause this high saturation result. The automatic white balance system showed a very good performance. The gray patterns of the test chart are located nearly exactly in the center of the result chart. They show only a slight shift into the blue direction. The neutral color reproduction is also visible in our portrait shot and in the shot of the standard test box.
Sharpness: The camera showed a good performance in our resolution tests. JPEGs have a very slight soft look because the electronic sharpening is restrained. The overshot effects are noticeable, but on a low level. The G6 reproduced the ISO 12.233 chart with 2749 of 3456 lines per picture height, which is a good result for a camera with an MFT (Micro Four Thirds) sensor.
You will notice the slightly soft JPEG effect in our standard test images. Fine structures like the hair in our portrait shot, for example, displayed this softer look and also showed a little tendency toward color moirés. But the differentiation in the red fabric of the model's clothing is very good. This is a little surprising because the camera creates images with high saturation, but red colors, like in the T-shirt, show only a little shift.
Noise: The camera showed an average performance in lower ISO speed settings up to ISO 800. Even at ISO 200 and ISO 400 the luminance noise factor crosses the 1.0 percent mark. But the filtering of color noise showed a good performance at the lower ISO speed settings. Images are usable when taken at sensitivities up to ISO 1600. When using ISO 3200, the anti-noise filtering effects (what we deem an "impressionist filter look") become visible and color clouds are noticeable in homogeneously colored areas. These effects become annoying at ISO 6400 and are quite intense at ISO 12,800. We recommend that the "push" ISO 25,600 setting only be used in "photographic emergency situations."
The dynamic range results of the G6 are very good (maximum 11.5 f/stops) in low ISO speed settings up to ISO 400, but drop significantly at higher ISO speed settings (9.19 f/stops at ISO 400 and 7.14 f/stops at ISO 12,800).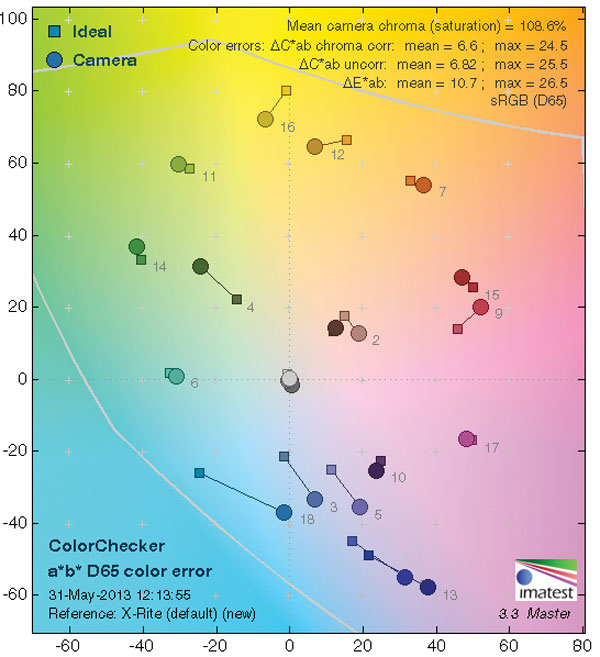 Scorecard
Pro
+ Very fast AF system
+ Swivel LCD screen with high resolution for comfortable shooting
+ Comprehensive video features
+ Wi-Fi and NFC connection
Con
- 1.5-stop drop in dynamic range at ISO 400
The Panasonic Lumix DMC-G6 with a 14-42mm f/3.5-5.6 II kit lens has a list price of $749. For more information, visit www.panasonic.com.
Lab results and test images by BetterNet, our TIPA-affiliated testing lab. Edited by George Schaub.
FEATURED VIDEO