The Olympus P400 Color Printer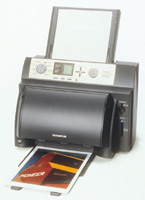 Olympus' new 8x10 dye sublimation printer supports Macs and PCs plus direct printing from SmartMedia and PC Cards.
Photos © 2000, David B. Brooks, All Rights Reserved
In the last few years many of the companies offering consumer digital cameras have also marketed complementary digital snapshot print size thermal printers. Now that 3 plus megapixel prosumer digital cameras are becoming the norm, and larger print sizes have become viable, Olympus has answered the call with their new P-400 printer. There is a greater, broader significance to this Olympus introduction. Besides providing direct printing from Smart-Media and PC Card digital camera storage media, it has USB and parallel interfaces for use as a computer connected printer. This might not seem so significant except for its $999 suggested retail price, a fraction of the amount 8x10 quality dye sublimation printers have cost until now.
The actual paper size used by the Olympus P-400 is A4, or 8.25x11.7", which curiously is a very appropriate aspect ratio for printing 35mm images. And with a print cost of $1.90 including ink ribbon and paper, the P-400 printer is a competitive option for many digital darkrooms. The Olympus becomes even more attractive when its fast, 90 sec print time is added to the fact the printer's output is a very sharp, full-color glossy image closely resembling professional photo lab output. Other conveniences for the digital camera user include printing directly from camera storage media, and the printer's ability to produce thumbnail proof sheets including the image file names and the date the image was made. Of course it can also output larger, intermediate image sizes with several photos on a single page.
The Olympus P-400 reproduced 35mm color negative scans of people with smooth natural skin tones in a wide range of lighting environments.
I set the printer up first on my Windows 2000 PC because I was then using my new Mac G4 for another print job. Unfortunately Windows 2000 didn't want to connect to the printer using the USB interface, which I've found not unusual with Windows 2000, so I connected using a parallel cable. Then I loaded the paper and the ink ribbon following the very detailed step-by-step manual instructions. Soon I was able to print from an image file from Photoshop.
But, the slowness of the parallel connection in transferring the image data soon became frustrating. So, I suspended my tests until my Mac was available. As soon as I got the printer on my G4 I was relieved to learn that the Olympus P-400 can print rapidly, although the larger the file size being printed the more the time to process the data for printing. An even pleasanter revelation was the fact the P-400 (even without a Colorsync profile) prints what is on screen almost exactly. This is a very good thing because the P-400 print driver image adjustment utility is anything but intuitive and easy to use. Thus it's better to adjust print values in Photoshop. As long as my images were precisely optimized to provide an ideal screen image, that's pretty much what I obtained in a print result.
Encouraged by a few very positive print results, I then selected as wide a range of subjects. I chose those with different color qualities, with hard and soft contrast, as well as a black and white image. It was not long before I had used up all 50 sheets of paper and my ink ribbon supply. Only a few images fell a bit short.
Whether a glamorous portrait or the detail in an antique automobile, strong monochromatic image themes were richly rendered in prints made by the Olympus P-400.
Reopening these images in Photoshop I found there was room to improve the on-screen image values, which I did. Reprinting yielded completely satisfactory print results. Although my collection of digital camera images is limited, I put some of the .JPG files on a SmartMedia card and inserted it in the printer. Following the manual instructions I set up to print all of these image files as thumbnails on a page. In just a couple of minutes I had a nice proof sheet of the images with the dates and file names of each included in the print of each image--very slick!
Evaluation And Recommendation
Just after finishing my tests with the Olympus P-400 I had a lunch date with a professional photographer friend. I took the prints along with me to get his take on them. He was almost as impressed with the image qualities as I, and even more with the look and feel of the prints. They resemble professional photo lab prints about as much as any digital prints I've seen. With this assurance from someone who is still using film and traditional printing service regularly, I have no hesitation recommending the Olympus P-400 on the basis of the quality of its output. Taking into consideration that the P-400 is very reasonably priced, at least compared to most professional quality dye sublimation printers currently offered, it is without doubt an attractive printing option to produce 8x10 and smaller photographic images.
Land and cityscapes with complex coloration, bright highlights, and deep shadows reproduced in Olympus P-400 prints with rich tonalities across a range of complex colors.
In addition the $1.90 per print material cost is close enough to photo quality ink jet printing using premium glossy media to make usage cost less of a factor. If 8x10 is your preferred print size, and you like a glossy photo lab print feel, the Olympus P-400 is a good choice.
For more information about the P-400, contact Olympus America Inc., Two Corporate Center Dr., Melville, NY 11747; (800) 347-4027; fax: (516) 844-5262; www.olympus.com.
Even a scan of a 4x5 silver-based negative, converted to RGB color and tinted sepia, reproduced with the detail and tonal range you'd expect of a fine art image.
Technical Specifications
Type: Continuous tone dye sublimation technology
Color Depth: 8 bit per RGB channel with 16.7 million colors
Resolution: Total 7.7 megapixels at 314dpi
Speed: 90 sec per 8x10
Print Durability: Clear laminate overlay
Interface: USB, parallel, SmartMedia, and PC Card (CompactFlash and Memory Stick with adapter)
Printing Modes: Full size (8.25x11.7"), 1-16 images per page; card (2 or 4 post cards per page); photo album (1-6 images per page plus background); index (45-260 images per page)
Color Modes: Full color, black and white, and sepia filters
Printer Control: LCD panel
Capacity: 50 sheets plus one ribbon (50 8x10 prints)
Footprint: 30x17x17"
Cost Per Print: $1.90
Suggested Retail Price: $999