Olympus E-PL3 Mirrorless Camera Review
HANDLING
The compact Olympus E-PL3 has a retro body design and is available in different colors. The camera has a large swivel LCD on the back which allows the user to flip the monitor up and down. This is handy but is not as flexible as a swivel monitor that allows side-to-side movement. The LCD screen is a standard TFT screen instead of the OLED system used by the Olympus E-P3.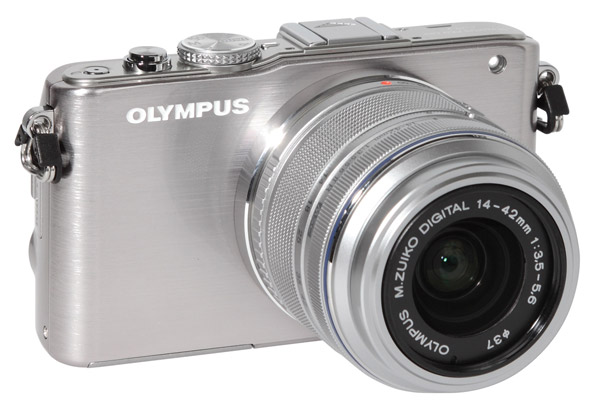 The camera offers a large mode dial on the top to activate standard exposure settings and additional Scene and ART modes. The 24 Scene modes will help beginners while the ART modes create special effects like "Diorama/tilt shift miniature simulation" or "High Key," among others. All these ART effects can be achieved by using imaging software but they are quite fun and very easy to handle in the camera. A combination of a four-way cursor field and setup dial on the back is where menu items are accessed and parameter changes are made. The beveled top with its additional function buttons is easily accessible in all camera positions—in standard shooting mode as well as when taking images with the LCD screen flipped upward.
The camera is very fast. Just like the E-P3 it uses a new and very fast AF system based on contrast metering; this means focus can be achieved within 0.1 second, making it a very spontaneous camera with which to work.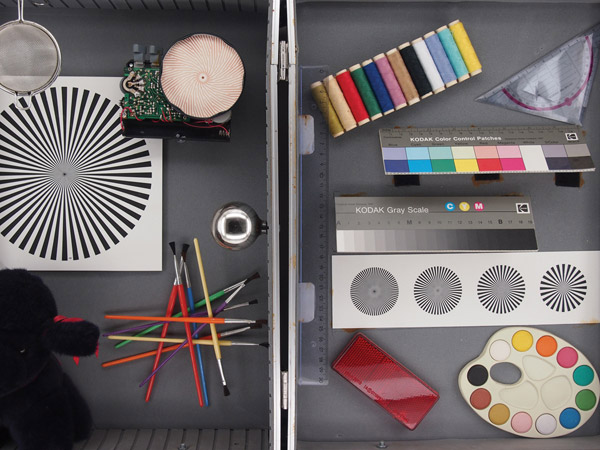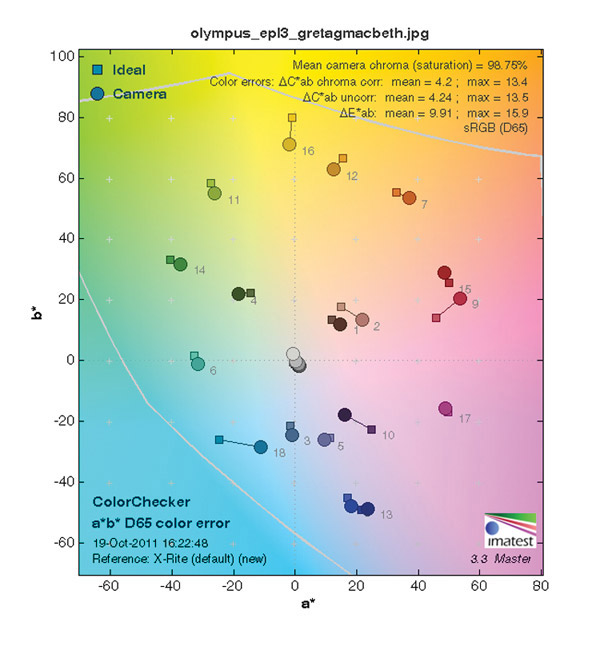 IMAGE QUALITY
Color: In some situations the camera created very warm-looking images with a high magenta rate. The standard test box shot shows a slight reddish touch in the gray background. In addition, the camera adds a higher magenta rate to skin tones, although it must be said that skin tone color in our test shots is very good.
Sharpness: The camera shows good resolution results in our tests. An ISO 12,233 chart was reproduced with 2686 lines per image height, which is near to the nominal resolution of 3024 lines in picture height. We noticed a lot of good details in our test shots. The hairs of the model and the red fabric of her T-shirt show a good differentiation even in difficult red nuances. The standard test box shot shows that the camera enforces sharpness by intense filtering. Nevertheless, the filtering intensity is acceptable and will create ready-to-print JPEGs. There is an additional advantage: the kit lens created very sharp photos even in the image corners, noticeable in the corners of the standard test box shot.
Noise: The camera showed very good results up to ISO 1600. In images taken with ISO 3200 there is clearly visible color noise, which is filtered and causes some color clouds in homogenous areas. This effect is clearly noticeable in images taken with ISO 6400. Images taken at ISO 12,800 are nearly useless and this speed should only be used for documentary photos when no additional light is available.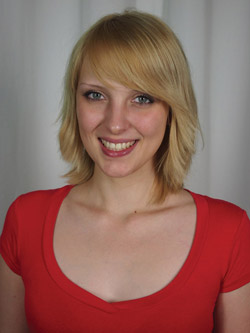 SCORECARD
PRO
• Stylish body, compact design
• Large swivel LCD
• Full HD video in AVCHD format
• Good resolution and color results
CON
• Standard LCD instead of OLED (compared to Olympus E-P3)
• No ELV (electronic viewfinder—available as an option)
• No built-in flash, but has supplied small shoe-mount flash
IMAGE TECH
Image Tech is where we publish web-exclusive lab reports on cameras. To read the reports please go the Shutterbug homepage at www.shutterbug.com and click on the Image Tech tab on the top navigation bar. New reports are published frequently, so check Image Tech for updates. The following reports are available now:
• Nikon P7100
• Olympus E-P3
• Panasonic FZ48
• Sigma SD1
• Sony SLT-A35
• Sony NEX-C3
• Panasonic GF3
• Leica M9-P
• Fujifilm Finepix X100
• Olympus E-PL2
• Samsung NX 11
• Pentax Optio WG-1 GPS
Lab results and test images supplied by BetterNet via Shutterbug's TIPA (Technical Image Press Association) affiliation.
FEATURED VIDEO