Olympus E-P3 Mirrorless Camera Review
The Olympus E-P3 is the follower of the E-P2 and E-P1, the first Olympus Micro Four Thirds cameras that were offered as "retro style cameras". The E-P3 offers the same image sensor as the E-P2, with a nominal resolution of 12MP, but the E-P3 uses a newly developed image processor unit called "TruePic VI" plus offers some enhancements in the AF-speed. The automatic focusing system is really fast and showed a very good performance during our tests. In addition it has some special modes like "AF tracking mode", which will help both photographers and videographers.
The camera has a very brilliant and high quality OLED screen on the back. This monitor offers a resolution of 610,000 RGB dots and shows very crisp images with high contrast. Nevertheless, an electronic viewfinder (ELV) would have been welcome for scenes with very bright light conditions. Olympus does offer an optional ELV, VF-2, which mounts on the accessory shoe and the additional "Accessory Port 2" right below it. The photographer can use this port for an additional microphone, which helps to record higher sound quality when shooting videos.
The camera uses a standard 4 way cursor field on the back, which has a dial to change image parameters or menu settings. A metallic drum/cylinder on the back is used as a setup dial, all of allows for very fast and intuitive handling. The mode dial on the top allows access to all standard exposure modes, 24 scene modes, including settings for "High Key", "Low Key" and ART mode allows for numerous creative image effects.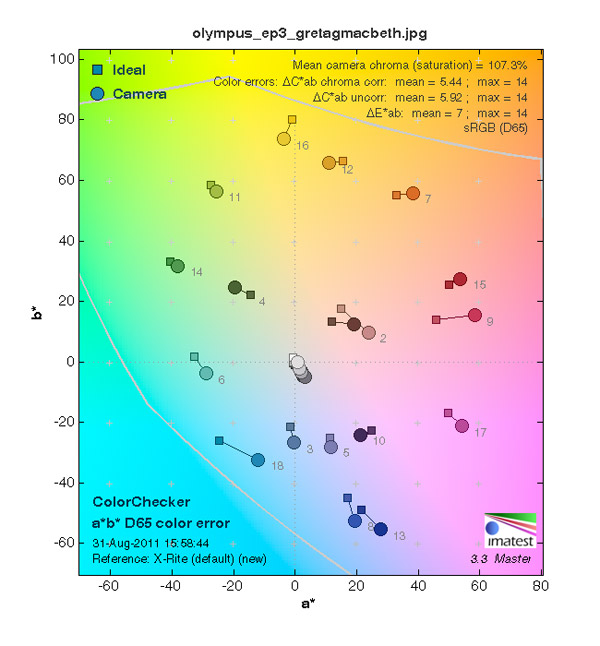 E-P3 Image Quality
Color: The white balance system of the camera showed a tendency towards bluish colors. This effect is increased in the darker colors, as we saw in the gray patterns in the color test chart, while brighter colors show a more neutral behavior.
The reproduction of skin tones is characterized by a high rate of magenta, which caused pink tones in some shadow areas in the face of our model. The average setting is a little higher than in images taken with other Olympus cameras, but still on a very good level. Altogether the camera offers very natural and realistic colors.
Sharpness: The camera showed a very good performance in our resolution tests. Even with the inexpensive kit lens (14-42mm) that was used for the tests the resolution in the center of the image is 2691 lines per picture height, which is a very good result for a camera with a nominal resolution of 3024 lines per picture height.
We noticed very good reproduction of image details in the eyes of our model and the hair, which is nearly free of Moiré effects.
The differentiation of red colors also is very good, as seen in the red spool in the standard test box shot. The test shot shows that the USM filtering of the new TruePic VI processor is very unobtrusive and enhances the lens and sensor sharpness in a very good way.
Noise: The camera offers clean and smooth images up to ISO 1600. In images taken at ISO 3200 some color clouds/color smear is visible in the gray patterns of the test chart. The luminance noise stays under 1.0 up to ISO 3200 and remains very decent even in higher ISO speed settings. Images taken at ISO 6400 are usable, while pictures taken with ISO 12,800 show clearly noticeable and annoying color noise.
In lower ISO speed settings up to ISO 400 the camera showed a good performance in our tests of the dynamic range (10.4 f-stops maximum). It is still nearly 10 f-stops in ISO 800 but will decline in higher ISO speed settings and drop down below 8 f-stops in images taken with ISO 6400 or higher.
Pro:
+ elegant and stylish camera in retro design
+ brilliant OLED display
+ robust body
+ fast AF-system
+ Full HD video in AVCHD format
Con:
- missing swivel monitor
- electronic viewfinder only as an option
Test results were provided by Betternet through our affiliation with TIPA.
FEATURED VIDEO