Nikon N55
Affordable Entry Level Model With High Tech Capabilities
During travel photography, the Nikon N55 helped me to make some excellent images. Simple and quick to operate, it was also highly responsive in most situations. (At Marineland of Florida; Shutter Priority AE at 1/250 sec; +1 exposure compensation; wide area AF; AF 80-200mm f/2.8ED zoom; Hoya warm-tone polarizer; Kodak Elite Chrome 100.)
Photos © 2002, Peter K. Burian, All Rights Reserved
Although Nikon is best known for professional SLR cameras like the F5 and F100, they sell far more of the entry-level and mid-range models. That's understandable, because such cameras are more compact, simpler to operate, and priced to suit the budgets of millions of consumers. The N55 is the latest of the affordable Nikon SLRs and it's the lowest priced body offered by Nikon, making it highly competitive with other brands. Targeting the first time buyer, the N55 is not a bare-bones model; it incorporates advanced technology and some capabilities of interest to the budding photo enthusiast.
I had the opportunity to test the N55 during another of my trips to sunny Florida and then in winter photography closer to home. Subjects included people and dolphins at Marineland, land and cityscapes, colorful birds, and the rustic homes in a village blanketed by snow. For an entry-level camera, the N55 performed surprisingly well; it also offered just enough features to satisfy my basic needs in stock photography.
Physical Attributes
This is a handsome silver camera, with a black protruding handgrip and a black back. The N55 is the smallest and lightest Nikon AF SLR body ever produced, but it does feel sturdy. The body is constructed of impact-resistant polycarbonate materials, suitable for a camera in this league. Like most of today's affordable models of all brands, the N55 incorporates a penta-mirror instead of an all-glass penta-prism to reduce weight and cost. Thanks to the new Clear Matte Screen B, the view is surprisingly bright and contrasty.
When I photographed light-toned subjects with slide film using Matrix metering, I got the best results with some plus exposure compensation. With color print film--used by most N55 owners--such overrides are not necessary, thanks to the wide exposure latitude of such film. (Aperture Priority AE at f/11; at +1 EV; spot AF; Hoya polarizer; AF 28-80mm f/3.3-5.6G zoom; Bogen tripod; Fujichrome Velvia 50.)
All controls are readily visible and well marked. Any of the 10 operating modes can be quickly accessed with the single large mode selector dial. Naturally, there are some buttons, too, for selecting functions such as exposure compensation and bracketing, the self-timer, focus area and flash modes. All essential shooting data is provided in the viewfinder, while the external LCD panel provides even more feedback on settings.
Evaluation: Thanks to the mode selector dial and the auto pop-up flash, the N55 offers point-and-shoot simplicity in Program modes. Even first time SLR buyers can begin shooting without studying the instruction manual. The N55 also offers functions that are necessary for more serious photography, easily accessed by pressing the pertinent button and rotating the command dial.
Anyone with experience using an electronic SLR camera will find operation intuitive; after scanning the instruction manual for five minutes, I never needed to refer to it again.
Light Metering Options
The N55 is primarily intended to be used with Matrix metering. Partial-area metering (very heavily center-weighted) can also be selected, though only in the Manual operating mode that won't be used often by N55 owners. Exposure compensation and autoexposure bracketing are available though not in the Full Auto and subject-specific Program modes. Typical with entry-level SLR cameras, this arrangement is logical because it helps to prevent poor results from user error. Since I usually worked in the semiautomatic modes when shooting color slide film, I retained full exposure control.
Evaluation: Some of today's entry-level cameras offer only evaluative metering and an exposure compensation control. Hence, the ability to select the partial-area pattern and/or exposure bracketing may be a plus for some owners. Like most of the very affordable models, the N55 did tend to underexpose in backlighting, and with bright beach and snow scenes in Matrix metering. When shooting slide film in such situations, I simply set a +1 compensation factor and bracketed in half stops. At least one of the three slides was usually perfect. With more typical subjects and lighting, the 3D Matrix metering system produced well-exposed slides.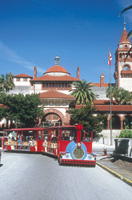 The N55 automatically activates tracking focus when it detects subject motion, as it did in this situation. This works well with most subjects, but in action photography, switch to Sports Program to take advantage of full-time tracking focus. (St. Augustine, Florida; Shutter Priority AE mode; at 1/250 sec; +0.5 EV exposure compensation; wide area AF; Hoya polarizer; AF 28-80mm f/3.3-5.6G zoom; Fujichrome Sensia 100.)
Of course, the vast majority of N55 owners will use color negative film. Because such films have a far wider exposure latitude, Matrix metering should produce printable negatives in just about any situation except in strong backlighting. For even better results in quick shooting, I would permanently set a +0.5 exposure compensation factor. Possible in any mode except Full Auto and the subject-specific Programs, this tactic would produce some overexposure in some cases. However, that can be a benefit with color negative films: for finer grain and richer color in prints.
Advanced Autofocus Capabilities
Taking advantage of some of the technology developed for the high-end Nikon cameras, the N55 includes some advanced autofocus capabilities. Like the F100, the N55 offers Dynamic autofocus with selectable Closest Subject Priority, Focus Tracking with Lock-On for effective action photography, and single focus point selection for precise focus on an essential subject area. Granted, the F100 offers even more options, but for an entry-level camera, the N55's capabilities are certainly impressive.
In Single Shot AF with a single focus point, the system is highly accurate. This option is not available with all entry-level cameras, but it's great when you need pinpoint control on an essential subject area. When taking close-up pictures of a trainer with a dolphin at Marineland of Florida, I used only the central focus point. This allowed me to set focus precisely on an essential subject area, such as an eye. Before taking the shot, I would recompose with focus lock, activated with slight pressure on the shutter release button.
In low-light conditions, the N55 projects a bright incandescent beam onto the subject to give the AF sensor a more reliable target. This is highly effective with subjects up to about 10 ft from the camera; even in total darkness, focus acquisition was quick and reliable.
The three focus points--arrayed horizontally across the screen--form a fairly wide focus detection zone that's more useful in quick shooting. When making horizontal images, there's no need to first center the subject to acquire focus. It's useful in action photography, too. When a small subject moves from one area of the frame to another, the next sensor will take over to maintain focus thanks to Dynamic AF. This all worked quite well when I photographed moving trams and performing dolphins.
With the built-in Speedlight, the N55 provides sophisticated Matrix Balanced Fill Flash that's useful indoors and out. While entry-level cameras like this one do not offer any control over flash output, you can increase or decrease image brightness with the conventional exposure compensation control. (Program mode; flash; spot AF; AF 28-80mm f/3.3-5.6G zoom; Fujichrome Sensia 100.)
To maximize simplicity of operation, there is no control for selecting full-time tracking focus. For action photography, switch to the Sports Program; this will also activate continuous film advance. During the test period, I did not find a situation where the Lock-On feature of the tracking focus system was necessary. However, from past experience with other Nikon cameras, I know that it can be useful occasionally. It will maintain focus even when something momentarily blocks the subject: like another photographer running in front of a cyclist, for example.
Evaluation: For an entry-level SLR camera, the Nikon N55 offers a very accurate, versatile, and effective AF system. However, like most such cameras, it does have one drawback: limited availability of full-time tracking focus. In terms of design strategy this does make sense for two reasons: to keep camera operation as automatic as possible and to keep the price moderate. If you're a serious sports photographer, you'll want one of the more expensive Nikon cameras. As an entry-level model, the N55 will satisfy its intended owners who may occasionally take pictures of their children participating in amateur sporting events.
Flash Modes
When used with the built-in Speedlight, the N55's flash metering system is highly advanced and versatile. In addition to the common redeye reduction and slow-sync options, it offers Matrix Balanced Fill Flash, ideal especially in outdoor photography. The system automatically reduces flash output, balancing the light from flash with the illumination from the sun, for results that seem quite natural. With slide film, I occasionally found the output a bit excessive; if you shoot negative film, the lab can simply print the images slightly darker.
In some subject-specific Program modes, the built-in Speedlight pops up automatically in low light and in backlighting, a useful feature. It's disabled in the Sports and Landscape Program, a highly logical approach. Of course, the head can be manually raised in other modes and will then fire for every exposure, useful for fill-in flash on bright days. Overall, this is a highly suitable arrangement. When redeye reduction mode is selected, a lamp on the N55 projects a bright beam onto the subject to force the pupils of the eyes to close down before the exposure is made. Like all such systems, this one is moderately effective.
Evaluation: With the built-in Speedlight, the N55 usually provides very good results. However, this camera does not provide high-tech flash metering with an accessory SB-series Speedlight. Its output is controlled by non-TTL Auto Flash metering. This is the only film-based Nikon SLR that compromises in this manner; of course, it's also the most affordable model. I would not dismiss non-TTL Auto Flash completely. It's quite successful in standard indoor photography with direct--not bounced--flash, the most common technique in quick shooting.
Compatibility Issues
The N55 is compatible with the AF, AF-D, and AF-G series lenses, as well as the few manual focus AI-P lenses with built-in CPU chip. However, you cannot use other manual focus lenses on this camera. Note, too, that the N55 does not provide autofocus with AF-S lenses and cannot support the Vibration Reduction feature of VR lenses. All of this is understandable in an entry-level model.
If you want a Nikon camera that's still affordable but fully compatible with accessory Speedlights and with AF-S (Silent Wave) lenses--though not with manual focus lenses--check out the N65 kit. For the extra $75 (street price), you'll get other benefits, too: a five-point autofocus sensor, six-segment Matrix meter, depth of field preview control, PC terminal for studio flash systems, faster 2.5 fps film advance in Sports Program, plus compatibility with an optional remote controller accessory. Of course, the N65 is also a bit larger and heavier, and somewhat more complicated, so the N55 is likely to be far more popular.
Overall Evaluation
Because I have tested many of the expensive Nikon cameras, I'm tempted to judge the N55 by their higher standards. However, it's clear that the N55 competes in an entirely different arena. While it includes some of the technology developed for the F100, the N55 was designed to eliminate the complexities of such models. It's also priced to attract the many families who would love to own a Nikon SLR camera but don't want to pay a penny more than $300 for a body/ lens/flash combination. When viewed from this perspective, the N55--with 28-80mm zoom lens and built-in Speed-light--is certainly quite appealing.
As expected in a model in this class, there are few advanced features or extras like depth of field preview or custom functions. Compatibility with Speedlights and some lenses is limited. However, considering the price and the target market, I feel that all of the essentials are included, plus niceties like eyepiece diopter correction switch and autoexposure bracketing. The 1.5 fps continuous film advance, available in Sports Program, is adequately fast for most family events, amateur sports, and travel photography.
The Nikon N55 is small, lightweight, elegant, responsive, affordable, and a pleasure to operate. Its operation is quick as well as fairly quiet. The many Program modes make it as easy to operate as a lens/shutter camera, while offering the advantages of an SLR model. These include through the lens viewing and metering for greater accuracy, access to lenses from ultra-wide to telephoto, plus the ability to add high-powered flash for distant subjects. More importantly perhaps, the N55 offers more user control than any lens/shutter compact camera, so it will continue to satisfy its owners as their interest in photography expands beyond snapshooting.
For additional specifics on the N55, visit Nikon's web site: www.nikon.com.
Technical Specifications

Type: 35mm autofocus SLR; compatible with AF, AF-D, AF-G, and AI-P Nikkor lenses; autofocus does not operate with AF-S lenses; does not support Vibration Reduction function
Shutter: Electronically controlled vertical run focal plane shutter; 1/2000-30 sec speeds; highest flash sync at 1/90 sec
Focusing System: TTL phase matching three-point AF with single point selection available; AF detection range -1 EV to 19 EV (ISO 100); AF assist illuminator; camera automatically selects Focus Tracking with Lock-On when subject motion is detected; Dynamic AF and Dynamic AF with Closest Subject Priority
Metering System: Five-segment 3D Matrix metering with G or D-type AF lenses; conventional Matrix metering with other AF and AI-P lenses; heavily center-weighted partial-area metering selected in Manual mode; metering range 1 to 20 EV; exposure compensation +/-2 steps in 1/2 EV increments; autoexposure bracketing; AE Lock
Operating Modes: Metered Manual, Aperture and Shutter Priority AE, seven Program modes
Flash: Retractable pop-up TTL Speedlight, automatically activated in some Program modes; coverage for 28mm and longer lens; GN 39 (in feet, ISO 100); Matrix Balanced Fill Flash; standard TTL in Manual mode; non-TTL Auto Flash possible with optional Speedlight; normal sync, slow sync, redeye reduction, and flash cancel modes
Film Handling: Motorized pre-wind, advance, and rewind; continuous (to 1.5 fps) framing in Sports Program only; mid roll rewind possible; automatic ISO selection only (ISO 25-5000)
Dimensions And Weight: 5.1x3.6x2.6"; 12.3 oz
Power Source: Two 3v CR2 lithium batteries
Street Price: Under $300 with AF 28-80mm f/3.3-5.6G zoom lens
FEATURED VIDEO