Nikon Announces Three New Wide-Angle Nikkor Lenses
Nikon announced three new wide-angle Nikkor lenses this morning: the AF-P DX Nikkor 10-20MM F/4.5-5.6G VR, which is a compact, ultra-wide-angle perspective DX-format zoom lens; the AF-S Fisheye Nikkor 8-15MM F/3.5-4.5E ED, which is a circular fisheye zoom lens; and the AF-S Nikkor 28MM F/1.4E ED: a wide-angle, prime lens.
The new Nikkor lenses from Nikon are designed to capture a range of subject matter including landscapes, architecture, interiors, events and other wide-angle applications.
Here's some more detail about the three new Nikkor lenses
AF-P DX NIKKOR 10-20mm f/4.5-5.6G VR

The new NIKKOR 10-20mm is an ultra-wide-angle DX-format zoom lens designed for amateur photographers and suited for "shooting travel and scenery, real estate, large group portraits or vlogging," according to Nikon.
The lens features the equivalent of 3.5 stops of Vibration Reduction (VR) performance, to help capture sharp images while handheld or in challenging light. It also uses Nikon's Pulse Motor technology for fast and quiet AF operation, which is useful when recording video. The optical formula contains three aspherical elements for better image quality with minimal distortion even at the widest focal length.
Along with wide-angle subject matter, AF-P DX Nikkor 10-20MM F/4.5-5.6G VR also offers a a close working distance that's useful for showing up-close details in images or when making product-related videos or how-to content. To get closer to capture small objects with details, the lens has a close minimum focusing distance of 8.6 inches (0.22 meters).
AF-S Fisheye NIKKOR 8-15mm f/3.5-4.5E ED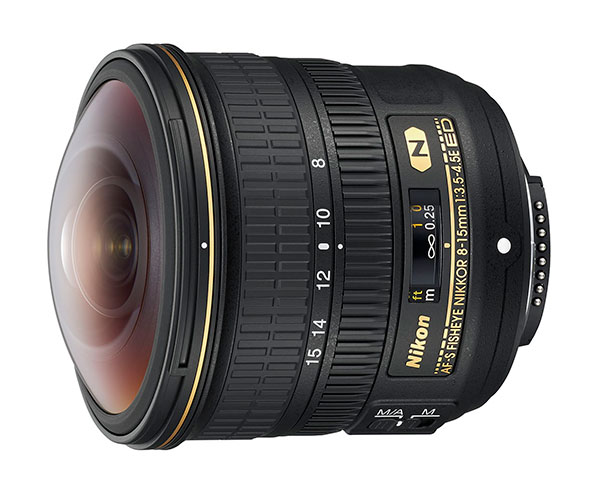 Nikon's first fisheye zoom is designed to give photographers and filmmakers an FX-format lens with the look and feel of a circular fisheye and the versatility of a full-frame fisheye. The new lens design provides a creative circular 180-degree vertical / horizontal angle of view on full frame cameras, and zooms to a non-circular fisheye view (180-degree diagonal angle of view) on the long end of the focal range.
The AF-S Fisheye Nikkor 8-15MM F/3.5-4.5E ED can also be used on DX-format cameras for a distinctive point-of-view and extreme wide-angle applications.
The AF-S Fisheye NIKKOR 8-15mm f/3.5-4.5E ED is the latest in Nikon's Gold Ring Series of premier lenses. The lens is constructed of lightweight magnesium alloy, and employs internal focusing (IF) to retain its compact size, even while focusing. It is also Nikon's latest lens to use an electromagnetic diaphragm for consistent exposure during high speed shooting, or smooth exposure control while capturing video.
The optical formula of the Fisheye NIKKOR 8-15mm consists of three ED elements to reduce chromatic aberration, while two aspherical lens elements minimize coma, even at the widest aperture, and enable a more compact lens size. The front lens element is coated with Nikon's non-stick Fluorine coat to help resist dirt, fingerprints and smudges, while Nikon's exclusive Nano Crystal Coat helps reduce ghost and flare.
AF-S Nikkor 28mm f/1.4E ED
The new AF-S Nikkor 28mm f/1.4E ED is Gold Ring glass that features a fast f/1.4 maximum aperture and nine blade rounded diaphragm, letting it capture a shallow depth of field with bokeh and better low light performance. It's designed for shooting low light landscapes, interiors and events.
The AF-S Nikkor 28mm f/1.4E ED is composed of lightweight magnesium alloy, and features dust and water drop resistant sealing to withstand the elements, combined with a fluorine coating to resist dirt and smudges. The optical construction of the lens consists of 14 elements in 11 groups, with three aspherical elements that virtually eliminate coma, aberration and distortion, with two ED glass elements that minimize chromatic aberration. The lens also uses Nikon's Nano Crystal coat to reduce instances of ghosting and flare.
The new AF-S NIKKOR 28mm f/1.4E ED adds to Nikon's stable of f/1.4 primes, which also includes the he AF-S 24mm f/1.4G ED, AF-S Nikkor 35mm f/1.4G, AF-S Nikkor 58mm f/1.4G, AF-S Nikkor 85mm f/1.4G and AF-S Nikkor 105mm f/1.4E ED.
Pricing and Availability
The AF-S Fisheye Nikkor 8-15mm f/3.5-4.5E ED goes on sale immediately for $1249.95. The AF-P DX NIKKOR 10-20mm f/4.5-5.6G VR and AF-S NIKKOR 28mm f/1.4E ED will be available in late June for a suggested retail price $309.95 and $1999.95, respectively.

LATEST VIDEO