Nikon 1 V2 Mirrorless Camera Review
Compared to the first generation of Nikon's compact system cameras, the V1, the design of the V2 has changed radically. Instead of a small body with minimized dimensions, it has attained extra girth, although we feel it has also acquired better handling agility as well.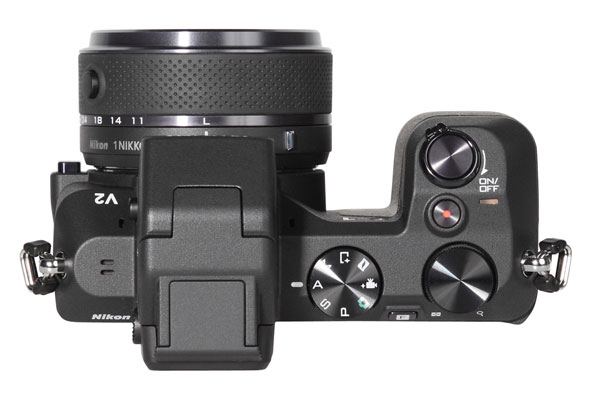 The camera has a new parameter dial, which is located on the top and can be reached with the right hand's thumb very easily and allows the photographer to quickly change numerous settings. Four buttons to the left of the large screen on the back also help set up parameters.
The camera has a large monitor on the back that offers a high resolution of 921,000 RGB dots. The small viewfinder has even more pixels: it uses 1.44 million RGB dots and creates a very sharp image, which greatly aids in manual focusing. However, it should be noted that manual focusing isn't as easy or comfortable as when using an SLR system or CSC camera with a lens system that incorporates a mechanical focus ring.
The Nikon 1 V2 uses servo systems in its lenses, which aids in smooth video shooting to be sure. The photographer has to choose the "Manual Focus" mode in the menu and use the "Multi Selector Dial" (a wheel that encircles the standard cursor field) to change the lens focusing distance. This handling is similar to simple compact cameras and while ensuring smoother video zoom is not as ideal for stills.
In AF mode the camera is extremely fast. It uses a combination of contrast metering (in the live preview) and phase detection, like an SLR system. The additional AF sensors are located directly on the image sensor.
The camera can record Full HD video. The movies are recorded in 60i mode or in 30p mode. These are the basic frame rates for the American and Japanese NTSC system but will cause some problems when you try to mix these videos with European camcorder files (PAL system), which are based on 25 or 50 frames per second.
You can use P, S, A, and M modes when recording videos and can set up the audio level manually in three steps. The V2 has a microphone jack on the left-hand side of the body so you can use an external microphone to enhance sound quality. Nikon offers an external microphone for the 1 series as an option (microphone ME-1).
In addition to the microphone there are other optional devices: the lens adapter FT1 allows you to use standard Nikon lenses with F mount on the V2; the GPS receiver GP-N100 can be used for geotagging images; and the WLAN adapter WU-1b can be used for wireless data transfer of images to a smartphone.
Image Quality
Color: The test chart was reproduced with a very low level of color errors. The blue nuances showed a color shift toward magenta, which we have found is typical for Nikon cameras. Skin tones are reproduced very precisely and have only a slightly high yellow rate both in darker and lighter areas. The automatic white balance system causes a shift of brighter areas (background in the portrait shot) toward yellow; this affected the portrait test shot and caused an additional shift of skin tones into the yellow direction. The differentiation of red colors is very good as you can see in the red fabric of the T-shirt and in the red elements in our standard test box image.
Sharpness: The camera showed a good performance in our resolution tests: it reproduced the test chart with 2678 lines per picture height, which is a good result for a camera with a nominal resolution of 3072 lines per picture height. Hard contrast lines (like the black-and-white lines of the Siemens star) show some overshot effects, caused by an intense sharpness filtering. This filtering is necessary to compensate for the intense anti-noise filtering. The overshot factor is 21.3 percent, high for an SLR system and acceptable for a CSC camera with a small sensor.
Noise: The luminance noise level in images taken with lower ISO speed settings is slightly higher than in images taken with APS-C and full-frame sensors. Nevertheless, the luminance noise factor is limited by a decreasing level of anti-noise filtering. That's the reason why the luminance noise level stays low even in images taken with ISO 1600.
Color noise is noticeable in images taken at the ISO 3200 setting and higher, but stays on an acceptable level even in the highest ISO settings. We did notice color clouds in homogeneous-colored areas when shooting with ISO 3200 and higher.
The dynamic range results are very good: the camera gained a maximum of 11.7 f/stops and keeps this high level of more than 10 f/stops up to the ISO 800/ISO 1600 settings.
Scorecard
Pro
+ Improved handling over its forerunner
+ New sensor with higher resolution
+ Electronic viewfinder with high resolution
+ Creative filter and photo/movie effects
Con
- Missing swivel monitor
- Somewhat bulky design for a CSC camera
Lab results and test images by BetterNet, our TIPA-affiliated testing lab. Edited by George Schaub.
The Nikon 1 V2 with kit lens has a list price of $899. For more information, visit www.nikonusa.com.
Image Tech is where we publish web-exclusive lab reports on cameras. To read the reports please go to the Shutterbug homepage at www.shutterbug.com and click on the Image Tech tab on the top navigation bar. New reports are published frequently, so check Image Tech for updates.
FEATURED VIDEO