Nick Kelsh: Making Everyday Moments Special
All photos by Nick Kelsh
A veteran of nine photography books, Nick Kelsh offers photo guidance to the masses in a very appealing, reader-friendly manner, has provided beautiful nature images for a new edition of Rachel Carson's classic The Sense of Wonder, and has traveled far and wide to shoot compelling photographs for the A Day in the Life book series. His images have appeared in Time, Life, National Geographic, and Business Week.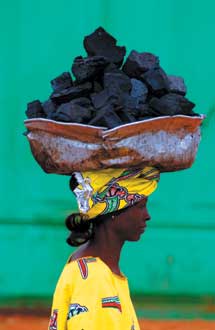 One of Nick Kelsh's images in A day in the Life of Africa.
His most recent book, How to Photograph Your Life, was photographed entirely with a consumer-level digital camera and gives easy-to-follow tips on taking great pictures with amateur equipment. To illustrate this book, Kelsh photographed his own life in order to help people portray theirs.

Kelsh is also principal/photographer of Kelsh Wilson Design, a partnership of writers, photographers and graphic designers. "We design brochures and `view' books for schools," he says, in addition to designing, photographing and producing promotional materials and Websites for corporations and other businesses.
Turning Ideas Into Books
Although creating photography books is an important aspect of Kelsh's career, he says that the first one came about as sort of an accident. About seven years ago, "I was surrounded by people having babies, and they brought them all to the office." At the parents' urging, he took some "artsy" pictures of these infants. People were very impressed with the results, and someone suggested that he do a photography book with Pulitzer prize-winning author Anna Quindlen.

Once he got Quindlen's attention, he convinced her to look at his photos. She loved them, and wrote some beautiful essays on babies to accompany Kelsh's images. This collaboration resulted in Naked Babies, Kelsh's first book that celebrates children, followed by Siblings (which he also did with Quindlen). Kelsh laughs at the memory of being on "The Oprah Winfrey Show" to promote Naked Babies. "I was crawling around on stage, taking baby pictures."
A photo from Siblings, a collaboration between Kelsh and award-winning author Anna Quindlen.
Kelsh's books have proven to be very popular. His how-to guide, How to Photograph Your Baby: Getting Closer with Your Camera and Your Heart, was published about four years ago and is still a best-seller. He has also written and photographed How to Photograph Your Family, How to be Santa Claus and How to be Dad. "I don't bog people down with shutter speeds and f-stops," explains Kelsh. He has three basic rules for amateurs: 1. Get closer, either by zooming in with your lens or standing closer; 2. Take a lot of pictures--don't limit yourself to just a few of important situations; and 3) Don't use the camera's built-in flash. It just creates harsh, unnatural light. Of this last tip, Kelsh says, "It's best to use natural light that comes through doors and windows."

He demonstrates this use of natural light in How to Photograph Your Life, which he shot entirely with the digital Olympus C-5050. This idea came about after he had taken pictures for A Day in the Life of Africa with one of Olympus' professional digital models, the E-20. The company gave Kelsh the compact C-5050 "just as a backup," and he gave it to his wife.
But when she asked him to teach her how to use the camera, "It dawned on me that this was a book idea--to teach amateurs how to work with good amateur equipment." Kelsh divides How to Photograph Your Life into brief chapters--or rather, occasions--which apply to nearly everyone. There's a mediocre photo (which is run small), on the left page of each chapter with brief, instructional text, with a larger example of how to do it right on the right page. "I went down the list of 48 common subjects and occasions that most people photograph: landscapes, a family meeting a new baby, the best way to portray Christmas, and even something to sell on eBay."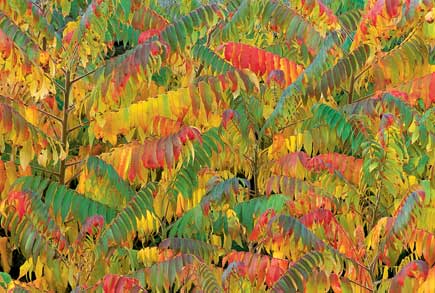 Colorful foliage from The Sense of Wonder, a new edition of a book by the late Rachel Carson.
"Amateur photographers need to realize is that good light is so important." He adds, "People should also have fun with photography. Digital imaging, in particular, has made it a lot of fun."

A Brush With Death
As an eighth grader in Fargo, North Dakota, Kelsh already knew he wanted to be a photographer. One day a photojournalist from a local newspaper came to speak to Kelsh's science class, and during the course of his speech, the photographer processed some negatives in a light bag. Kelsh was fascinated, and promptly bought some photography and darkroom equipment at a rummage sale. His first camera was a Mamiya/Sekor 500 SLR that he bought with "paper route money." He later taught himself how to use the darkroom when he attended the University of Missouri as a photojournalism major.
Kelsh recalls that in college, "I wanted to be a war photographer, and decided that Northern Ireland would be the safest bet," primarily because it was an English-speaking country. He corresponded with some Irish newspapers, and the photo editor of "the largest paper in Belfast" invited him to be an intern. "It was the most amazing experience," he says. "Most of the paper's staff wanted nothing to do with the `troubles' in Ireland, but the photo editor took me under his wing and sent me out on assignment." One night, however, Kelsh and the editor's family were held captive. Luckily, despite this highly dangerous situation, they were all released, but the newspaper's publisher sent Kelsh home the following day.
FEATURED VIDEO